Wesleyan Athletes Discuss 'Game of Life' with Underprivileged Girls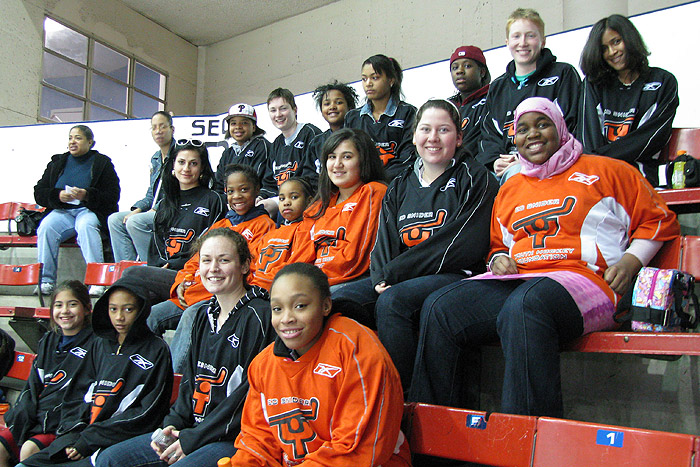 Four Wesleyan athletes traveled to Philadelphia in early March to spend the first weekend of their spring break speaking to underprivileged girls about the importance of staying in school and pursuing higher education.
The event was organized through the Ed Snider Youth Hockey Foundation (ESYHF), a non-profit organization founded by Ed Snider, owner of the Philadelphia Flyers, to use the sport of hockey to educate young people on how to succeed in the game of life.
ESYHF provides after-school hockey, life skills, and educational programming at no cost to the most disadvantaged communities in the Greater Philadelphia Region.The Cardinals were invited to join two other athletes in a question and answer session with the Foundation's girls' team.
The athletes; Talia Bernstein '11 (softball), Emily Avener '09 (ice hockey co-captain), Meredith Lowe '09 (basketball co-captain), and Molly O'Connell '09 (field hockey and softball co-captain), joined Nora Miller (Stanford '10 and daughter of Wesleyan diving coach and associate director of facilities management Jeff Miller) and Brie Zdunkiewicz (Neumann College '05) for an afternoon of pizza, ice hockey, and conversation with about 30 players and parents.
In addition to fielding questions from players and parents, the athletes spent time talking with the young women about how staying in school and concentrating on academics has helped them pursue their dreams to play sports at the collegiate level.
The women selected were invited to speak not only as successful athletes and leaders in their respective sports, but also because of their hard work and determination in the academic and extracurricular spheres.
Caitlin Slattery '06, who works for the ESYHF, was instrumental in arranging this opportunity for Wesleyan's athletes to speak with her group.