Jewish Community Celebrates Holiday in Student-Designed WesSukkah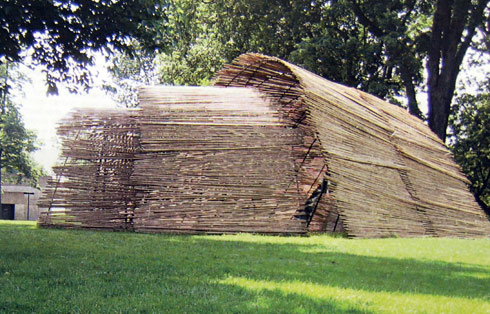 Every October, Wesleyan's Jewish community dwells in a temporary structure built for the festival of Sukkot. For eight days, students study, socialize, mediate, eat, host events and occasionally sleep in the religious building.
This holiday, the Jewish students will celebrate the Israelites 40-year journey to the Holy Land inside an airy, five-mound curving structure of carbon-steel clad in bamboo. Designed by 15 students enrolled in Architecture II, a research-design-build studio, the "WesSukkah" provides a sacred space that adheres to a complex, medieval Rabbinic building code.
"The students have crafted something which is both compelling and meaningful for Wesleyan's campus," explains the studio's instructor, Elijah Huge, assistant professor of art. "The structure maintains its symbolic and literal connection to the broader landscape through its materiality and permeability."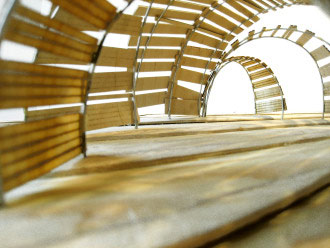 The students designed WesSukkah with 1,600 culms of bamboo, 46 high carbon steel pipes, six steel rods, five spools of monofilament test line and steel rebar. The structure will be dedicated at 1 p.m. Oct. 3 on the top of Foss Hill.
The final design is a result of an intensive sequence of research, design, fabrication phases and client presentations.
Initially, the project clients, a committee of Jewish leaders, chaired by Wesleyan Rabbi David Leipziger-Teva, requested the new sukkah be easy to assemble and disassemble, adhere to the traditional as well as contemporary Jewish values, and provide an intentional sacred space while also being inviting to the community at large. According to Rabbinical code, the sukkah cannot be located under trees, stars must be visible from the sechach — or roof — and the sechach must be made of material that is cut from the earth.
After a broad study of Talmudic law and numerous design specifications, the Architecture II students created a sukkah that appeased the Jewish leaders.
"WesSukkah needed to find balance between serving members of our diverse Jewish community as well as encouraging people unfamiliar with the holiday to investigate the activity within," Leipziger Teva says. "In the past, Jews at Wesleyan and elsewhere were concerned with building Sukkot exclusively for Jews; this project has been from its inception about building a Wesleyan Sukkah for any and all in our campus and the city of Middletown."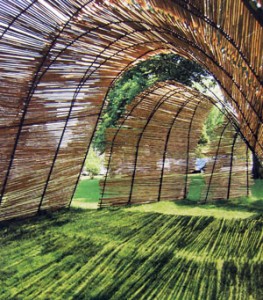 The scale of the project demanded that the students operated collectively as a studio, articulating, sharing and negotiating their ideas and inspirations within a group context, Huge explains.
"How remarkable that Jewish student life on campus can inspire and create opportunities for the studio arts students and Professor Huge," Leipziger Teva says. "In addition, our Jewish community is truly blessed to have so much talent, creativity and dedication from Professor Huge and his class. This partnership between academic and student life has enriched us all so deeply."
The student designers include Alexandra Bean '11, Saul Carlin '09, McLean Denny '11, Gideon Finck '11, Celia Hollander '11, Daniel Keller '11, Stephanie Lee '11, Rosa McElheny '11, Alexander Mercuri '11, Cameron Rowland '11, Elana Scudder '11, Benjamin Stockman '11, Gabriel Tomasulo '11, April Trovillion '10 and Emily Tyrer. Megan Nash '09 was the class's teaching assistant.
The American Institute of Architects (AIA) honored WesSukkah with a 2009 "Faith and Form" Award for art and architecture, landing it a spot in an upcoming AIA exhibition. For more infomation see http://www.faithandform.com/awards/index.php.
Daniel Keller '11, a psychology major, says there were a number of factors that set the Architecture II class apart from any other class that he's taken at Wesleyan.
For one, the class showcased real-world applicability in a way that most of the students could never have been prepared for. They spent time using professional design software to bring ideas to life, researching construction methods, creating and educational and instructional handbook, contacting suppliers to buy materials, and manually creating the structure.
In addition, inter and intra-group dynamics played such a crucial role that allocating work and integrating different ideas was enormously important. Student teams were asked to bring their unique perspectives and strategies to the existing designs, building off the original concepts.
"I am tremendously happy with the final design, not just because I feel that it's a radical departure from the traditional design that still pays great respect to the meaning of the holiday, but also because I can see myself and my classmates in every detail of the final structure," Keller says. "I'm truly proud of what we accomplished, and I hope the Wesleyan community will be too."
This is the Research-Design-Build Studio's second major outdoor design. In 2008, the class built a bird-viewing platform at the Helen Carlson Wildlife Sanctuary in Portland, Conn. The architecture project, named SplitFrame, uses an innovative pre-cast concrete pin-foundation system for the elevated viewing station and a floating aluminum frame assembly for the observation deck on the water.