Wesleyan University Press Publication Nominated for a National Book Award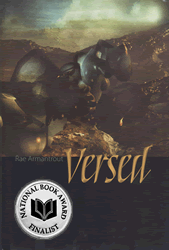 A book published by Wesleyan University Press is a 2009 National Book Award Finalist in the poetry category.
Versed, by Rae Armantrout, offers readers an expanded view of the arc of the author's writing. The poems in the first section, "Versed," play with vice and versa, the perversity of human consciousness. They flirt with error and delusion, skating on a thin ice that inevitably cracks. In the second section, "Dark Matter," the invisible and unknowable are confronted directly as Armantrout's experience with cancer marks these poems with a new austerity shot through with her signature wit and stark unsentimental thinking.
Together, the poems of Versed part us from our assumptions about reality, revealing the gaps and fissures in our emotional and linguistic constructs, showing us ourselves where we are most exposed.
Rae Armantrout is a professor of writing and literature at the University of California, San Diego.