PIMMS Awarded New Contracts to Promote Energy Efficiency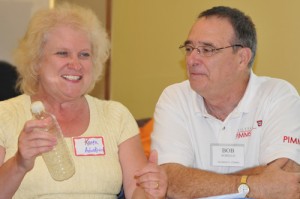 Wesleyan's Project to Increase Mastery of Mathematics and Science (PIMMS) has been selected by The United Illuminating Company (UI) and The Connecticut Light and Power Company (CL&P) to provide professional development workshops for eesmarts teachers regarding energy and energy-efficient behaviors and technologies.
These new contracts provide funding for a fourth year of the program and are renewable for an additional two years. The first three years of the program provided nearly $1M in funding to PIMMS to conduct the program. Funding for the next three years show a slight increase.
eesmarts is an energy-efficiency learning initiative that is funded by the Connecticut Energy Efficiency Fund (CEEF) and administered by UI and CL&P. The vision of eesmarts is to develop an energy-efficient ethic among all school age students in Connecticut, encouraging them to incorporate energy-efficient practices and behaviors into their lives at home and at school.
The program is supportive of the Connecticut Mastery Test (CMT), Connecticut State Framework and the National Science Standards. The eesmarts program offers packaged curriculum units, professional development workshops, Continuing Education Units (CEUs) and educational tours of the SmartLiving™ Center in Orange, Conn. The eesmarts program's products and services are available to teachers at no cost and all schools within both companies' service territories are eligible to participate.
"PIMMS is recognized as the premier supplier of professional development for teachers of math and science in Connecticut," says Kristen Brooks, UI's eesmarts program administrator. "Third party evaluations of the eesmarts program have shown that PIMMS is a tremendous asset to the program."
CL&P's eesmarts Program Administrator Rebecca Meyer stated, "Our relationship with PIMMS has allowed us to take advantage of their extensive contacts throughout the educational community to further the goals of the program. Through PIMMS efforts, we have been able to exceed all of the goals set for the program."
PIMMS's overall objectives in the contract are to promote and execute CEU and on-site Professional Development programs associated with the eesmarts program to Connecticut schools and teachers, and to provide services to effect adoption, proficiency of execution and teacher evaluation of the eesmarts program.
"We are delighted to be selected as the eesmarts program professional development provider. The program is closely aligned with the Connecticut State framework for science and mathematics," says Mike Zebarth, director of PIMMS. "The funding provided by the program has allowed PIMMS to provide workshops in energy and energy conservation to nearly 1000 teachers over the past three years. In tough economic times, it is difficult to find funding for professional development for teachers. The eesmarts program allows us to focus attention on the importance of science in todays world."
The CEEF was created by the Connecticut legislature to promote efficient energy use, help residents and businesses save on their electric bills, promote economic development, reduce electric demand and help reduce air pollution. UI and CL&P administer the CEEF through conservation programs that serve residential customers, including low- and fixed-income customers, as well as business and municipal customers. Connecticut's energy-efficiency programs are funded by the conservation charge on customer electric bills.