Wood '84 Finds Home in Off-Broadway's Clybourne Park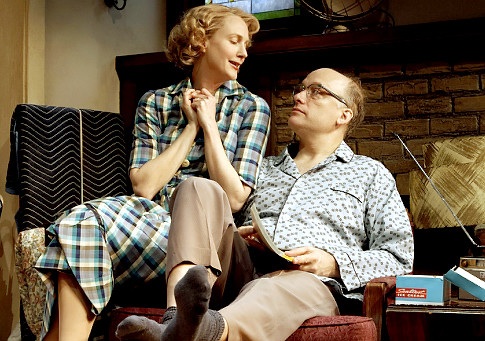 Tony winning actor Frank Wood '84 is currently starring in Clybourne Park, a darkly comic play by Bruce Norris, which deals with race relations among neighbors. The play opened to good reviews in February, and runs through March 21 at off-Broadway's Playwrights Horizons.
Clybourne Park begins in 1959 in a Chicago neighborhood as a white family moves out. In Act Two, the action shifts to 2009 and a white family moves in to what has become a predominantly black community that promises to be gentrified. During the intervening years, change overtakes the neighborhood, along with attitudes, inhabitants, and property values. The play is loosely inspired by Lorraine Hansberry's A Raisin in the Sun.
In the play, Wood plays a sad, isolated husband and father. In his recent review in The New York Times, Ben Brantley describes Wood's performance as "wonderful" and part of a "quick-witted ensemble." Brantley writes: "Clybourne Park concerns, to borrow from Raymond Carver, what we talk about when we talk about race. Mr. Norris focuses on the evasions, euphemisms and tongue-tied paralysis that afflict such discussions and comes to the conclusion that talk — at least among the all-American solipsists he portrays—is worse than cheap: it's valueless."
Wood was recently interviewed by the Times Herald and was asked what attracted him to complicated dramas. He answered: "I spent 10 years of my career in the margins … some of those margins were chosen and some of them were — well, that's just the way things go and that's where you got work. One of the first exciting jobs that I got in New York was doing a production of Dark Ride at Soho Rep with Reed Birney, Marylouise Burke and a bunch of great funny actors. And I would have said out of a 10-year period of acting that was really the highlight of my career. I guess in some ways you repeat what you feel are earlier successes and it's not entirely conscious."