Posner '09 Wins $100,000 Do Something Award
<div class="at-above-post addthis_tool" data-url="http://newsletter.blogs.wesleyan.edu/2010/07/20/posner-09-wins-do-something-award/"></div>Posner's award will support Shining Hope for Communities' Kibera School for Girls and Health Clinic<!-- AddThis Advanced Settings above via filter on get_the_excerpt --><!-- AddThis Advanced Settings below via filter on get_the_excerpt --><!-- AddThis Advanced Settings generic via filter on get_the_excerpt --><!-- AddThis Share Buttons above via filter on get_the_excerpt --><!-- AddThis Share Buttons below via filter on get_the_excerpt --><div class="at-below-post addthis_tool" data-url="http://newsletter.blogs.wesleyan.edu/2010/07/20/posner-09-wins-do-something-award/"></div><!-- AddThis Share Buttons generic via filter on get_the_excerpt -->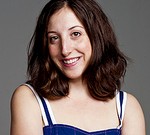 Jessica Posner '09 was declared the top world-changer among all Americans under 25 by the Do Something Awards, at a live broadcast on July 19  from the Hollywood Palladium on VH1. She received $100,000 for Shining Hope for Communities, an organization she co-founded that last August opened the first free school for girls in Kibera, Africa's largest slum.
A Denver resident, Posner was selected among five finalists by voting on the Internet.  She also has started a gardening program, a library, an Internet-ready computer center and introduced ecologically friendly latrines. In August, Shining Hope will open Kibera's first accessible community health center.
Read more in the Denver Post.
See also: (Video) "Shining Hope for Communities: The Kibera School for Girls"