Östör Receives Highest Appointment at Portuguese University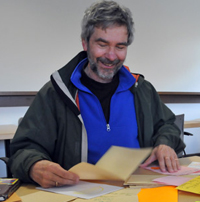 Ákos Östör, professor of anthropology, emeritus, was appointed to "Professor Catedratico"  for the fall semester at the Instituto Superior de Ciencias do Trabalho e  da Epresa – Lisbon University Institute. This is the highest appointment offered in the Portuguese University system.
There, Östör is teaching a course on the "History of Visual in Anthropology" for the new master's program in Visual Anthropology.
"Lisbon is a delightful place, deep histories and memories of ages and ethnicities, well reflected in the cuisine (the wine and seafood are superb and affordable in the numerous tascas, neighborhood eateries, throughout the city) definitely a place to visit and a people to spend time with," Östör says.