Elie Wiesel HON '79 on 'The Death Penalty and Human Dignity' Oct. 26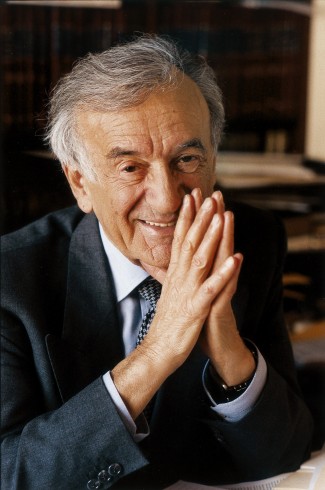 Elie Wiesel, Nobel Peace Prize Laureate, acclaimed author and speaker, Andrew W. Mellon Professor in the Humanities and University Professor at Boston University, will deliver a University Lecture titled "Building an Ethical Society: The Death Penalty and Human Dignity" on Tuesday, Oct. 26 at 7 p.m. in Memorial Chapel. Wiesel received an honorary doctor of humane letters from Wesleyan in 1979.
Wiesel's efforts have earned him the United States Congressional Gold Medal (1985) and the Medal of Liberty Award (1986); the Presidential Medal of Freedom (1992); the rank of Grand-Croix in the French Legion of Honor (2001); an honorary Knighthood of the British Empire awarded by Her Majesty, the Queen (2006); and, in 1986, the Nobel Peace Prize. He has received more than 120 honorary degrees from institutions of higher learning in the United States, Europe and Israel.
His more than 50 books have won numerous awards, including the Prix Médicis for A Beggar in Jerusalem, the Prix Livre Inter for The Testament and the Grand Prize for Literature from the City of Paris for The Fifth Son. The first volume of Wiesel's memoirs, All Rivers Run to the Sea, was published in New York (Knopf) in December, 1995. The second volume, And the Sea is Never Full, followed the first in November, 1999.  His latest novel, Un désir fou de danser, published in France in 2006, is soon to be published in English by Knopf.
The event is sponsored by the Rosenberg Family Fund for Jewish Student Life, the Allbritton Center for the Study of Public Life, the Endowed Fund for Lectures in Ethics, Politics and Social Issues, Wesleyan Writing Programs, the Connecticut Network to Abolish the Death Penalty, the Wesleyan Jewish Community, the Office of Diversity and Strategic Partnerships, Jewish and Israel Studies, Student Activities and Leadership Development (SALD), and the Office of Residential Life
Arrangements for Elie Wiesel were made through B'nai B'rith Lecture Bureau.