Dr. Block '65 Named President-Elect of Pediatrics Academy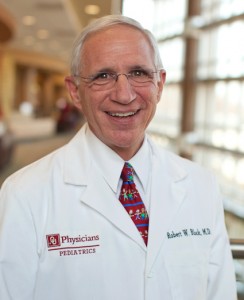 Robert  Block '65, M.D., was named president-elect of the American Academy of Pediatrics, with his term as president beginning in October 2011.
A biology major at Wesleyan, he earned his medical degree from the University of Pennsylvania and served three years in the U.S. Army. He joined the faculty of the University of Oklahoma Medical School in 1975 and has been chair of the pediatrics department for the past 13 years.
He has been particularly active in combating and raising public awareness of child abuse and has been the state's chief child abuse examiner since 1989.
The position as president of the AAP, he explained in an article for TulsaKids, is largely one of advocacy, with a focus on "'trying to put policy into healthcare reform that would help children." He noted that, while children are 60 to 70 percent of the Medicaid patients, they only receive 20 percent of the funds. Furthermore, 7 million children in the United States have no health insurance. He also plans to continue his work against child abuse at a national level.
Additionally, Block is active in the American Board of Pediatrics, the testing and certification organization, where he is the founding chair of its newest sub-specialty, child-abuse pediatrics.