Daniels '13 Introduces Costa Rican Youth to Lacrosse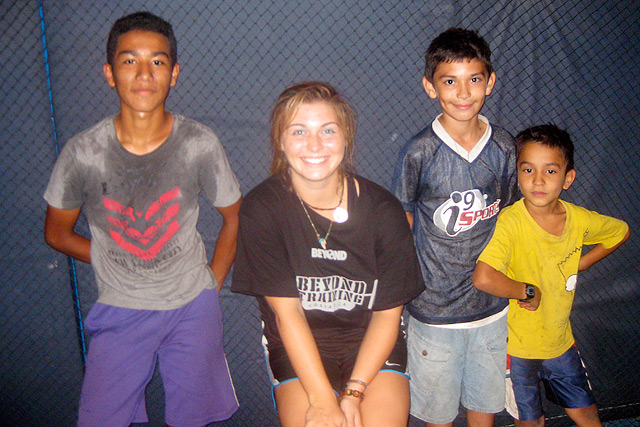 Most Wesleyan student-athletes spend their summers training for the upcoming season, but this past July, women's lacrosse standout Emma Daniels '13 took it a step further. Daniels, a College of Letters major, was one of 28 students selected for Beyond Study Abroad, a program that "aims to connect the world through sports," according to its mission statement. She spent six weeks in Costa Rica taking courses, training and introducing local youths to the sport of lacrosse.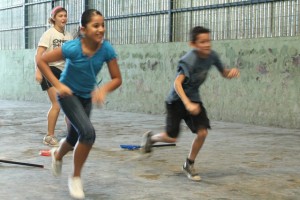 "I went down because I had to go abroad for COL, and summer was the only option because I wanted it to be a service trip," Daniels explains. "I've always loved to coach. I think the values that lacrosse instills—its discipline, its teamwork, being able to communicate with your teammates—those values transcend the field. Coaching is not so much about teaching a new sport as it is teaching these values that they might not have as much of a chance to learn outside the sport."
Wesleyan women's lacrosse coach Holly Wheeler introduced Daniels to the program.
"I applied last spring and talked to the director on the phone a few times, and it sounded great, so I decided to do it," she says.
Daniels lived with a host family in the capital city of San José, touring the country on weekends. The first three weeks of the program focused on getting acclimated to the country, while the remaining three weeks were devoted to all-day camps, at which children were introduced to such sports as baseball, football and lacrosse. This was a familiar activity for Daniels, who previously worked with Metro Lacrosse, a Boston-based program for disadvantaged youth—but the language barrier presented unique challenges.
"Explaining an American sport in another language is very difficult," Daniels says. "There's no word in Spanish for 'lacrosse.' We'd introduce them to the sticks—'This is a lacrosse stick, this is how you hold it.' When I worked with eight-year olds at home, it would take them two weeks to learn. It took these kids two days to learn.
"Learning a new sport is something I think they really appreciated," she adds. "I went down assuming I would just be playing lacrosse with these kids, and I played soccer every day [as well]. These kids are so happy with so little, so when we bring them new things, they're almost surprised. 'What is this? What can we do with it?' You have these kids with no equipment, and I'm carrying in brand new sticks and brand new balls, and their jaws just dropped."
While Daniels described the initial culture shock as "phenomenal," she noted that she became more and more comfortable with her new surroundings over the program's six weeks.
"Costa Rica is a very safe country, but petty theft is common," Daniels says. "You don't walk around San José by yourself at 2 a.m. You don't walk around San José by yourself at 3:00 in the afternoon. By the end of the six weeks, though, we hadn't really broken that rule so much as branched out. It's not just working with the kids. It's talking to the older brothers. It's talking to the locals in the store across the street. It's providing a haven for [the children]—they throw every bit of energy they have into what you're teaching them."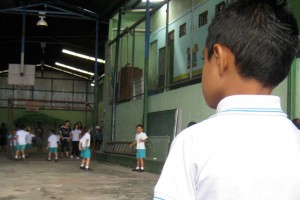 Working with the program's children did present some difficulties for Daniels, however. One day, a group of older campers began fighting with the younger children, ignoring the counselors' commands to stop. The older children continued to misbehave, forcing the instructors to cancel camp for a day.
"When we told them they couldn't come to camp the next day, these kids just started bawling," she explains. "They were crying their eyes out."
Daniels hopes to return to Costa Rica with the program over winter break with the goal of involving more local schools in the program. Interscholastic athletic contests are virtually unheard of in the Central American nation, but Daniels hopes to change that.
"If I go back in December, I'd be going out trying to get more schools to sign up," she says. "There's no interscholastic volleyball matches or baseball games—that doesn't exist in Costa Rica. It depends on us going out and talking to administrators in the schools and getting them involved."
"I asked [the children], 'What do you want to do?' and they said, 'We want more lacrosse,'" she added of an experience she describes as "the best six weeks of my life."