Novelist, Journalist Amos Oz on "Israel Through Its Literature" Nov. 3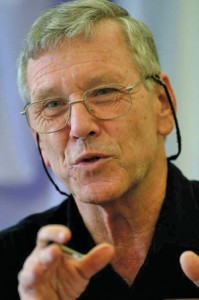 The internationally lauded novelist and journalist Amos Oz will speak on "Israel Through Its Literature," at 8 p.m., Thursday, Nov. 3 in Memorial Chapel. The event is free and open to the campus community.
Amos Oz, Israel's best known writer, is the author of novels, novellas, short stories, children's books, literary and political essay collections, and the moving memoir A Tale of Love and Darkness. Oz's most widely acclaimed novel, My Michael (1968), was an immediate artistic and political sensation. It has been published in over 30 countries and in 1975 was made into a popular film. Among many other titles received with admiring reviews and heavy sales are The Hill of Evil Counsel (3 novellas), In the Land of Israel (essays on the Lebanon War), and novels such as To Know a Woman and The Same Sea.
One of the founders of the Peace Now movement, Oz has written extensively about Arab-Israeli relations and for more than 40 years has championed dialogue and campaigned for mutual recognition between Israel and a Palestinian state.  He is a long-time teacher and is currently a professor at the Ben-Gurion University of the Negev in Beersheba.
Oz is the recipient of numerous awards for literary and humanitarian activity, including the Prix Femina (1998) and Knight of the Legion of Honor (1997) in France; the German Friedenspreis (1992), Goethe Prize (2005), and Heine Prize (2008); and the Israeli Prize for Literature (1998).
Arrangements for this appearance were made through the B'nai B'rith Lecture Bureau. The event's sponsors are the Rosenberg Family Fund for Jewish Student Life, Wesleyan Writing Programs and the Annie Sonnenblick Fund, the Samuel and Dorothy Frankel Memorial Lecture Fund, Jewish and Israel Studies, the Wesleyan Jewish Community and the College of Letters.