Siry's New Book Examines Frank Lloyd Wright's Religious Architecture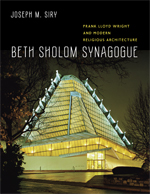 Joe Siry, professor of art, is the author of the book Beth Sholom Synagogue: Frank Lloyd Wright and Modern Religious Architecture, published by the University of Chicago Press in December 2011.
Beth Sholom Synagogue provides the first in-depth look at the synagogue's conception and realization in relation to Wright's other religious architecture. Beginning with his early career at Adler and Sullivan's architectural firm in Chicago and his design for Unity Temple and ending with the larger works completed just before or soon after his death, Siry skillfully depicts Wright's exploration of geometric forms and structural techniques in creating architecture for worshipping communities. Siry also examines Wright's engagement with his clients, whose priorities stemmed from their denominational identity, and the effect this had on his designs—his client for Beth Sholom, Rabbi Mortimer Cohen, worked with Wright to anchor the building in the traditions of Judaism even as it symbolized the faith's continuing life in postwar America.