5 Questions With . . . Catherine Poisson on the Benefits of Bilingualism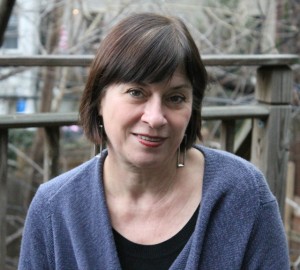 In this issue of The Wesleyan Connection, we ask 5 Questions of Catherine Poisson, associate professor of romance languages and literatures.
Q: Professor Poisson, you were recently named a Chevalier L'Ordre des Palmes Académiques (a Knight of the Order of Academic Palms) by the Minister of Education for your contribution to the promotion of French language and culture. What was your reaction to receiving this award, and why do you think you were nominated for the honor?
A: I was puzzled and somewhat apprehensive on receiving the notice of Certified Mail, so when I opened the envelope at the post office, it was a happy surprise; I felt flattered. My nomination is in recognition of my contribution to the association Education Française à New York (EFNY). I confess I went to Wikipedia to check exactly what L'Ordre des Palmes Académiques was. I discovered it was founded by Napoléon to honor eminent members of the University of Paris. It consists of a medallion of palms attached to a purple ribbon, which will be presented to me at a ceremony at a later time.
Q: Last June, you were featured in The Wall Street Journal as the president of the EFNY (Education Française à New York). What is the purpose of this organization?
A: EFNY was created in 2005 by Francophone parents who were struggling to have their children not lose their ability to speak French. Those parents – myself included – could not afford private bilingual schools, and believed that private tutoring was not an answer. Bilingual children feel somewhat estranged and we needed to place them in social situations with other peers. EFNY's mission is to promote French in the Public School System both for Francophone and Anglophone children. We do so in two ways: creation of after school programs (we have 10 sites in Manhattan and Brooklyn) and launching French/English dual languages classes in elementary schools. And we are now moving towards a continuation of the program at the middle school level.
Q: Why is it important students learn a foreign language at a young age?
A:  I would gladly write 20 pages on the subject!  But in a nutshell: the brain is a spectacular sponge till you are 12. From age 12 on, learning a second language becomes increasingly difficult and the results are not as good. Teaching a 5- or 6 year-old child a second language is a true gift; she/he learns to think in several dimensions and the effects are long lasting and far-reaching. Bilingual children are more open to intellectual questions, more curious, and perform better on tests. There are numerous experiments to prove that it is a spectacular advantage in life. My colleague Ana Pérez-Gironés used to have a poster on her office door that said: "Monolinguism can be cured." I use the motto whenever I can.
Q: Do you encourage your Wesleyan students to study abroad? What is your involvement with the Vassar-Wesleyan Program in Paris?
A:  Studying abroad is not a requirement for the major, but at least 90 percent of the French studies majors do spend a semester or a year in a Francophone country, as do most of the many other Wesleyan students who study French but are not FRST majors. In the French section of Romance Language and Literatures, we believe it is a key component of learning French, whether or not you are a major, and we can usually spot students who spent a semester abroad upon their return. Not only is there a change in their language ability but also a slight change in the way they dress or interact; it can truly be a life changing experience. The French faculty are all very involved in the Vassar-Wesleyan Program in Paris, from the orientations that take place on campus to the change of curriculum. I will be the resident director in 2012-2013 and am very happy about it even though it is a tremendous amount of work, much more work than teaching courses here on campus.
Q: Where are you from, and what led you to teach French at Wesleyan? Also, what classes do you teach at Wesleyan?
I am from Paris, came to the States to work on my M.A. on the American Thriller of the late 30s, completed the degree, then decided to settle here and did an M.A. and a Ph.D. in French Literature at New York University. It is a pretty common trajectory for French faculty in U.S. universities. The year I completed my Ph.D. I was offered a position at Wesleyan and have been happily teaching here ever since. I go back to France twice a year for about six to eight weeks per year. Being bilingual is one thing, being bicultural is another. For myself and my students, it is important to keep up with what's going on in France.
My focus is literature and culture of the 20th and the 21st century. This semester, I teach a new course on French Popular Culture from 1840 to today examining the question of high and low cultures through sentimental, detective and graphic novels. Very new material for me and very absorbing. I also teach a language class which we believe all tenured and tenure-track French faculty should do.