Weitz '88 is Director-Writer of Being Flynn, Starring Robert De Niro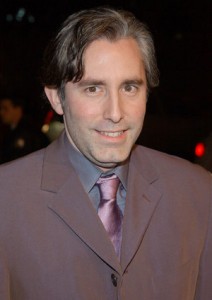 Paul Weitz '88 is the director of the film Being Flynn (Focus Features), which he adapted from an acclaimed memoir by Nick Flynn and which opened in theaters on March 2. The movie drama deals with a young, self-destructive writer (played by Paul Dano) who works in a homeless shelter where he reconnects after 18 years with his alcoholic father (played by Robert De Niro), also a writer, who comes to stay at the shelter. The film also stars Julianne Moore and Olivia Thirlby.
Weitz's film had a long journey to the screen and along the way, the director wrote 30 versions of the script. In a recent article by Ari Karpel in The New York Times, Weitz said he was intrigued by memoir's themes, including "whether you're fated to become your father, or whether you can become your own person."
Karpel writes: "While the circumstances of his upbringing differ dramatically from those of Mr. Flynn's, Mr. Weitz has struggled with comparable issues. 'My dad was a pretty successful fashion designer,' he explained, referring to the John Weitz, a men's wear heavyweight, who died in 2002. 'But what he wanted to be in life was a writer, and he was a very loving but fairly tortured fellow. And so I've always wanted to react to that, to try to avoid some of his specific brand of pain, coming from creativity.'"
Todd McCarthy praised Being Flynn in The Hollywood Reporter:
"Robert De Niro and writer-director Paul Weitz find the most congenial material either of them has had in quite some time in Being Flynn, a fractious father-son drama with a soul-warming gentle core. What sounds predictable and vaguely unappealing in summary—a young aspiring writer struggles with addiction while trying to deal with his delusional, homeless dad—credibly engages in elemental human ways thanks to insightful writing and sensitive performances all around."
Bob Montello at NPR also liked the film:
"Writer-director Weitz finds grace everywhere, plunging headlong into a scarily persuasive skid row, then seeking more stable ground for his characters. His script makes much of parallels — two aspiring writers, one working in a homeless shelter, the other freshly homeless. Three family members: a mother, father and son who face their demons by respectively fighting them, embracing them and learning to live with them.
"And then there's the simple fact of De Niro, playing a delusional taxi driver. It's easy to imagine Being Flynn's story turning precious in the wrong hands, but Weitz and his cast spin it just right — as a narrative that is both emotionally real, and just writerly enough to suit its leading men."
At NPR, listen to Paul Weitz and writer Nick Flynn talk about Being Flynn and the memoir on which it is based.
Weitz previously directed In Good Company, American Dreamz, and Little Fockers and co-directed American Pie and About a Boy with his brother Chris Weitz. He is also a playwright and his new play Lonely, I'm Not, begins previews Off-Broadway on April 10.