Kleindienst Helps Wesleyan Create a Sustainable Future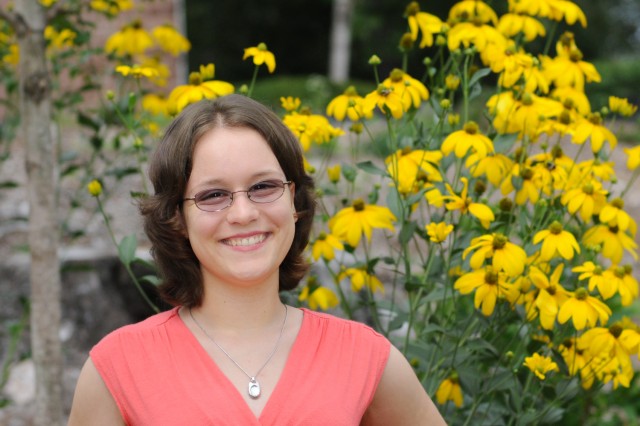 Q: Jennifer, you started working as Wesleyan's sustainability coordinator on July 2. Please define "sustainability" and explain the purpose of this new position.
A: I think of sustainability as people living such that current and future generations of humans and animals, as well as the Earth itself, can thrive. Sustainability doesn't just have to do with the environment; it's about people, too. As the sustainability coordinator, my job is to turn these ideas into tangible actions that help the campus to operate more sustainably and show how others how to change behaviors to live in a way that's in harmony with nature but that's still fun. My title explains a lot; I'm coordinating existing campus sustainability efforts and working with people across campus and in the community to develop new projects and programs. This position was created in large part because of students' efforts, and my job reflects this student-centered focus. I'll be acting as an advisor and mentor to different student groups on campus to share tools and strategies that can make their efforts more successful, and act as their advocate with the administration. I'll also be working with SAGES (Sustainability Advisory Group for Environmental Stewardship) to develop and strengthen campus sustainability policies and reduce Wesleyan's carbon footprint.
Q: In your short time working at Wesleyan, what have you learned about the university's current sustainability efforts? What are we doing right? What can we improve on?
A: I've been very impressed with the number of projects that are already going on or are in the works. I was happy to learn that President Roth signed the American College and University Presidents' Climate Commitment in 2007 and that SAGES has worked to make this commitment a reality by quantifying our greenhouse gas emissions and creating a climate action plan, so that we can figure out how to reduce our carbon emissions. In some areas, like energy use, we're definitely on the right track, while other areas, like integrating sustainability into academics and making sustainability part of the campus ethos, still need some work. I'm happy to be here to facilitate these efforts!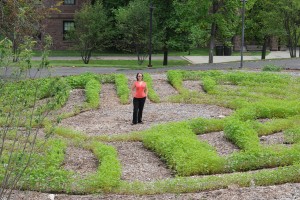 There are a ton of student efforts on campus, including Waste Not, Do it in the Dark, WILD Wes, Long Lane Farm, student-run residential composting, the Wesleyan Farmers' Market, and EON, plus a bunch of smaller projects, all of which are doing great things for the campus and showing what's possible. It's impressive to see so many students not just passively interested in sustainability, but willing to work hard to reach their goals. I'm very excited for students to return to campus so that I can work with them!
Q: Will you mostly be working with students, or academic departments as well? Do you have an overall goal?
A: I'll be spending a lot of time working with students, but also collaborating with administrators, faculty, and staff. Some of my work will be doing the "nuts and bolts" of sustainability, things like energy and waste reduction projects. I'm still working on concrete goals, but I'd like to improve sustainability education on campus for both students and employees. Sustainability has the potential to be integrated into so many areas at Wesleyan, and the more people I can talk with and connect to one another, the more successful our efforts will be. I'm all about working for something, rather than working against something. Positive thinking is a much better motivator!
Q: What is your background in sustainability work or related environmental efforts, and what did you study in college?
A: I was a public policy major at Hamilton College and received an M.S. in environmental studies from Antioch University New England this past May. I'd been interested in sustainability since high school, but wasn't sure what kind of a career I wanted to pursue. The summer before my junior year at Hamilton, I was a representative to several northeastern colleges to study their composting programs, and met with a lot of sustainability coordinators. From talking with them, I realized that becoming a sustainability coordinator fit my interests perfectly: this job would give me the opportunity to interact with a lot of different people and do things in my career that would have a positive impact on the world around me. Over the past few years, I worked in sustainability offices at MIT, St. Michael's College and Tufts University. My experiences at each of these schools have helped me to understand that sustainability solutions are not one-size-fits-all, different solutions are right for different campuses.
Q: In 2008, while you were a student at Hamilton, you were awarded a Morris K. Udall Scholarship from the Excellence in National Environmental Policy Foundation. What sustainability activities did you participate in at Hamilton?
A: I was active in Hamilton's Environmental Action Group (HEAG) throughout my college career. I served as the Recycling Task Force Coordinator for three years, during which time I helped to start and improve many recycling and reuse programs including Cram 'n Scram (similar to Waste Not), recycling programs for books, plastic bags, and CDs, and educational outreach to students. The research I did on my trip to study other colleges' composting programs helped to inform the launch of composting at Hamilton last year.
Q: What is your personal interest in sustainability/environment/saving the planet?
A: This is a hard question! I'm interested in pretty much anything sustainability-related, and anyone who knows me knows that I'm a bit obsessive about not wasting electricity (I always turn off the power strip when I'm not using my computer). I compost, buy a lot of things used, and walk or bike to work every day. There's always more I can be doing, and I try to think of the big picture. I think Earth is a pretty great place, and we should do all we can to protect what we love.
Q: Where is your office located and who do you report to?
A: I report to John Meerts, vice president of Finance and Administration, and my main office is next to his in North College on the 4th floor; that's where you'll find me most days. I have a second office at the Physical Plant building on Long Lane, since I spend a lot of time working with Bill Nelligan. I'm one of the few people on campus without a smartphone, so I'm not on e-mail 24/7, but if you e-mail me at jkleindienst@wesleyan.edu, I'll happily answer all questions or point people in the right direction.
Q: Where are you from and what attracted you to Wesleyan? Also, what are your hobbies and interests?
A: I grew up in Niskayuna, N.Y., outside of Albany, and have lived outside of Boston for the past few years. I was attracted to Wesleyan largely because of the great atmosphere here; I've met so many nice employees and students. It's exciting to meet students who are so engaged and involved in their college experience! When I'm not at work, I enjoy biking, going for walks, traveling, playing Euro-style board games (if there are any fellow game lovers, let me know), and reading.