Influence Map Highlights Wesleyan U. Press Books World-Wide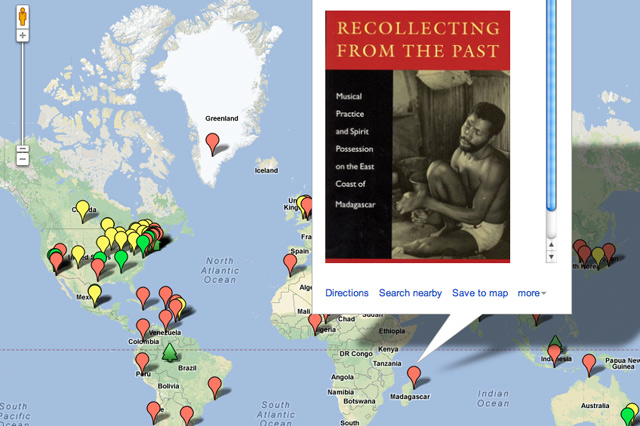 In honor of University Press Week Nov. 11-17, Wesleyan University Press released an Influence Map highlighting the scope of its work in the state, nation and world. University Press Week highlights the extraordinary work of university presses and their many contributions to culture, the academy, and an informed society.
Wesleyan University Press's editorial program focuses on poetry, music, dance, science fiction studies, film-TV, and Connecticut history and culture. The map, hosted by Google, displays many of the locations of where the press is carrying the name of Wesleyan University.
Click on a "pin" in Connecticut, and the map displays a poetry anthology, published by Wes U. Press, celebrating the Hill-Stead Museum's Sunken Garden in Farmington, Conn. A pin in Texas links to a book on the Rock'n'Roll scene in Austin. A pin on Peru reveals a book on reviving African musical heritage in the black pacific; and a pin on Morocco pops up a Wes Press book on Moroccan Ghawa trance and music.
Wes Press publications cover topics in Denmark, Vietnam, Italy, Japan, Pakistan, Syria, the United Kingdom, Germany, Greece, Russia, and Canada, and there's even a Wes Press-published book about the perils of living in a world of treacherous icebergs, fog and nor'easters in Greenland.
"Yes, we really do have a pin in Greenland," says Wesleyan University Press Director Suzanna Tamminen. "In 1996, the press published a memoir by classic American graphic artist and author Rockwell Kent, whose adventure tale has no shortage of maritime excitement, survival struggles or arctic fjord-itude."
The map also makes mention of any award-winning Wesleyan U. Press books, including Seven Controlled Vocabularies, by Tan Lin, which is the recipient of the 2012 Book Award in Poetry from the Association for Asian American Studies (AAAS).
Publishing in its current form since 1957, Wesleyan University Press has published an internationally-renowned poetry series, collecting five Pulitzer Prizes, a Bollingen, and two National Book Awards in that one series alone.