Stowell '13 Writes, Edits, Translates 2 New Books of Poetry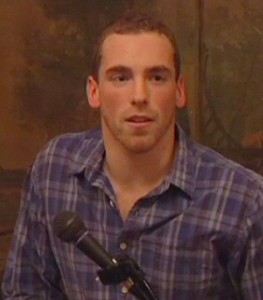 Glenn Stowell '13, an economics major, is the editor and translator of, and an author of, two poetry books published in 2012.
Stowell recently edited, translated and wrote the introduction to Yan Jun's You Jump to Another Dream, published by Vagabond Press.
Last spring, Stowell worked with Ao Wang, assistant professor of Asian languages and literatures, assistant professor of East Asian studies, on an independent study on translation of contemporary Chinese poetry. You Jump to Another Dream was the result of the independent study. Additionally, the Olin Fellowship provided Stowell with funds needed to travel to China this summer and to work with Yan Jun on their book.
Also last spring, Stowell's first collection of poetry, Until We Leave, was published by Stethoscope Press, a Wesleyan-funded press.
Stowell began studying Chinese at Phillips Academy in Andover, Mass. and is completing his language studies at Wesleyan. He is the recipient of DKE international short story contest in 2010, was named a Wesleyan Student Poet for 2011-2012 and has been published in The Tulane Review.
In addition to being an author and full-time student, Stowell is currently a goaltender on the men's hockey team, and is a former pitcher on the baseball team.
After Wesleyan, Stowell will work at Goldman Sachs in New York City, where he has signed a two-year contract.
#THISISWHY