15 Students with 93 Percent GPAs Elected to Phi Beta Kappa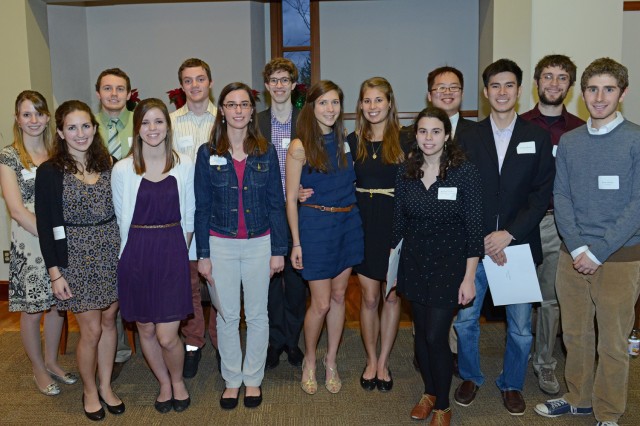 Fifteen students from the Class of 2013 were elected to early-decision membership in Phi Beta Kappa during an initiation ceremony Dec. 5. Phi Beta Kappa is the oldest surviving Greek letter society in America, dating back to 1776.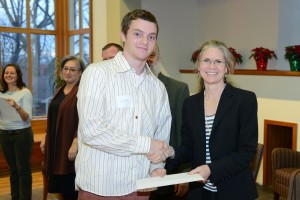 The organization's Greek initials signify the motto, "Love of learning is the guide of life."To be elected, a student must first have been nominated by his or her major department. He or she also must have demonstrated curricular breadth by having met the General Education Expectations, and have achieved a grade-point average of 93 percent. Members of the Fall 2012 class all have GPAs of 94.48 percent or above.
Sally Bachner, president of the Connecticut Gamma Chapter of Phi Beta Kappa and associate professor of English, said for students elected in the fall, it is an especially exacting selection process and the election is an extremely prestigious one, because admittance is based on a student's performance at Wesleyan only through their junior year.
"The students gathered here today represent a broad range of learning and commitment to excellence in a major, in some cases two or more majors, or a major that combines several disciplines," she said, during the initiation ceremony. "These new members' accomplishments during their years at Wesleyan should be a source of pride to themselves and to their families."
Bachner was joined by the chapter's vice president Anna Shusterman, assistant professor of psychology; chapter treasurer Steven Horst, chair and professor of philosophy; chapter secretary and marshall Louise Brown, dean for academic advancement/dean for the Class of 2013; and chapter historian Lorna Scott, assistant to the vice president for student affairs.
The elected students and their majors are:
Benjamin Abravanel, English and psychology; Evan Baum, chemistry; Julianne Edwards, biology, molecular biology and biochemistry, Science In Society; Scott Greene, chemistry; Katherine Marcus, neuroscience and behavior; Evan Okun, sociology; Hannah Reuman, neuroscience and behavior; Brenna Windsor Sansom, economics, mathematics; Nathan Shane, music; Gavin Wei Ming Swee, East Asian studies, history; Rebecca Vaadia, biology, neuroscience and behavior; Mary Vallo, English, neuroscience and behavior; Ging-ji Nathan Wang, chemistry; Alex Wilkinson, English; and Kaitlin Zelman, biology, molecular biology and biochemistry, neuroscience and behavior.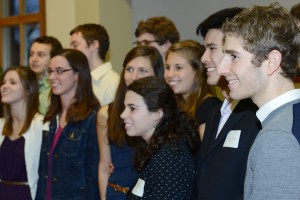 The students gathered here today represent a broad range of learning and commitment to excellence in a major, in some cases two or more majors, or a major that combines several disciplines," Bachner said. "These new members' accomplishments during their years at Wesleyan should be a source of pride to themselves and to their families."
Photos of the initiation ceremony are below: