Wesleyan Announces Commencement Speaker, Honorary Degree Recipients
Wesleyan will honor three extraordinary alumni at the University's 181st Commencement on May 26. Joss Whedon '87, film and television director, writer and producer, will deliver the commencement address. Honorary degrees also will be presented to environmental and social justice leader Majora Carter '88 and Jim Dresser '63, whose many years of service to Wesleyan include having chaired the Board of Trustees.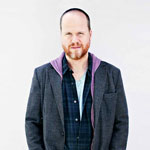 Joss Whedon '87 is an award-winning writer, director and producer. He is the force behind such popular television shows as Buffy the Vampire Slayer and Angel, and the 2012 superhero blockbuster film, The Avengers.
The son and grandson of successful television writers, Whedon was raised in New York and studied film at Wesleyan. After graduating, he landed his first TV writing job on the show Roseanne. He developed a script for the 1992 film, Buffy the Vampire Slayer, which in 1996 he adapted as the cult hit television show by the same name. Buffy ran for seven seasons; Whedon was nominated for an Emmy Award for Outstanding Writing for a Drama Series in 2000. The spin-off from Buffy, titled Angel, ran for five seasons. He subsequently created the space-western TV show, Firefly, and a film of the same premise, Serenity, which won a 2006 Hugo Award.
Whedon also wrote and co-wrote on numerous films, including Toy Story (for which he was nominated for an Academy Award). In 2008, he produced a short web-exclusive musical comedy, Dr. Horrible's Sing-Along Blog, which won an Emmy Award and a Hugo Award, among other honors.
In April 2012, The Avengers, a live-action adaptation of the Marvel Comics superhero team, directed and co-written by Whedon, had the biggest opening weekend of all time, and became the third highest-grossing film ever. He is currently writing and will direct the sequel. Most recently Whedon directed a modern adaptation of Shakespeare's Much Ado About Nothing.
In 2009, Whedon delivered the Shasha Seminar for Human Concerns keynote address at Wesleyan. In 2010, he was honored by the Producers Guild of America with its Vanguard Award, which recognizes achievements in new media and technology.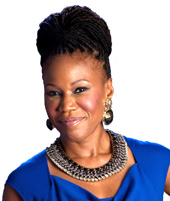 Majora Carter '88 is an urban revitalization strategist who works to make communities more livable, healthy and green through infrastructure projects, policies, and job-training and placement systems. She is a MacArthur "genius" Fellow and has received numerous other accolades from organizations as wide ranging as Rupert Murdoch's News Corporation, the Center for American Progress, and Goldman Sachs. Fast Companynamed her one of the 100 most creative people in business.
Today, Carter is president of the Majora Carter Group, an economic development consulting and planning firm that works across the United States and internationally. But she got her start as a force for change in the neighborhood where she grew up: the South Bronx.
In 2001, Carter founded Sustainable South Bronx, a nonprofit organization dedicated to resolving environmental inequality issues—ensuring that no one community has to bear a higher environmental burden with fewer environmental benefits than any other—through innovative, economically sustainable projects informed by community needs. As executive director (until 2008), she oversaw the construction of the award winning Hunt's Point Riverside Park, the South Bronx's first new waterfront park in 60 years; the design of the South Bronx Greenway, for which she obtained federal funding; and development of the Green-Roof project and policy initiatives that led to tax-abatements for property owners who adopt this sustainable building practice. In 2003, Carter pioneered one of the country's first urban "green collar" job training and placement programs, influencing how economic and environmental issues across the country are addressed.
Carter's TED talk was one of the first six to launch TED's groundbreaking website. She has been widely featured in the media, including in The New York Times, Marketplace, and NBC Nightly News and has produced her own shows for Sundance Channel as well as her nationally broadcast, Peabody Award-winning public radio series, The Promised Land.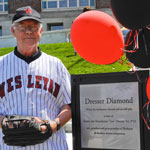 The family history of Jim Dresser '63 is deeply intertwined with that of Wesleyan. His great-grandfather taught classics at Wesleyan for almost 40 years in the 19th century; his grandfather, grandmother, great-aunt, father, sister and son all graduated from Wesleyan. And his commitment to the school is unparalleled. Dresser headed the annual fund, led the alumni association, and served on the Board of Trustees for 15 years, including a four-year term as chair of the Board. He also stepped in temporarily to fill critical positions at Wesleyan, serving as Interim Vice President of University Relations and Vice President of Finance and Treasurer. In recognition of his remarkable service to Wesleyan, the baseball diamond on Andrus Field was named the "Dresser Diamond" in May 2010. It was a fitting honor; Dresser is an avid baseball fan and softball player, and his grandfather (class of 1908) was captain of Wesleyan's baseball team.
As chair of the Board of Trustees, Dresser led the search process that resulted in the arrival of Michael Roth '78 as Wesleyan's 16th president. He also worked with the Board to raise gifts to the University's endowment. Dresser led the Board in dealing with the financial crisis of 2008, helping the University to streamline its expenditures and explore possibilities for additional revenue. On the Board, he was known for his inclusive leadership style and his dedication to involving students and faculty.
For many years Dresser was a senior vice president and chief administrative officer at The Boston Consulting Group, a global management consulting firm and a leading advisor on business strategy.