Rodgers '70, Burfoot '68, Galloway '67 – Long Distance Legends Reunite at Wesleyan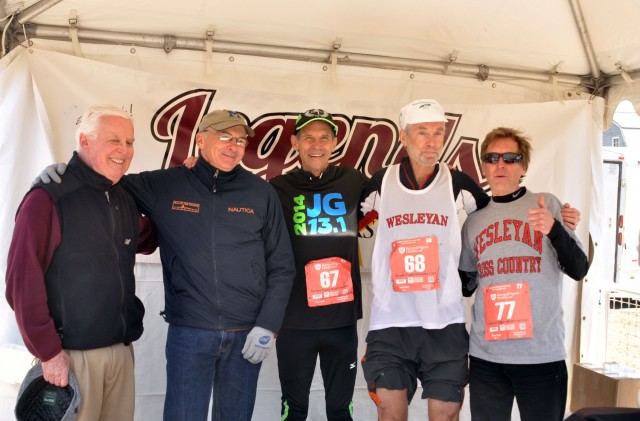 Three legendary running greats from the ranks of Wesleyan's alumni — Jeff Galloway '67, Amby Burfoot '68 and Bill Rodgers '70  — returned to Middletown for the first time as a group in more than 45 years to take part in the Harvard Pilgrim Middletown Half Marathon and Legends 4-Mile Race on April 6.  On site well before the start of the race, Galloway, Burfoot and Rodgers stood at the "legends tent" to sign autographs and have their photos taken with other runners and spectators.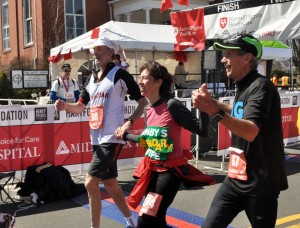 While Rodgers, four-time winner of both the Boston and New York Marathons during the 1970s, was unable to take part in the race due to a muscle pull, he did fire the starting gun for the event. Burfoot, who won the 1968 Boston Marathon as a Wesleyan senior, and Galloway, a 1972 Olympian in the 10k event, hit the road for the half marathon along with Burfoot's wife, Cristina. Galloway is a noted author and clinician on running as a lifetime activity.  Burfoot is a former editor-in-chief of Runner's World magazine and is currently editor-at-large for the publication.  Rodgers heads the Bill Rodgers Running Center in Boston.
Wesleyan was well-represented in the race as Kathleen Roberts, assistant director of university events and scheduling; Sherri Condon, accounting specialist for auxiliary operations and campus services; Sarah Croucher, assistant professor of anthropology, assistant professor of archaeology, assistant professor of feminist, gender and sexuality studies; Chris Caesar, Windows system administrator; Antonio Farias, vice president for equality and inclusion; and Ryan Robbins of Bon Appétit all competed in the half marathon as well.