Arulanantham Honored with Chambliss Medal at American Astronomical Society Meeting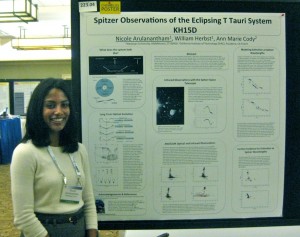 Nicole Arulanantham, who is entering her second year as a graduate student in the Astronomy MA program, was awarded a Chambliss Medal by the American Astronomical Society at its June 3 meeting in Boston. The awards are given to recognize exemplary research by a student presenting a poster paper at an AAS meeting.
Arulanantham worked on the study with her advisor, Bill Herbst, the John Monroe Van Vleck Professor of Astronomy, chair of the Astronomy Department, and Ann Marie Cody of the California Institute of Technology. It involved analysis of data obtained with the Spitzer Space Telescope. Read more about the study online here.
Astronomy major Ben Tweed '13 also presented a paper at the AAS meeting and reported results of his study of the local interstellar medium using data from the Hubble Space Telescope. His advisor is Seth Redfield, assistant professor of astronomy, and the work was done in collaboration with astronomers at the Universities of Warwick and Kiel, as well as University College London. Read more about the study online here.