CareerDrive Will Put Student Job Searches in Gear


Students getting ready for life beyond campus can take advantage of several comprehensive professional development initiatives offered by the Wesleyan Career Center.
CareerDrive fuels students' efforts to learn career management skills, search for jobs and internships, sign up for events, and track progress toward their goals. Powered by CSO Research, CareerDrive will allow students to search and apply for jobs and internships, store their documents, register for events and gain access to subscription-only online resources. It replaces Wesleyan's previous recruiting system. One feature will allow job-seekers to see social media connections in target organizations.
"It's a great tool," said Sharon Belden Castonguay, director of the Career Center. "Say you type in Widgets, Inc. – Drive will let you see whether your LinkedIn or Facebook connections work there, people who may be able to provide insight into the organization."
While the new recruiting platform is open to all students, seniors can participate in Accelerate, a "job search boot camp" running concurrently with the fall recruiting season, providing job hunters with real-time guidance.
Accelerate participants will commit to weekly sessions with Career Center staff, who will prepare candidates to compete for positions from application to offer.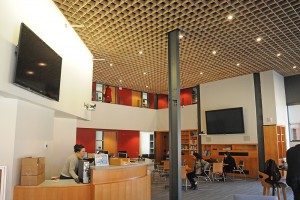 "We're making it easier for Wesleyan students to get step by step help and feedback in their search," Castonguay said. "The idea is to help scaffold seniors' efforts in real time as they navigate recruiting season."
Driver's Ed, a workshop series open to all class years, will help students get started with CareerDrive, polish their resumes, refine their interview techniques, and maximize their use of social media in the job search.
Castonguay said she was particularly excited to relaunch a database of peer internship reviews, which allow students to learn more about how their classmates spent their summers. She has also been working on Wesleyan Graduate Outcomes (WesGO), a platform for collecting data on where the class of 2014 landed within six months of graduation. WesGO's first report will be available in March 2015.
"The first thing seniors need to do is to meet with a career advisor to start thinking about a road map based on their goals," Castonguay said. "Our initiatives will give them the tools and information they need to reach their first destination after graduation."
For more information about CareerDrive, Accelerate, Driver's Ed, WesGo and other programs at the Career Center, visit the Wesleyan Career Center website.