Whalen '83 to Devote Full Attention to Athletic Director Position; DiCenzo Becomes Head Football Coach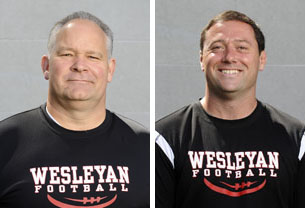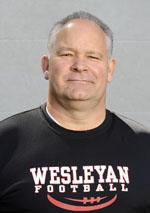 Michael Whalen '83, who returned to his alma mater as head football coach and associate athletics director in 2010, has stepped down as head football coach, effective Feb. 1, to devote his full attention to his post as athletics director. He assumed that position in July 2012.
Dan DiCenzo, who has been associate head football coach and defensive coordinator at Wesleyan the last five years, is taking over the head coaching position, succeeding Whalen.
"Coach Whalen has dramatically improved Wesleyan's football program," said Wesleyan President Michael S. Roth, "and I am grateful for his remarkable service as coach. Now it's time for him to focus all his energy on our entire athletics program. I'm so pleased that the football program will be in the very capable hands of Coach DiCenzo, and I anticipate both a seamless transition and great seasons to come."
Over his five years as Wesleyan football mentor, Whalen compiled a solid 26-14 record for a .650 winning percentage. His Cardinal squads of 2013 and 2014 went 7-1 while winning the Little Three crown and sharing the NESCAC title in 2013. Combined with his six seasons as head football coach at Little Three rival Williams College (38-10 from 2004-09), Whalen has a lofty 64-24 record (.727) over 11 years.
Whalen began his coaching career at Wesleyan as an assistant in football and wrestling the year after he graduated. While an undergraduate, Whalen was a starting offensive lineman for four years and was named a regional all-star and All-American three times. On the mat, Whalen won four straight New England College Conference Wrestling Association heavyweight titles and attended the NCAAs four times.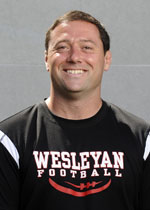 Over the 20 years before taking over at Williams, Whalen had coaching stints at Springfield, where he earned his M.S. in physical education, Penn, Lafayette and Colgate. He moved on to Williams as head wrestling coach and assistant football coach in 1996. He was elevated to head football coach in 2004, bringing DiCenzo, a 2001 Williams graduate, on staff as an assistant in both football and wrestling.
DiCenzo enjoyed an illustrious college career as a defensive back in football at Williams, receiving all-NESCAC honors as a senior, while also gaining wrestling all-NECCWA honors. DiCenzo had coaching jobs at both Trinity and Brown before coming back to his alma mater. After taking over head coaching duties in wrestling in 2007, DiCenzo, who was recently named to the New England Wrestling Association Hall of Fame for his achievement as a participant, coach and contributor, led the Ephs to a cumulative 50-16-1 (.754) dual-match record over three seasons.
"Dan has done an outstanding job over the past five years and has proven he is ready to take on the challenges that await him as head coach," Whalen stated. "He is very committed to the program and has a strong passion for the game. Dan is a player's coach and has a great connection with our student-athletes. As a former NESCAC two-sport team captain, Dan understands what it takes to be successful both academically and athletically."
DiCenzo, who was named Gridiron Club of Greater Boston Division III Assistant Coach of the Year in 2014, becomes the seventh head football coach at Wesleyan since the end of World War II, a 70-year span. Wesleyan football dates back to 1881 as the Cardinals head into their 133rd season on Andrus Field, the oldest continuously used college football field in the United States.
"I have been fortunate to have great mentors my entire coaching career," DiCenzo expressed. "I played for legendary coach Dick Farley, worked for great head coaches in Chuck Priore (now at Stony Brook) and Phil Estes at Brown. And I have been extremely fortunate to work for and with a great mentor in Mike Whalen the past 11 years," he said. "Mike Whalen has been a huge impact on my life and I couldn't be happier to continue the strong football tradition at such an amazing school. During the past five years at Wesleyan, it has been great to be a part of such a great community. I am extremely excited to be the next Head Football Coach at Wesleyan University."
(Photos by SteveMcLaughlinPhotography.com)