Gruen Discusses Chimpanzees Used in Research on Canadian Nature Show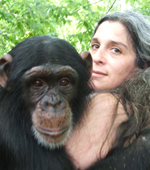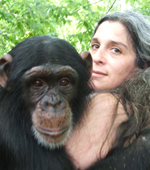 On March 12, the Canadian Broadcasting Corporation (CBC) aired an episode of The Nature of Things called "Safe Haven for Chimps" in which host David Suzuki and his crew follow the efforts of the staff at Chimp Haven in Louisiana. The compound is a place where chimps, who have been used in biomedical research at the National Institutes of Health (NIH), are retired and allowed to live our their lives in a sanctuary.
Lori Gruen, chair and professor of philosophy, professor of environmental studies, professor of feminist gender and sexuality studies, first appears about 10 minutes into the episode. She speaks about her website, www.last1000chimps.com, which tracks the remaining chimps being used in American biomedical and behavioral research.
"The idea of the 'LAST 1000' was a way of taking abstract notion of 'there are chimpanzees being used in laboratories' and maybe we should end chimpanzee research and retire them," asserts Gruen.
On her website, Gruen tracks the chimps by name. The names of chimps that are retired to a sanctuary like Chimp Haven are turned green on the site. Gruen explains, "The hope is to turn as many of the names on the 'LAST 1000' site green, which means they have been retired from the laboratory."
"I think it's important to identify the chimpanzees by name, both to honor and represent them as individuals, and oftentimes to be able to identify and empathize with another is a central part of what moves people to action."
Near the end of the episode, Gruen summarizes her thoughts.
"When I first started working on topics related to captive chimpanzees something like 20 years ago, I had really no idea that by this point in time we would be discussing the retirement of chimpanzees…"
The video can be seen here.