Ethics of Captivity Course Creates Public Website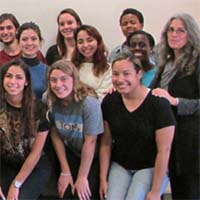 What started out as a class assignment has evolved into a public website.
During the fall semester, students enrolled in the Philosophy 268 course, The Ethics of Captivity, explored the various forms and conditions of captivity, including prisons, zoos, laboratories and sanctuaries.
As one of the class assignments, Lori Gruen, the William Griffin Professor of Philosophy and chair of the Philosophy Department, asked her students to work in small groups on a blog post, highlighting a variety of ethical and political issues that captivity raises for humans and other animals.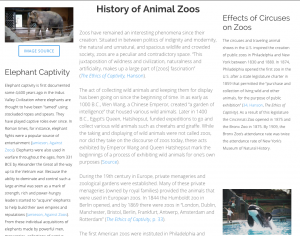 "We had a course blog that was only open to the class," said Gruen, who also is professor of feminist, gender, and sexuality studies, professor of environmental studies and co-coordinator of Wesleyan Animal Studies. "At the end of the semester, after discussing the great resource that the blog had become, we talked about making it public, and so we did."
The Ethics of Captivity blog, hosted on weebly.com, aims to highlight the similarities between all forms of captivity, and explore how the effects of captivity are similar on all beings, whether human or non-human animals.
The blog offers information on the effects of general captivity and the effects of mass incarceration; arguments justifying captivity of animal zoos, mass incarceration and solitary confinement; criticisms of captivity; and the future of mass incarnation and zoo animals, zoos vs. sanctuaries. The site also defines zoos, autonomy, de-humanization and de-animalization, social death, super-huminazation, among other terms commonly used to describe captivity.
"The class itself was very inspiring and paradigm-shifting, and the students, such as myself, became empowered to strive and make a difference in the world and heal the planet," said classmate Jeff Nodiff.
All 24 students enrolled in the class contributed an article to the blog. As noted on their website, the creators describe themselves as "an unapologetic, resilient, indecisive, hopeful, empowered, creative, independent, shy, hungry, considerate, outgoing, pensive, curious, reflective, eccentric, kind, awkward, introspective, weird, charismatic, honest and tired bunch of students."
Each group discussed a different topic based on the readings of that particular week. Science in Society major Emma Gilberg '16 worked with her group on the effects of zoo captivity and sanctuaries on animals. "We went through the arguments promoting zoos and the arguments against zoos," she said.
By the end of the semester, the students had compiled several blog posts about the materials  they had read and discussed in class. After extensive editing and organizing, the class "tried to create a site that would communicate what we learned in the class in an accessible and engaging way," Gilbert said.
"The students created the content, redesigned and represented the material." Gruen said. "I am so proud of what the class did."