Finn Suggests Recipes Invite the Cook to Experience and Perform, Rather than Simply Reading Them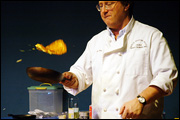 John Finn, professor of government, is the author of an article published in Table Matters, an interdisciplinary journal of food, drink and manners.
Titled "How Does a Recipe Mean: Interpreting the Recipe as a Text," Finn makes the argument that recipes invite the cook to experience and perform them, rather than simply read them. Using the classic work "How Does a Poem Mean," by John Ciardi, Finn draws a connection between poems and recipes through Ciardi's idea that a "poem cannot be defined by dictionaries or understood simply by reading or memorizing it. It can be know only though experience. The question we should ask…is not what a poem means, but how it means."
Cooking, writes Finn, is an active task. "One has to cook a recipe to know how it means … The recipe becomes yours, and you become the recipe."
At Wesleyan, Finn teaches courses in constitutional theory and public law, as well as in cuisine and popular culture.
Finn's scholarship and writing in the field of food studies lay at the intersection of food, recipes and politics. His other published works in food studies include an entry on "Measurements," in The Oxford Companion to Sweets (2015), an essay on Julia Child in Gastronomica (2007), and articles on "The Perfect Recipe," (2011) and "The Kitchen Voice as Confessional," (2004) in Food, Culture & Society.
Professor Finn earned his BA in political science from Nasson College, a JD from Georgetown University, and a PhD in political science from Princeton University. He also has a degree from the French Culinary Institute.