Bielikoff, Eismont, Machado, Vasilkova Deliver Senior Voices; Vogel Gives Faculty Reflection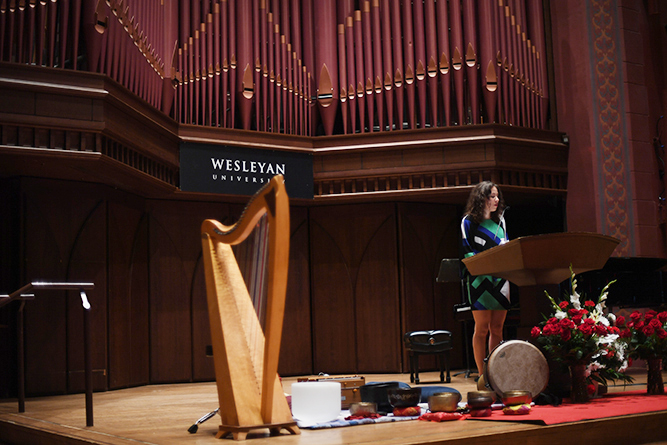 Natacha Bielikoff '18, Sara Eismont '18, David Machado '18, and Taisa Vasilkova '18, delivered "Senior Voices" addresses on May 26, 2018, in Memorial Chapel. Assistant Professor Danielle Vogel of the Department of English offered the faculty reflection. Also, a student group (shown here at rehearsal) performed "Irish Wedding Wish."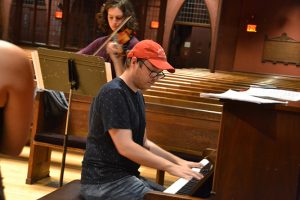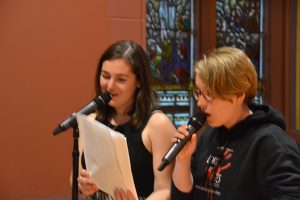 Below are the texts of the reflections:
David Machado offered this reflection on "Home is Where You Are Accepted"
With conditional acceptance from a homophobic father and a childhood spent in a low-income family who had to move constantly, oftentimes hardwood floors served as my bed and hardships prevailed. Even with a loving mother and three amazing sisters, I didn't feel like I had a place I could call home.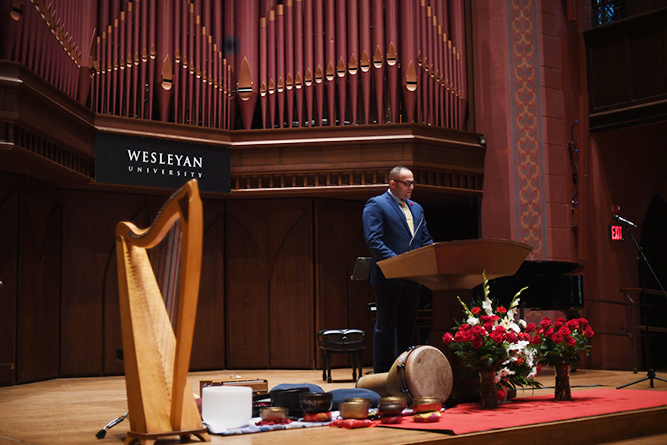 I joined the Navy to pay for college, serve my country, and look for a place where I finally felt accepted. While I found additional family when I served alongside the Marines as a Navy medic, I couldn't reveal my identity under the Don't Ask, Don't Tell policy, which allowed the government to discriminate against the LGBT community. With this harbored in my mind and being forced to deploy all over the world, again, it didn't feel like I had a place I could truly call home.
In 2015, I went into the Navy Reserve and received the opportunity to attend Wesleyan University. I asked myself the question: Would I find home here? I wasn't sure, as I feared the rigorous curriculum and doubted that I would "fit in" among all of those extremely intelligent students.
My fears and doubts, however, were unfounded.…
At the beginning of my time at Wesleyan, through my attempts at Men's Crew, I gained friendships. I didn't capsize the boat or drown any of my teammates. Those were small wins for me my first year here.
My sophomore and junior year I composed several pieces of poetry that might not be a rainbow in everyone's cloud like the fabulous Maya Angelou, or someone who takes the road less traveled like Robert Frost, but it was liberating and allowed me to express these ideas out loud.
Through my biology research, I embraced my love of science and animals. Instead of worrying what others would think or if my career would make me money, I chose biology as a major and career track because of my passions and interests.
Through spending time with friends of color, I learned how to acknowledge the experiences of others, and grow and understand my ethnic roots as an Afro-Latino. I finally felt proud at the nexus of my Puerto Rican, indigenous, Spanish, and African heritage.
Through the Catholic Student Organization, I received a family with whom I could enjoy Sunday Mass. I gained a religious space that allowed me to be open about my sexual orientation, which had been previously marginalized.
Through my senior art thesis, I made art that had meaning to me and considered how LGBTQ individuals, like myself, can be celebrated in Christian religion.
And through all of my experiences at Wes, I made best friends that I consider family.
In these past few years, I have grown in ways that I never thought were possible. Being welcomed in this stable and caring environment, I would not be who I am today without my time at Wesleyan. A queer, low-income, religious, Afro-Latino man finally found a place so accepting that I could truly call it home.
I have not always been the best with words and have often found an outlet in expressing myself through poetry. In friendship and in gratitude, I offer this short poem that highlights my search for home:
Divine Mercies
hotel bedroom floors
Here we are
Individually
In cozy warm desert cots
Together and ever so thoughtfully
I journey and get lost
Family houses and friendly beds
I searched for home, it wasn't until I
Found my own
A motto, "libertatem ex cognitione,"
meaning "freedom comes from knowledge"
I found out that home
Is
Where I accept myself
Sara Eismont '18 offered her Senior Voices essay on community
At the start of this year, I began to take note of all of my favorite things at Wesleyan that I would miss after graduation: living in the cutest senior house on Vine Street; the feeling of being overwhelmed that there are too many amazing things happening every Friday night (seemingly at the exact same time); my favorite treadmill at Freeman, Stephanie's vegan apple crisp every Friday; and, of course, the New York Times crossword. However, what I will miss the most, what has defined my time here, is the people. When I transferred to Wesleyan three years ago, there were two things that I learned immediately about our community. The first is that every student here is deeply, blisteringly passionate about something. This takes the shape of many things, including but not limited to: experimental theater, data visualization, breathtaking poetry, work being done in labs that I am convinced will be life-changing, innovative social entrepreneurship, and independent research conducted all over the world.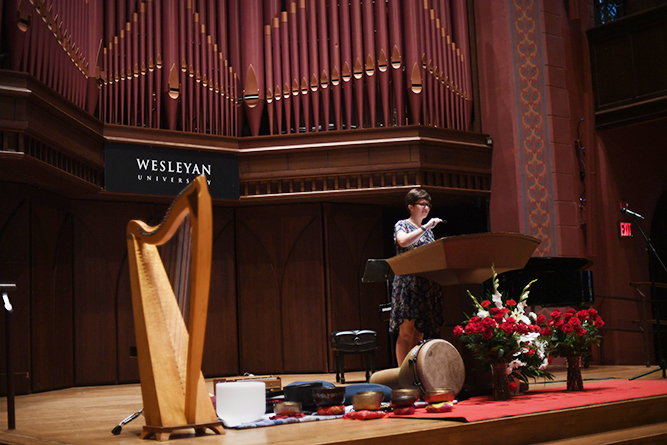 However, the second thing that I came to know about our community is exponentially more important. Our greatest strength is the care that we exhibit for each other. We do this in both big and small ways. In the little smiles that we exchange with one another when walking across campus; the new friends that you make as a transfer student when people come up to you because you don't look familiar (and at a school as small as this, that is an unusual occurrence); the long, late night talks with our housemates about what we want our lives to look like; the friend who spends hours trying to explain regression discontinuity designs to you (even if they have their own work to do); the person in front of you at Pi who left their card at the register to pay for the next 10 people in line; and the professors who are always willing to dispense their sage wisdom in office hours.
Occasionally, however, we can temporarily forget to be kind. This is especially true when juggling all that we do, going way above the "rule of seven," the suggested amount of activities and classes that a student should be involved with each semester. Doing so much at such a high level can push us precipitously close to the edge of burnout if we are not careful, a place where being kind to others may be the last thing on our mind. Additionally, being kind often necessitates vulnerability, which can be difficult when we are so focused on excellence. It can be easy to fear such openness, as it may clue others in on the fact that we can't always achieve the perfection that we strive for. However, we must do all that we can to resist the urge to close ourselves off from others. As renowned researcher Brené Brown writes in her phenomenal book Daring Greatly, which I have been recommending to absolutely everyone over the past few weeks, "Vulnerability sounds like truth and feels like courage. Truth and courage aren't always comfortable, but they're never weakness." Think back to a time when you were kind to another person, or a time when someone else was kind to you. For me, these instances have been the times when I felt most honest, heard, and loved in this community. The kindness that we have been a part of here matters tremendously. To perform a small act of kindness is like tossing a stone into Millers Pond. You never know where the ripples might reach.
Now we are all graduating, leaving this place where we've lived, learned, and grown together for the past few years. I want to challenge everyone here to maintain your passion and aspirations but never let these things blind you from acting with kindness in the world. While you are packing up your belongings after the Commencement ceremony tomorrow, trying to squeeze everything into your cars Tetris-style, please remember to pack the most important thing: kindness, and take it wherever you go.
Natacha Bielikoff '18 reflects on the process of building a home in a new place
When people say that home is where the heart is, they never think to mention all the different places your heart has already visited. We should all stop for a moment to appreciate all the little homes we built along the way, the ones that now define us, even if we didn't initially like them: the home you grew up in, the home you made when you went abroad, your college home, or the home you'll create in your first apartment. This is what I intend on doing tonight—express my appreciation for that one special home I've been building over the last three years here at Wesleyan.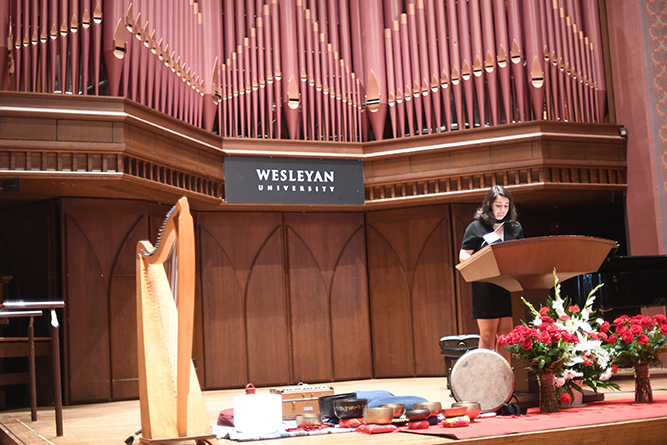 The road after high school was bumpy and foggy. I only realized, upon my acceptance to Wesleyan, just how much hard work pays off, as I was offered a chance to start anew and build a new home. As an international transfer student from Paris, France, I would often hear: "You're so brave, making a life in a new country all on your own!" And to that, I respond by saying that I was never on my own. The love and support I have felt at Wesleyan, through new friendships and communities, renewed faith, professional accomplishments, and long-distance family bonding (thank you, FaceTime), are all reasons I made it this far. I left my comfort zone many times, as I was pushed to my limits and confronted the unknown. I've encountered doubt and disappointment, but have never once regretted my decision to come to Wesleyan. It can be hard to fit in at times, to leave your family and comfortable habits behind. Yet, it is the most rewarding feeling. Any accomplishment I've had, any connection I've made here, will forever shape who I am today.
Last week over lunch at Swings, I asked my friend Collin: "If our freshman selves walked in right now, what would you tell them?" I would tell them the one most important thing there is: Don't change a thing. I would tell them to trust that this is where they belong. Despite the homesickness, the struggles of finals, the heartbreaks, they would find their way. I would tell them to stop for a minute and look at the sunset sky over Foss Hill. I would tell them to breathe in the smell of coffee and the busy conversations in Pi Café on a Tuesday morning. I would ask them to appreciate the little discussions they have in the long lines at Usdan during lunch. I would tell them that one bad grade is never really a big deal. This is exactly what I said to the freshmen on my rugby team who came to me for advice. Because everything you've built here at Wesleyan is a result of hard work and a full heart, and this is why we can call it our home. Each building I've had a class in, each room I've lived in, each person I've interacted with, professors I've worked for, every paper I've written, every rugby game I've played, even every crazy party on Fountain I've attended, is a brick in the walls of my Wesleyan home.
So, my dear classmates and friends, take a look around at the amazing homes you have built, and appreciate all the things that make your home yours, and all the bricks that make you, you.
Let me just end by saying, merci beaucoup, Wesleyan.
Taisa Vasilkova '18 explores her experience of economic diversity at Wesleyan
I am sure you have all seen this article at one point or another. You know, the one in The New York Times that shows how Wesleyan compares to other colleges in economic diversity and student outcomes? Well, the article was based on a study that was published in January of last year as part of the Equality of Opportunity Project, which took a look at how well or how poorly colleges have built an economically diverse student body. The study, based on tax records taken from the families of the Class of 2013, showed that large income disparities continue to exist at the nations' top colleges. Less than 0.5 percent of American children from the bottom fifth income percentile attend an elite college; less than half attend any college at all. At Wesleyan, only 4.5 percent of the student body come from families who make less than $20,000 a year, yet roughly 70 percent is comprised of students whose families make $110,000 a year or more. So why do such large socioeconomic disparities continue to exist in the nations' colleges, especially at a place like Wesleyan, which prides itself on being "diversity university?"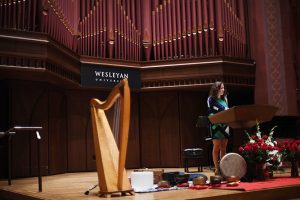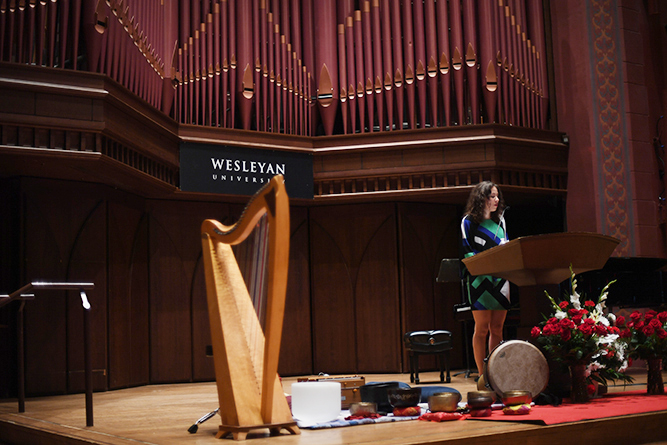 Well, it turns out, I fall into the 4.5 percent, or roughly 150 students on campus, who come from the bottom fifth income percentile. One hundred and fifty students scattered around campus, who are pursuing degrees in the natural sciences, art, economics, history, film, dance, the list of majors goes on and on. One hundred and fifty students from diverse backgrounds and upbringings, who may or may not have spoken up about their experiences as low-income students thriving (or just surviving) in an extremely rewarding—but often times challenging—college environment. One hundred and fifty students who walk around Usdan, maybe either eating alone, or perhaps having found friends along the way who can either share in their struggles, or at most, sympathize with them. I am here to speak up for those students, some of whom may be seated in these pews at this very moment, by sharing my personal story.
My full name, including my "otchestva" which is my middle name, is Taisya Vladimirovna Vasilkova. I was born in the small town of Gomel in the Republic of Belarus, and immigrated to New York City with my maternal grandmother when I was 2½ years old, shortly after tragically losing my biological parents. Despite the difficulties that my grandmother faced in the midst of losing a child and managing a chronic illness, she was determined to raise me in an environment where I would have access to the best educational opportunities. Her efforts afforded me opportunities to study at New York City's top public schools, to take piano and singing lessons at the local Y, and to stay physically active by taking me to the local recreational park. In her early 50s, she learned English, graduated with a bachelor's degree in sociology, and worked as a social caseworker for a few years before retiring due to health issues. My grandmother is the epitome of resilience. It is no surprise that her achievements and her positive "can do" attitude transferred to me. She often tells me, "Hey, if I went to college and graduated at my age, you can too."
However, I know that not everyone's parents have had the opportunity to go to a four-year college like my grandmother did. Growing up in a low-income environment allowed me to observe that certain socioeconomic factors can create limitations preventing one from achieving his or her true potential. These structural factors affect the opportunities that certain groups of people are given access to, and as a result, perpetuate disparities in all areas of life, including health. This connection between socioeconomic factors and health led me to pursue a liberal arts education at Wesleyan University, with the intention of learning the science, as well as the social and cultural aspects of health and disease, in order to achieve my goal of becoming a physician.
Now, after four years, I can say that I have thoroughly enjoyed my experience here at Wesleyan. Although there have been times when my worrying over classes and my future have prevented me from fully taking advantage of all that Wes has to offer, I can honestly say that being at a place like Wesleyan has been a transformative experience. The friendships that I've made through the Wesleyan Christian Fellowship and other communities on campus, along with the liberal arts education that I have attained, have truly been a blessing and a product of the same resilience that my grandmother used in order to raise me into the woman I am today. This resilience has been the driving force for everything that brought me to Wesleyan, and everything that I will do hereafter.
Friends, as we continue to go about our respective journeys, take a moment to think about your driving force, whether it be a person, an experience, or a dream. Acknowledge that force, and make it known to yourself and your peers that you are here for a reason and that you are not alone. Your individual experiences make up the color and fabric that form the quilt that is our institution. Don't allow hardships and stereotypes to shape or direct who you are and who you are going to be, but rather share your experiences so that we may better understand one another. Whether you are in the bottom of the 20th income percentile or at the top 1 percent, continue to be sensitive to the circumstances from which you came, and the circumstances from which your peers came. Only then, will we be one step closer to making Wesleyan and this world a more inclusive place for all. Thank you for allowing me to share my story, and congratulations to the Class of 2018!
Assistant Professor Danielle Vogel of the Department of English offered the keynote speech, "A Letter for the Graduating Class of 2018"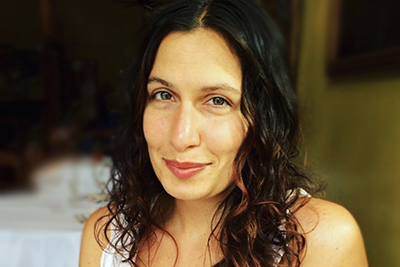 First, thank you, truly, for inviting me to be here with you all tonight. When I first arrived at Wesleyan the fall of your freshman year, I had no idea that I would very soon find a home in your company. The conversations we've begun have changed me. I've never met a community so willing to be present. To stand awake within what it means to be a person among others on this beautiful planet, and to work toward change and radical presence, together. You inspire me every single day. And, while there are many in this graduating class that I didn't have the pleasure of working with, please know I am addressing you as directly as I am those of you I know dearly and have watched grow over the years.
In all of my courses, as a gesture toward intimacy, community-building, and space-holding, I write my students biweekly letters about the books we read and the creative projects we undertake. And, at the end of those letters, I offer writing experiments for the work ahead. In a moment, I'll begin my last letter to you as students of Wesleyan (there might even be an experiment at the end), but, first, before I go further, I want to ask you to allow your whole self into the room, to take a moment to uncross your legs. Feel the seat below you. Let the floor meet the soles of your feet. Take your shoes off if you have to. And just breathe into the corners of yourself. Fill your toes up with air. Your fingertips. Your earlobes. The bowl of your stomach. Breathe room into your heart. Let the crown of your head lift. Let any awkwardness or embarrassment you're feeling right now go. And thank yourself for being alive, awake, present, together. Thank yourself for all the work you've done. Think of what it took, all the communal energy, the loom of people, parents, friends, professors, administrators, strangers you'll never even know who helped you get here today. Thank them, too. Even if only for a second…. OK, here we go.
1. Beginnings & Our Inner-Selves—
Dear ones, I lit a candle at the corner of this page three months ago. I struck the match with intention. I imagined a flame at the center of each future sentence. I imagined the core of your names, full of air and electricity. I imagined you, your thinking-hearts, each with its own luminescence. And, as the months advanced, and we moved closer to this day, I dressed the page with cedarwood for grounding, juniper berries for inner vision, geranium, coriander, bergamot and basil for generosity of spirit, inspiration, and abundance. All at every margin.
At the center of this page, I wrote the word: commencement. And I let the word glow: A beginning. An act of coming into existence.
I then erased the suffix to make it a verb—commence—to set the event in motion. Commence is to flare. To become magnetic, irresistible, bright and alive. Were we to open ourselves to that current: commence. What would we be called to do?
This is a letter about beginnings, about being. About living with attention. About thresholds and slowness. And about reimagining success. We spend so much time getting places. Rushing toward the result. But, in order to begin, in order to welcome growth, we must first stand still. Look inward. Set an intention. And walk off into the mouth of the unknown, with care.
And this is a practice that takes place every day. Every day offers us a threshold for transformation. While we are here to celebrate this grand accomplishment—graduation—I'd like to turn our attention toward all the moments in between successes. The smaller, daily things, that if noticed can help living—no matter its accomplishments or failures—feel like one, long miraculous event.
This threshold, this graduation, that you are on the verge of crossing, is a rite of passage, after which, you are expected to "begin to be." I've talked with many of you about this expectation. The excitement and stress of it. What to do if you don't yet know. What to do if you know but are afraid of the calling for fear that you may fail. What to do if you are expected to become one thing, but desperately know you should become another. No matter where you fall in this spectrum, I ask you to welcome slowness into your lives. Presence. No matter where you are heading, you are all already right here and knowing that—really living it—will always reveal the path ahead, taking you exactly where you need to be, even if you can't yet imagine where that is.
2. The Process of Being Human—
When I was just a little older than most of you are right now and starting my MFA in poetics, I was flailing. I was living in what felt like a daily nervous breakdown. My mother was sick and just a few years away from dying, my family had disowned me because I was gay, I was a first-generation college student and I really just wanted to go to sleep for a very long time. On a particularly bad day, when I was thinking about dropping out of school, I had a chance encounter with a mentor and she told me, "You already have everything you need to be a writer." At the time, I had no idea what she was talking about. This couldn't possibly be true. On most days, I didn't even feel like I had a body I belonged to. I was disappearing, but something in me held on to her sentence. And I started to take care of it, even though I couldn't quite grasp its meaning. I started to tend to my own interiority with greater intention.
Somehow, along the way of tending to that inner-living, that becoming, I learned to find meaning in the process of being human. I learned to find the gifts hiding within my failures. I learned to recognize that my strengths were often what, at first, appeared to be my weaknesses. But most of all, I learned that self-care does not manifest through large, sweeping gestures or events but rather [it] accumulates through tiny acts that happen across the day. In the careful ways you make your bed in the morning, or the way you pour water over the plants for your tea or, even, in the confident way you fix your own collar in the mirror before heading out for the day. See them for what they are: moments of self-love. The meaning of one's life is not found in the outcome, in our successes, but in the cultivation of processes. Of love. Of living.
It's so important to make time to know your body—its interiorities and cycles—because, so often, we tuck our truest selves out of sight in order to get on with life. Cultivate that ground.
What I wish for all of you is that you tend to the architectures within you. That you learn to listen and trust your intuitive inner-compass. That you take the pressure off of yourself to be something and, instead, open yourselves to a daily practice of becoming. That you celebrate the process of being human by tending to the many acts of living. By staying awake, for yourselves and one another, and celebrating the ordinary miracles of being a person in the day.
3. Success—
When I was about 10 years old, my mother gave me a book she had loved as a teenager; it was The Prophet by the Lebanese-American writer, Kahlil Gibran. I read this book over and over as a child, not only because I loved it, but also because I thought it might eventually open a window into my mother's past. I wanted to meet my mother before she became the woman I knew. Before the exhaustions of marriage and motherhood. Before the stress of mortgages and car payments. Before I was even a thought in her mind. I often imagined her growing in reverse. Becoming a child again, making different choices. And living a luminous existence somewhere far away from the possibility of me. These were some of my favorite daydreams. In the culture and family that my mother grew up within, she really had no other choice. And I believe that her constricting definitions of what she believed a successful future should be for her is one of the primary things that killed her at such a young age.
And while I, of course, want you all to be wildly successful, I want you to do so on your own terms. I tell you these things because none of us are conventional; we are all exceptionally individual. We all require—and, in the long run, will ultimately live—our very own narratives. How important it is to redefine our cultural narratives around "success." To not let the narratives of others overshadow what you know to be true about yourself. Because within you, you already know what gifts you have to offer the world. You already have your own truth living within you. You need only to get to know it. And listen to it as you move through the world.
As a child, I read within the pages of Kahlil Gibran's book, that "Work is love made visible." And I have found that the reverse is true as well: love is work made visible. I've dreamed through these two sentences for a long time. What I love most about them, is that I can't quite grasp their meaning, but I can sense their manifestation. And I think that's important. That we begin with a feeling. And we move toward that feeling. We nourish it. We let it nourish us, while always letting it—and ourselves—develop and transform, drawing us forward.
As a child, I tried to imagine my eventual job—my profession—as an architecture I was building. I did the same with love. What would these places look like? What would it feel like to breathe in these spaces? What would the air smell like? With what materials would I build my living, my loving? What would I give to others from this space? How would I welcome them?
Sometimes I imagined the largest glass room, like a greenhouse, filled with light, where there were pew-like seats arranged in a series of concentric circles. Under the floor, we could see the burrows of animals and the dendritic roots of plants. We watched as seeds delicately split, expanding into white and green shoots. Sometimes I lived in the local library, my bedroom tucked into the oversized book section. During the day, I would read with visitors, and we would share our favorite paragraphs in the library's garden. Sometimes I lived in a hot air balloon attached, rope-to-rope, to other hot air balloons. And sometimes I lived in my elementary school, where I made it story-time all day long.
No matter what my living looked like, I knew I wanted to live a life where my working-life and my private-life fed one another. I knew I wanted to work for love. And now, this life looks a lot like the one I'm living. I've found the feeling in writing and teaching, in loving and letting myself be loved. And I try to take care of it as best as I can. By being myself with you and my partner, by allowing myself to learn. By always welcoming growth. Even now, as a professor and poet, I'm studying to be an herbalist. So, maybe one day I will teach in a greenhouse, who knows?
I've held on to both iterations of Gibran's statement for a long time and they've never led me astray. Work is love made visible. Love is work made visible. And now I offer them to you. Dream through them. Build your working-life with love. And build your loving-life with work.
Most of our days are set up so that we must rush—obligation to obligation—toward an outcome or goal. It's easy to slip inside this narrative already composed for us. But it also can be numbing, exhausting, and, within the rush, we can so often forget ourselves. Please remember yourselves. Let your successes be your own moments of presence and happiness. Let your success be the ways you build a responsible, sustainable and honest life. Let the work you choose to give yourself be one that feeds you and your communities—intellectually, spiritually, bodily.
4. Thresholds—
A threshold is any event that marks the tenuous ground of change. It is an invisible line that, when crossed, initiates us into a new reality. Literally, it is the place or point of beginning. Like a doorway or gate leading us into newness. Today, you meet a threshold. So may you tomorrow. Or the next life-altering decision you make. Or when someone is born. Or passes. Your next birthday. You can place a threshold anywhere. And a threshold might arrive in your life at any time.
We often talk about thresholds, but we don't often talk about how to best cross them. What to do when faced with the inevitable: transformation. How to choose transformation. How to survive unwanted transformation. How to welcome it. Or how to ground ourselves when we find ourselves, suddenly, ungrounded.
I want to tell you that every threshold, no matter how small or large, offers us an opportunity to refocus our living. To clarify our desires. To listen to what was waiting to be heard. To see what is ready to be seen. And to move forward, with intention.
Every threshold is an invitation to not only look outward, toward your future-selves, but also, more importantly, to tend to the mystery and knowledge of your own living. It's this tending to that calls you forward, guiding you toward your next steps.
Tomorrow, as we celebrate the culmination of many years of hard work, and you step through the doorway toward your future selves, I invite you to stay awake. I invite you to welcome wonder and awe into your lives. I invite you to dissolve anxieties with gratitude. I invite you to slow down and listen to what is alive inside of you needing care, needing to begin. I invite you to choose being, beginning, daily. To place profound trust in what often feels most scary: radical presence and honesty. And to take your time because beginning, being, is truly a daily practice.
So, let us begin, together, first, by sitting still, looking inward, in order to initiate newness. And, then, stepping off into the unknown as an act of love.
Before I leave you tonight, I ask one last thing of you: take a moment and set an intention for this threshold you are about to cross. You do this by directing the light of your mind and heart toward an idea.
So, I ask you: What do you want to set in motion? What wish do you have for this transition? What would you like to walk off into? What life—through love—would you like to build?
In my experience, it's easier to take all you wish for a transition and place it in a solitary word like: prosperity; abundance; joy; clarity; integration; healing. This way, when you call that word to mind, you can let all that lives inside of it come alive and animate your living.
So, think now for a moment. Find your one solitary word or simple phrase to hold onto. Feel its energy in your mouth, your heart, your brain, your whole self. Whisper it if you need to. Now, let all it holds glow inside of you.
And any time you feel the need to ground yourself in the beautiful frenzy of your living, any time you need to refocus, to wake up, you can strike that word like a match inside yourselves.
I send all my love to you for this transition. Thank you for sharing these four years with me and for the honor of addressing you tonight.