Eudice Chong '18, Coach Mike Fried: A Scholar-Athlete Program for Champions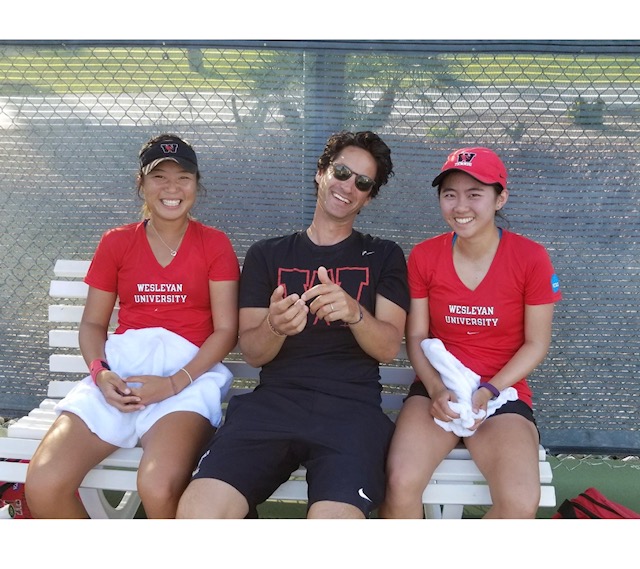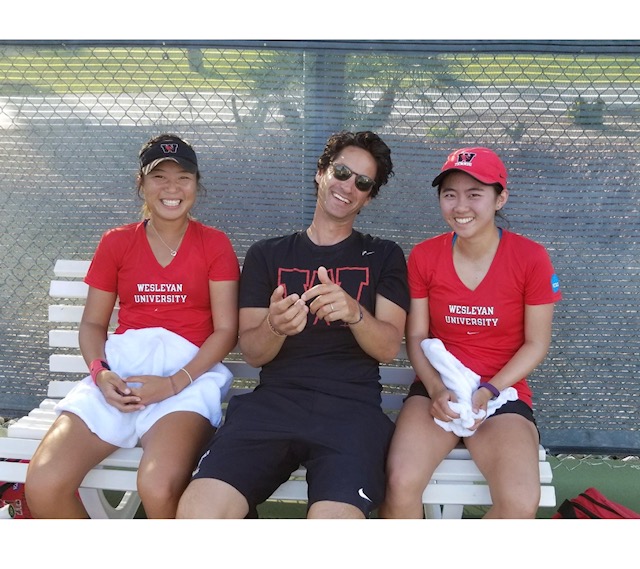 On May 26 Eudice Chong '18, a member of the Wesleyan tennis team, did something that no other collegiate tennis player—in any division—had done before: She won her fourth consecutive National Collegiate Athletic Association Singles Championship. And to add a twist to that already thrilling game, Chong, ranked number one on Wesleyan's team, played the final match against her teammate, doubles partner, and friend, Victoria Yu '19, ranked second on the team.
Back on campus following the victory, Coach Mike Fried reflected on the program and the experience. As an undergrad at Brown he had played on their tennis team and then enjoyed a stint as a professional player. Most recently, Fried had spent 10-plus years as a stock trader and asset manager in New York City before signing on as head tennis coach of Wesleyan's men's and women's program in 2013 ("Wall Street allowed me to figure out how I wanted to be spending my time"). 
At Wesleyan, he was determined to create a team that drew on his experience at Brown—and built beyond it: "Most important was to create an environment that would allow us to be among the best teams in the country—and to do that in a way that was never at the expense of academics."
And what was that environment? "Commitment; unwavering support for each other; and camaraderie, friendship."
Fried recalls that, when recruiting for the team he imagined, Chong was "an incredibly good tennis player—but I'd be lying if I said I saw the full depth of her character or how invaluable a leader she'd be—let alone that she'd win four NCAA singles titles! We were lucky enough to convince her to join the program that we were creating, that Wesleyan was where she wanted to spend her college years—both for academics and tennis. We got very lucky."
After Commencement, Chong, who majored in psychology with a minor in the College of East Asian Studies, headed home to China. There, she'll play tennis at the professional level. The Wesleyan Connection caught up with her for a Q&A in New York City, where she was spending a few days before her flight.
Q: Will you talk about the experience of winning that fourth NCAA singles championship? What was it like to compete against your teammate, friend, and doubles partner Victoria Yu?
A: As Vic and I both won our semi-final match, we understood how special the next day would be: some firsts for our program, last collegiate matches for me, a new stage in life.… We just wanted to enjoy the moment, ride the emotional roller coaster, and try not to focus on who was across the net. But honestly speaking, it was just so much more special playing a teammate and best friend in the finals of a national championship, regardless of what number championship it was. I think it would've felt the same even if I played Vic my sophomore year. I was getting teary-eyed before the match even finished, and it was incredible to me how we both managed to pull ourselves together and play some high-level tennis. As we shared a long embrace at the net after our match, we both realized how surreal this moment felt and never wanted it to end. This match was so much more emotional to me because obviously, it was my last singles collegiate match, but being able to share this experience with a best friend made it so much closer to my heart. I will never forget this.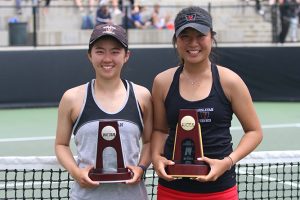 Q: You could have gone to a Division 1 school—but what was more appealing about Wesleyan?
A: As much as I do love tennis and did have an idea that I wanted to play professionally, I also wanted to experience a relatively normal college life where I would be challenged academically and also able to participate in other activities—and I did just that: I was on the committee for Mabuhay (an annual Pan-Asian culture show), I was co-president of the Hong Kong Student Association, I volunteered at an assisted living community near campus, and I also facilitated a new partnership with the Goals for Girls program from Reclaim Childhood and the women's tennis team.
And while tennis is initially played as an individual sport, that changes drastically once you begin representing your school. As much as I was playing for myself, I also wanted to be part of a bigger picture that would leave an impact for the people coming after me, and I knew—at least hoped—that I'd be able to do that at Wes.
Q: How have you changed in these four years?
A: On the tennis court, I've become so much tougher. I've been able to show this grit, making every point and every match count. I've been able to focus harder on each ball I hit—as well as becoming more patient and confident.
Off the court, I've been able to better understand my identity and develop my character, through taking a huge variety of classes and becoming close friends with people from many different backgrounds. I am now able to step out of my own shoes in order to be more understanding of the people around me.
My perspective on life has shifted, too. Coach Fried has taught our team to be grateful for everything we have and for all we've accomplished during our career at Wes. It is our hard work that has gotten us all where we are now.
Q: Are there three top character traits or qualities that you draw on in order to excel?
A: Gratitude, humility, and "genuity": I think they define who I am. It is so important to genuinely care about who is around me and to be grateful for everything that I have. Both these traits lead to humility: Without these two traits, I think it is near impossible to be humble and be humbled by the wonderful people and memories surrounding me.
Q: What was your favorite course at Wesleyan?
A: Asian Americans and Pop Culture—it was so cool to learn about my roots and history, while also discovering problematic issues in media and popular culture. It opened up a whole new perspective on my own culture, understanding why it is portrayed the way it is.
Q: What do you want to say to your coach and your teammates? Do you have any advice?

A: To my coaches: You have all been such a great influence on me, both on and off the court. You have developed my flat-as-a-pan forehand into something that could be considered as having "some spin." You've made me realize how important it is to close my eyes and listen to the birds chirp as I breathe in the smell of fresh flowers before matches. You were all amazing coaches, but most of all, you are phenomenal people.
To my team: Thank you for giving me a second family to come back to every single semester. You guys have taught me what it means to be part of a team that makes sacrifices for each other and what it means to put others before myself. As much as leaving is bittersweet, I am so pumped to continue following the great accomplishments you all will achieve, and I will be cheering you on along the way.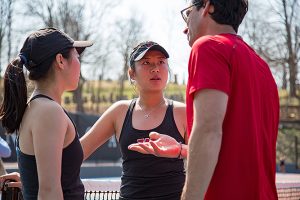 Q: And what would you tell your 18-year-old self, if you could go back in time? What advice would you give another first-year student joining the team?
A: Don't take anything for granted! What you have now comes from the hard work of people who came before you; the hard work you put in will be appreciated by the people who come after.
Live in the present: your four years at Wes will be gone in the blink of an eye, and you don't want to regret not doing something and wishing you did more.
Everything you do has a ripple effect, so make sure you hold both yourself and your teammates accountable for their actions.
Aim to be the influence other people look up to. Be the spark!!
(Mike O'Brien contributed to this article.)