Q&A with Lacrosse Coach John Raba: What Makes a Winning Team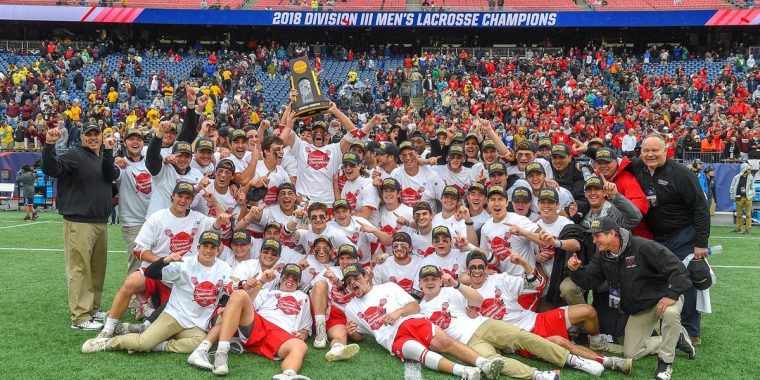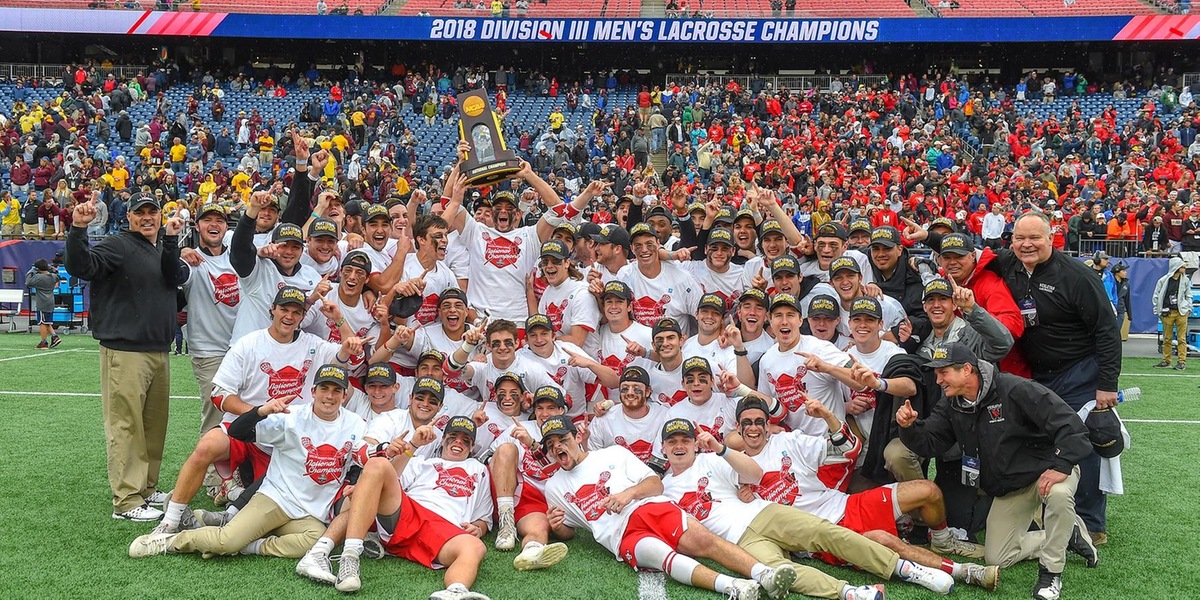 On May 27, 2018, Wesleyan lacrosse won its first National College Athletic Association Championship, defeating Salisbury University, 8–6 at Gillette Stadium for the Division III title. 
When Lacrosse Head Coach John Raba, a graduate of the University of New Haven, began at Wesleyan in 1997, he was 25 and an assistant coach with the football team. Lacrosse—now his sole focus as head coach—was something additional that first year.
"If someone had told me back then that Wesleyan would win a national championship, I would've said, 'Oh, great. What sport?' Twenty-one years later, here we are. Congratulations, team!"
In a Q&A, Raba describes the growth of Wesleyan lacrosse—and what was special about the 2018 team.
Q: What words describe the Wesleyan lacrosse program?
A: Wesleyan lacrosse is an extremely disciplined team, focused on progressing each and every day. If we are disciplined and focused on getting better each and every day we feel we can compete with anyone in the country.
Q: And how have you built this team in the years since you started?
A: Piece by piece. The great thing about coaching at Wesleyan is that we attract student athletes who are certainly very focused, very driven, and self-motivated. These guys really want direct involvement in the process. They want to make sure that we have a plan in place. We make sure we define our roles to everyone involved in our program, and we know how to achieve our goals. Then, with the leadership of our captains and seniors each year, we're able to get ourselves in the right mindset to achieve our goals.
Q: Are there three top qualities you're seeking when you recruit a player?
A: The first thing is: Are they academically qualified to be at Wesleyan? Next: Are they going to be a good fit for what Wesleyan has to offer? That's really important. Wesleyan is different from a Bowdoin or a Williams. Then we choose the student athletes who we think can really play for us—if there's something I'm really connecting to athletically, or something about their personality, or some quality that we're really starting to sense, like leadership. That third piece can really make a difference in a player having success at Wesleyan.
Q: How would you characterize the 2018 team?
A: Resilience. They really believe in each other.
I say resilience, because we won five games by only one goal. Three years ago, we lost five games by one goal. That's what we try to get people to understand: It's like life. If you can give a little extra, the reward is so great.
We have also dealt with lots of adversity—the death of a family member and a bunch of other difficult situations throughout the year. Any great team has to learn from adversity. It brought us together, and I think you can get a real sense that closeness if you are around our program long enough. When things get tough, we rely on one other. We also have a tremendous amount of respect for one another and we really play as a team.
Q: What were you thinking as the game was going on in Foxborough?
A: It's really not anything different from what we do in every game. I was extremely focused on every single possession and our overall pace. As coaches, we're trying to take in everything we're seeing, and we're trying to think about what adjustments we need to make. Also, if the players are making mistakes, we're trying to helping our team relax and find a way to move on from the negative plays quickly. It is important that for each time out, or when they come off the field between the quarters, we have something to say that's going to get them comfortable and make sure they know we have a clear plan on what we are trying to accomplish.
Going into the game, we were concerned that, with over 22,000 people watching, we might be a little nerved up. You're in a professional stadium for the first time, you're playing against the team that's been to the national championship 18 times. You're going to be nervous.
And then, we're Wesleyan—this little school that's coming in to play Salisbury, the school that's built to win lacrosse championships. All the publications had picked us to lose. I was concerned because we haven't been in this type of situation before—but I knew we were battle-tested and had the right mental makeup to play well. We scored right off the first possession and you could see the nerves settle from that.
Q: Was there any moment before the end when you thought, "Okay. We have this."?
A: In just over two minutes left, they had the ball, and they were a man up. We were up only two goals, so we're thinking, "We just need to hang in there and eat the clock here. Don't make this a one-goal game, and all of a sudden we're facing off with under a minute." We held them without a quality shot in that last two minutes. As a coach, I was really happy to see the way our defense was moving, and the way they were playing together. It was just so awesome.
Q: You have the team playing zone defense, which is unusual. Want to talk about that?
A: It's been so successful for Wesleyan because our players have all bought into it. A lot of teams play a little bit of zone, but then they get spooked. Zone is something we've done for a long time and our guys all believe in.
Two things make zone great at Wesleyan. One: You have to have a good goalie, and we've had several throughout the years. Two: All six guys have to be in sync; it's very fluid. It was almost like we had ropes on each other as we pull, and push, and get in, and push out. If we are all flowing and communicating well we are really tough on defense.
For us, the philosophy of the whole program is that we're all a team, we're all connected, we all have to have faith in what we're doing, and it only works if we have faith. As soon as one person starts to doubt it, there are gaps. Our defensive mentality is very much in line with our overall program philosophy.
Q: Tell us about the early graduation that the University held for the seniors playing in the final while their class was graduating on May 27.
A: The entire administration from President Roth on down, stepped up to do this before we took off for Foxborough. It made our kids and their families feel really special. They were so thrilled—and we're so thankful to everyone who came over.
Q: What else do you want to tell us?
A: I want to make sure people know how appreciative and how thankful we are for the people who support us: all our alumni, all the guys who were in the varsity lacrosse program since 1960, all the guys from the club teams in the '50's. They're still connected to lacrosse here. It was amazing, the crowd we had up at Gillette—and I know if it had been a week later, we would have had double the crowd.
The love we felt in the parking lot afterward was just unbelievable. Unbelievable. I want to make sure that gets across. And that we want to represent our university with sportsmanship, hard work, talent, and pride.
I am extremely grateful for our coaches and the work they put in. It is a remarkable group of coaches who range in age from 72 all the way down to 25. Without their efforts and hard work throughout the entire year, we could not have accomplished this feat. We are extremely thankful and realize that you can't win a National Championship without administrative support. Special thanks to President Roth '78, Mike Whalen '83 (the Frank V. Sica director of athletics and chair of physical education), Mike Whaley (vice president for student affairs and team advisor), Nancy Meislahn (dean of admission and financial aid), and Bob Chiapetta (equipment manager)—who I believe is the hardest working person at Wesleyan. Also thanks to the entire athletic support staff for all their hard work and efforts throughout the years.
For a history of the program, written by a former player and coach, Connor Wilson '04, see "Ode to Wesleyan Lacrosse—The Champs!"