Wesleyan Launches New Home Page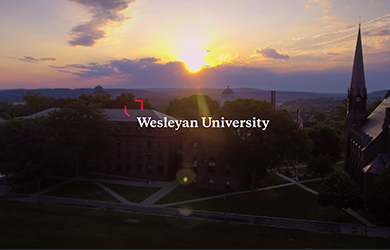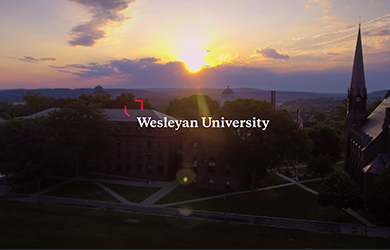 On Thursday, Sept. 20, Wesleyan University launched a new home page, part of a broader core messaging effort to update and strengthen University-wide communications.
The home page design process was driven by rigorous analysis of usage statistics and by examining best practices for websites. The home page's state-of-the-art functionality is intended to differentiate Wesleyan in an increasingly crowded and competitive higher education landscape, and to highlight the University's distinctive qualities.
"Unguarded curiosity, a drive to activate good ideas in the world, seeking to understand and attend to our role in the greater good—these are enduring Wesleyan characteristics," President Michael Roth '78 said in an email to the campus community. "They describe the people, the programs, the projects that make us a courageous community doing such vital work. And they deserve to be shared in ways that are both authentic and impactful today, and will continue to be into the future. This is what the core messaging effort is about, and we are confident that our new communications strategies are going to do it."
The new home page is the second in a multistep process, following the earlier launch of new Admission materials and a new microsite for prospective students and families this past summer. The rollout will continue through the 2018–19 academic year with a new academic seal, a redesigned winter issue of Wesleyan magazine, and new signage and Athletics marks. By conducting the overall messaging rollout in stages, the University will allow many resources to be replaced on an as-needed basis, avoiding unnecessary waste.
The overall messaging effort supports one of the three main goals of the University's Beyond 2020 strategic plan: enhancing recognition of Wesleyan as an extraordinary institution. The work began in 2016 with both quantitative and qualitative data-gathering through thousands of surveys and interviews with current members of the Wesleyan community, as well as prospective students. That work sought to understand what makes Wesleyan unique and how best to communicate that story to the University's many audiences.
"It was the perfect time for us to undertake the larger core messaging project given that our suite of Admission materials was already slated to be updated," said Senior Vice President for External Relations Key Nuttall. "The new system better represents the depth and breadth of the incredible work we do here. By telling Wesleyan's unique story more effectively, we will be able to enhance recognition of the University, continue to attract dynamic students and exceptional faculty and staff, and develop deeper engagement with our alumni."
For more information, consult the University's core messaging page or reach out to ucomm@wesleyan.edu.