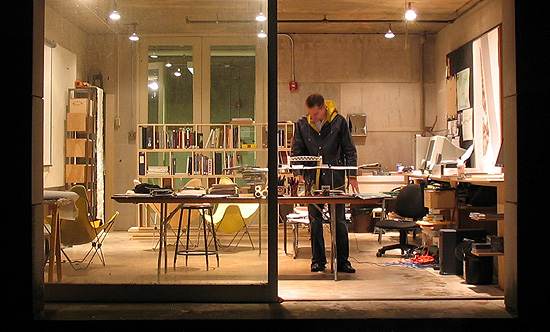 Elijah Huge, assistant professor of art, works from his office in the Art Studios.
This fall, Elijah Huge joins the Art and Art History Department as an assistant professor of art.
Huge comes to Wesleyan after four-years working for a large architectural office in New Haven, Conn. At Pelli Clarke Pelli Architects, Huge worked on the design team for the Minneapolis Public Library, which opened to the public in May 2006. While working there, he also pursued a series of academic and speculative projects.
"As the library neared completion, it was increasingly clear to me that rather than move on to another large-scale, long-term architecture project, I wanted to partake more fully in the intellectual vibrancy and open exchange of ideas that happens in a university environment," Huge says.
In addition, Huge knew he wanted to continue design work and remain active in architectural practice. An opening in Wesleyan's Art and Art History Department was the perfect opportunity.
"In light of these varied professional interests, Wesleyan presented an ideal opportunity: encouragement to pursue my own creative work while engaging bright, lively minds in the studio, and interacting with Wesleyan's outstanding Art and Art History faculty," Huge says. "The fact that I would be working in the Center for the Arts – a wonderful collection of buildings – was icing on the cake."
At Wesleyan, Huge is teaching Architecture I and Studies in Contemporary Urbanism, which explores the physical and environmental design conditions that shape the built environment.
Huge holds a bachelor's of art in architecture and history of art from Yale University, a master's of architecture from the Yale School of Architecture. He also attended Princeton University School of Architecture as a Princeton University Fellow and Merit Scholar. While pursuing his degree at Yale, Huge worked as a teaching fellow and teaching assistant for several architectural design and history of art classes. In addition, he was selected through a competitive application process as an editor for Perspecta, The Yale Architectural Journal. Titled "Building Codes," this issue was published in 2004 by MIT Press.
Also while completing his graduate studies, Huge started an architectural research group with a classmate to pursue speculative projects and design competitions. The group has met and worked continuously since its founding, garnering a number of awards, including an honorable mention for their entry to an ideas competition for the Highline, a 1.5 mile long elevated rail structure on the west side of Manhattan. Their entry was exhibited in Vanderbilt Hall of Grand Central Terminal over the summer of 2002. In the spring of 2005, Huge and the group won an international design competition for a new 26-acre park in Buzzards Bay, Mass. Development of the park's design is currently underway.
Huge's professional background contains stints at several architectural firms prior to working as a senior designer for Pelli Clarke Pelli Architects. He worked as a designer for Turner Brooks, Architect of New Haven, on the Nicholas/DuPont House, West Yarmouth, Great Island, Mass. He held internships at Behnisch & Partner, Architekten and Buerling-Schindler, Architektenin Stuttgart, Germany; and Little & Associates, Architects in Charlotte, N.C. He helped design the Lothar-Gunther Buchheim Museum, Bernried am Starnberger See in Germany and the Daimler-Benz Exhibition Pavilion for the 1999 Detroit International Auto Show in Detroit, Mich.
In addition, Huge is currently on the City of New Haven's City Planning Commission, and has formerly served as a commissioner for the City of New Haven Development Commission and as a Yale University President's Public Service Fellow for The Community Builders, Inc. of New Haven. He was an exhibition coordinator for the "Architecture and Revolution: Charles Moore and Architecture at Yale in the '60s" exhibit in New Haven.
Huge lives in New Haven with his daughter and wife.
In addition to teaching, he is starting his newest design project — designing a home for a Web designer in New Haven.
Posted 10/05/06
Poetry, slavery, monks and dialects are among several topics of this year's Voices of Liberal Learning seminars.

Voices of Liberal Learning is a series of stimulating educational programs and presentations available to the Wesleyan community.

"The Voices of Liberal Learning programs enrich the intellectual exchange among members of the community and offer the kind of substantive, outside-the-classroom learning experience treasured by all of us," says Linda Secord, director of alumni education and university lectures. "We have a remarkable selection of educational programs throughout the year which will foster the evolution of knowledge and understanding at Wesleyan and challenge participants to think in new ways. I welcome everyone to take advantage of these offerings."

Speakers and events occurring on campus during the Fall 2006 schedule are:

8 p.m. Oct. 4, Russell House, 350 High Street
An Evening with Poet Frank Bidart
Frank Bidart's poetry met a wide and appreciative readership with the publication of In the Western Night: Collected Poems 1965–90. He has been a finalist for the National Book Award, the National Book Critics Circle Award, and the Pulitzer Prize.

8 p.m. Oct. 5
Mansfield Freeman Lecture
Japan as the Earth Writ Small: Ecological Issues
Seminar Room, Mansfield Freeman Center for Asian Studies, 343 Washington Terrace
Conrad Totman, professor emeritus of history, Yale University, will consider how industrialization has transformed Japanese society, making global rather than local environmental factors central to the history.

8 p.m. Oct. 10
Contemporary Israeli Voices — How Poets Think
Russell House, 350 High Street
Agi Mishol, Israeli poet, and Lisa Katz, her English translator, will lead a discussion about using marginal details and how they lead to metaphor.

8 p.m. Oct. 11
An Evening with Lynne Tillman
Russell House, 350 High Street
Lynne Tillman is a fiction writer, cultural critic, and oral historian whose books include Haunted Houses, The Broad Picture, No Lease on Life, and This Is Not It. She is a Guggenheim Fellow and has been a finalist for the National Book Critics Circle Award.

8 p.m. Oct. 17
What's Hot in Astronomy?!
McKelvey Room, Steward M. Reid Admission Building, 70 Wyllys Avenue
William Herbst, the John Monroe Van Vleck Professor of Astronomy at Wesleyan University, will look at recent discoveries in the universe and their implications.

4:15 p.m. Oct. 19
Fall Lecture Series: Revisiting Slavery
Center for African American Studies (CAAS) Lounge
Veteran Hartford Courant journalists Anne Farrow, Joel Lang '68, and Jenifer Frank will speak on "Complicity: How the North Promoted, Prolonged, and Profited from Slavery."

2 p.m. Oct. 21
Wesleyan Writers Conference 50th Anniversary Celebration
Featuring Readings by 2006 Conference Writers Katha Pollitt and Alexander Chee '89
Russell House, 350 High Street
Award-winning journalist Katha Pollitt is known for her provocative columns in The Nation and essay collections including Reasonable Creatures: Essays on Women and Feminism. She will read from her new book, Virginity or Death! Alexander Chee's first novel, Edinburgh, won numerous prizes and he received a 2003 Whiting Writers' Award. His new novel, Queen of the Night, will be published this year.

5 p.m. Oct. 21
Dwight L. Greene Symposium
Unconventional Wisdom: Plurality and Innovation in Corporate America
Memorial Chapel, 221 High Street
Darryl B. Hazel '70, president, Ford Customer Service Department, Ford Motor Company; Amy Radin '79, chief innovation officer, Citigroup. The symposium, held in honor of Dwight L. Greene '70, began in 1993 as a memorial to Greene's life and work.

8 p.m. Oct. 24
Contemporary Israeli Voices: Death of a Monk — The Relation Between History and Fiction
Russell House, 350 High Street
Alon Hilu, a finalist for the Israeli Saphir Award, will discuss the relationship between the historic blood libel of Damascus in 1840 and his novel, Death of a Monk, a gay retelling of the Damascus Affair. Hilu received the 2006 Presidential Prize for Literature for Death of a Monk.

8 p.m. Oct. 25
An Evening with Poet Jeffrey Skinner
Russell House, 350 High Street
Jeffery Skinner has published five collections of poetry. In addition to his work as a poet, Skinner has had success as a playwright, having had his short plays produced in New York, Ohio, and Kentucky. Currently he is professor of creative writing at the University of Louisville.

4:30 p.m. Oct. 26
Listening to Chinese Painting
Center for East Asian Studies, 343 Washington Terrace
Susan Nelson, professor emeritus, Fine Arts and EALC, University of Indiana
Chinese landscape painting ranks among the great achievements of world art, capturing the beauty, grandeur, and variety of nature, and giving a sense of the unending dynamism of the cosmic forces—the qi—that shape it. Those forces are manifest in the sounds of nature as well as in its visible forms; Chinese painters, seeking to convey the essence of landscape in all its dimensions found ways to suggest its sonorousness in a silent medium. How to read this aural imagery, and some broader questions about sounds and images, are the subject of this talk.

8 p.m. Oct. 26
Shasha Seminar for Human Concerns: Triumph of the Sports Culture
Memorial Chapel, 221 High Street
Frank Deford, senior writer at Sports Illustrated, commentator on Morning Edition on NPR, regular correspondent on the HBO show, Real Sports with Bryant Gumbel kicks off the Shasha Seminar for Human Concerns with his informed perspective on the role of sports in contemporary culture.

7:30 p.m. Oct. 30
Contemporary Israeli Voices: Out of Sight
Goldsmith Family Cinema, Center for Film Studies, 301 Washington Terrace
Daniel Syrkin, winner of Best Director Prize and Best Cinematography Prize, Israeli Academy Awards 2005 will lead a talk and movie screening.

4:30 p.m. Nov. 2
Enzheng Tong Memorial Lecture: An Underground Palace in Ancient China — The Tomb of Marquis Yi of Zeng (d. 433 BC)
Seminar Room, Mansfield Freeman Center for East Asian Studies, 343 Washington Terrace
Robert Bagley, professor of art and archaeology, Princeton University will lead an examination of the richest discovery ever made in Chinese Bronze Age archaeology, the burial and contents of the tomb of Marquis Yi of Zeng.

8 p.m. Nov. 7
Hugo L. Black Lecture on Freedom of Expression
Public Forums: The Affirmative Side of Free Speech
Memorial Chapel, 221 High Street
Cass R. Sunstein, Karl N. Llewellyn Distinguished Service Professor of Jurisprudence, University of Chicago Law School, and author of many articles and books on constitutional law and free speech. This event is named in honor of the late U.S. Supreme Court Justice, Hugo L. Black.

8 p.m. Nov. 8
An Evening with Poet Anne Waldman
Russell House, 350 High Street
Anne Waldman is the author of over 30 books of poetry and prose. She is a two-time winner of the International Poetry Heavyweight Championship Bout in Taos, New Mexico and co-founder, with Allen Ginsberg, of the Jack Kerouac School of Disembodied Poetics.

4:15 p.m. Nov. 8
Fall Lecture Series: Revisiting Slavery
Lois Brown, "Cultivating Freedom: Slavery, Emancipation, and Enterprise in Colonial New England."
CAAS Lounge
Lois Brown, an associate professor of English at Mount Holyoke College specializes in nineteenth century African American fiction. She has won awards for her discovery and republication of a largely unknown 1835 biography of a freeborn African American child. She is currently working on a book about African American novelist Pauline Hopkins.

7:30 p.m. Nov. 9
Asian Migrations and Intimacy
Center for East Asian Studies, 343 Washington Terrace
Nayan Shah, associate professor, University of California at San Diego
Professor Shah's lecture, drawn from his new research project, pursues the history of the migration of men from the province of Punjab in British colonial India to Canada and the United States from 1890 to 1950. Court cases illuminate how regulatory systems shape subjectivity, social dynamics, and categories of race and sexuality in twentieth century North America.
Shah, author of Contagious Divides: Epidemics and Race in San Francisco's Chinatown, is currently teaching a course at Wesleyan on the history of interracial and intercultural intimacy generated by the migrations from Asia in the Americas.

7:30 p.m. Nov. 9
Shackleton Memorial Symposium: A Living History of Marie Curie
Memorial Chapel, 221 High Street
Susan Marie Frontczak presents a one-woman dramatization of the life of Madame Curie, the first European woman to earn a doctorate and the first person to receive two Nobel Prizes.

8 p.m. Nov. 14
Contemporary Israeli Voices: Writing about the Holocaust with Humor
Russell House, 350 High Street
Amir Gutreund, winner of the 2002 Buchman Prize from Yad Vashem Institute for Our Holocaust and the 2003 Sapir Prize for Seashore Mansions, will hold a conversation about his memories as a son of Holocaust survivors.

4:30 p.m. Nov. 15
Cyber-History, Memory, and Violence at Massachusetts Institute of Technology
Center for East Asian Studies, 343 Washington Terrace
Peter Perdue, T.T. and Wei Fong Chao Professor of Asian Civilizations and professor of history, Massachusetts Institute of Technology
In the spring of this year, Chinese students at MIT protested an educational web site on East Asian history developed by Professors John Dower and Shigeru Miyagawa. Professor Perdue will discuss the implications of this incident for researching modern Chinese history.

4:15 p.m. Nov. 29
Fall Lecture Series: Revisiting Slavery
Gerald Foster, "American Slavery: A Most Complete Story"
CAAS Lounge
Dr. Gerald Foster is Scholar-in-Residence at the United States National Slavery Museum, the first American museum dedicated to the history of slavery. The museum is currently under construction in Fredricksburg, Va.

8 p.m. Nov. 29
Public Scholarship and Community Engagement
Memorial Chapel, 221 High Street
Nancy Cantor, chancellor and president, Syracuse University will speak on community engagement.

4:30 p.m. Dec. 7
Singing the Way Home: A Personal Research into Hokkien Dialect Songs
Center for East Asian Studies, 343 Washington Terrace
A lecture by Singapore actress Ang Gey Pin. Brought up in Singapore in a time when the use of dialects was strictly restricted, theater artist Ang Gey Pin describes how she searched for songs in her family's Chinese dialect Hokkien. In this talk, she emphasizes the connection between imagination and memory, linking the process of recovering cultural heritage to her own creative experience as a performer.

For more information contact Linda Secord at lsecord@wesleyan.edu or 860-685-3003. To learn more about these programs and their sponsors visit http://www.wesleyan.edu/175/liberal.html.