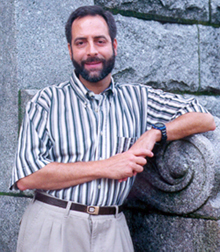 Q: Frank, you came to Wesleyan in 1996 as a campus center coordinator. What did this position entail?
A: Oh my, how time flies when you are working with and being challenged by Wesleyan students! I was hired for one year as the interim coordinator of the former Davenport Campus Center. Then I was appointed full time coordinator the following year. I was a one person office, responsible for the facility and its operations. Basically, I was charged with keeping the building safe, clean, and hopefully attractive as a gathering place for students. For the last five years, I also was the supervisor for the Campus Center Activities Board. This was a group of four students who created, promoted, planned, and then managed a variety of late night programs and events to draw students into the Campus Center.
Q: How did the transition go from the Davenport Campus Center to the new Suzanne Lemberg Usdan University Center? How has your job changed?
A: The transition from Davenport to Usdan is still very much a work in progress. I am no longer "a one man band"; but part of a symphony of 10 great professionals who strive to make Usdan run smoothly. It has been a wonderful and welcome change to work so closely with these other professionals who share the goal of achieving the maximum potential for the new buildings. We also manage the remodeled Fayerweather facility. Besides being part of our 10 person "U-Team," the scope of my facilities and operations responsibilities has grown exponentially. We have gone from three spaces available for reservation in Davenport, to 13 in Usdan/Fayerweather. This drastic change in the scale of my responsibilities, and in the sheer growth of usable square footage, meant the creation of new student staffing patterns, policies, processes and procedures. Even after one semester, we are still tweaking many of these areas as we change and grow with the new buildings.
Q: What are a few examples of activities you help coordinate in the campus center?
A: I coordinate the Usdan Center's Student Information Center Desk staff. If you did not know already, those are the folks who answer the phone when the Wesleyan voice recognition system falters. These students do a great job handling some difficult calls. I also work closely with the Student Managers and Student Set Up Crew to ensure that all meetings and functions run smoothly in both buildings. I also coordinate the information tables, banners, flyers, lost and found, outside vendor program, student payroll and the discount Broadway ticket program in Usdan.
Q: How does students' input influence university center activities?
A: All of the professionals on the "U-team" value the input of our student staff that has already made important contributions to many aspects of our policies and procedures. I am also working with students who request tables or banner space in Usdan, or any student who has a meeting or program in the buildings when I am working. So my student contact is limitless, and one of the main reasons why I have been here for so long. Wesleyan students are amazing individuals with whom to work.
Q: What is your relationship with the vendors that sell their wares outside the university center? What does Wesleyan charge for them to set-up, and how is money raised from them spent?
A: Some of the vendors have been visiting campus for over 20 years. They are charged a flat fee of $50 per day. This revenue is deposited into a Usdan account that is used to help defray the staffing and operational costs of the buildings.
Q: When is the university center open?
A: Our normal business hours during classes are 8 a.m. to 1 a.m. Sunday through Thursday and 8 a.m. to 2 a.m. Friday and Saturday.
Q: Where did you attend college and what did you major in?
A: I graduated from Holy Cross College with a double major in French and psychology. I earned a Connecticut Teacher Certification and a Masters in Higher Education Administration from the University of Connecticut. Somewhere in between all that bookwork, I received my J.D. Cum Laude from Western New England College School of Law. I practiced for a year and a half. That was enough for me. Then I returned full circle to my first passion, education.
Q: Prior to Wesleyan, what were you doing, and what led you to Wesleyan?
A: "I've been a puppet, a pauper, a poet, a pirate, a pawn, and a king." My apologies to Mr. Frank Sinatra's "That's Life," but I have traveled down a few different paths with my own. My first position was as a high school French and English teacher, and I also coached varsity tennis. I was a copywriter for an ad agency for a short time, managed a video store, coordinated cultural exchange programs for Connecticut high school students and practiced law. When I finally realized that I always loved being a student and the learning environment, I returned to where I first began my professional odyssey: education. Except now at Wesleyan, I am not lecturing behind a desk, but teaching every moment I can as I interact with the Usdan student staff and the Wesleyan students whom I meet and assist daily.
Q: What are your hobbies and interests?
A: I have had a true passion for long distance running since my first year in high school. I only run three times a week now, and certainly not as long as I did back then. I tell everyone that I do not play golf, golf plays me. Next spring will mark the 10th start of the golf season for which I have emphatically declared each time: "This will be my break through year." I am a fanatic, well beyond just "fan," of the Green Bay Packers who are having a dream season, and my office at Usdan 126A is proof of that. I also enjoy reading and the cinema. I am a mediocre cook, but do love to eat. I am just beginning to appreciate the world of red wines, of course solely for the health benefits!
Q: Where do you live and do you have family?
A: I live just over the Arrigoni Bridge in the sleepy little hamlet of Portland. I have been sharing life with my spousal equivalent/partner Jean for 17 years. We have a wonderful 6.5 pound Yorkshire terrier named Abbey. She is 12 years old, spoiled rotten and she owns us.
By Olivia Drake, The Wesleyan Connection editor