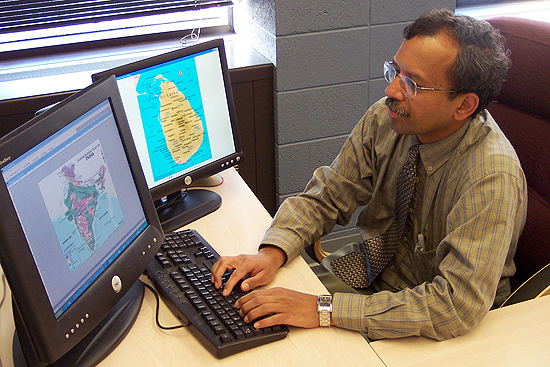 Ganesan "Ravi" Ravishanker, director of Technology Support Services and adjunct associate professor of chemistry, explains where his home countries were struck by the December 26 tsunami.
Posted 01/31/05
Millions of Americans watched as the Dec. 26 tsunami obliterated south Asia's coastal belts. But for Ganesan "Ravi" Ravishanker, the event was far more personal.
Ravishanker, director of Technology Support Services and adjunct associate professor of chemistry, is a Sri Lanka native and attended college in southern India where the tidal waves battered both shorelines for a half-mile inland.
"Those are both places where I have spent a lot of my childhood and teenage years and have vivid memories of," Ravishanker said. "Most of my extended family members live in these two countries."
The tsunami, triggered by a magnitude 9.0 earthquake off Indonesia, killed more than 170,000 people as it crashed the shores of 10 countries around the Indian Ocean. Sri Lanka and Indonesia received the hardest hits.
Ravishanker, who lost his parents as a young child, grew up with his aunt, uncle, sister and 11 cousins in the country's capital, Colombo. Three of these cousins are raising families in Sri Lanka and the rest moved to southern India.
"I was just getting back from vacation and I was still in a relaxing vacation mode, when they started flashing news about the tsunami damage on TV," he said. "I immediately thought about my family. Many of them were living in area close to the coast."
Relatives in Tamil Nadu, India, immediately e-mailed Ravishanker in America and let him know they were OK. His relatives in Sri Lanka, however, were still unaccounted for. Although his relatives lived inland in Kandy, he feared they may be traveling on a train that was derailed by the tsunami.
"All I could do is sit, watch and wait," he said.
Sri Lanka, a pear-shaped island four times larger than the state of Connecticut, is located 18 miles southeast of India. With no communications available to his homeland, he waited as the death toll climbed to 30,000. The missing count hovered at 5,600. More than 200,000 families were displaced by the earthquake-spawned waves.
 "The Sri Lanka that I remember, that I grew up in, was one of the most enjoyable places. It was surrounded by the ocean, there were beaches, a perfect climate and the people were very friendly. It was a great place," he said. "It was like paradise."
Via Indian television channels, Ravishanker watched debris of fishermen's wood shacks envelop the once pristine, palm-lined beaches. Disfigured bodies "in all forms and shapes" piled up near landmarks all recognizable to the Sri Lanka native.
 "It was heart-wrenching to watch," he said. "I was thinking of my family, but also these poor children affected by this disaster. What's so sad is that the first wave came in and pushed all these fish up on shore, and all the fishermen told their kids to come out and see and play with the fish. Little did they know that a bigger wave was coming to eat them all up."
On Dec. 30, Ravishanker finally heard from his Sri Lankan relatives. Everyone was alive. With his family all accounted for, Ravishanker immediately pursued ways to help the victims of the disaster.
Rescue efforts are somewhat hampered by an ongoing civil war in the country between the Sinhalese and Tamil Tigers. Pockets of the northern and eastern areas are heavily mined. A physical presence of rescue workers in these areas carries a certain amount of danger.
The Sri Lankan government has urged donor nations to donate $15.6 billion to rebuild tsunami-affected parts of the country, but Ravishanker was advised to hold off and carefully explore more long lasting avenues to help those affected. He's considering funding an orphaned child's education for life. His brother-in-law, Shankar, is working with these orphaned children directly back in Chennai, India.
"I take great pride in my brother-in-law for doing this, and I think the outpouring of local support is a great thing to see. People are setting aside their religious differences and caste barriers are vanishing," he said. "I can't imagine people doing this 20 years ago. People are already setting up shops and makeshift schools. Recovery have been remarkable."
By Olivia Drake, The Wesleyan Connection editor