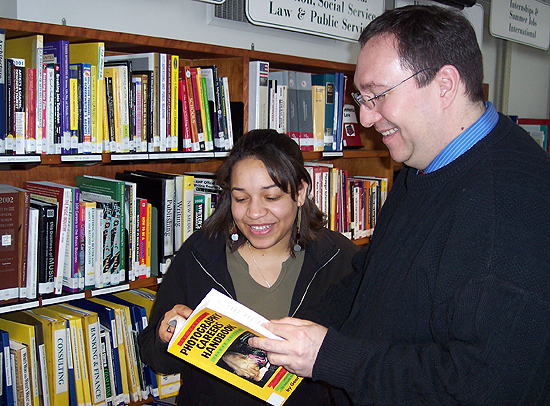 Mike Sciola, Career Resource Center director, helps Talya Marshall, '07, find photography career opportunities.
Posted 01/31/05
Q: The Career Resource Center (CRC) aims to establish relationships with students and help them find jobs. If a student approaches you, how would you go about helping him or her?
A: We take a three step approach: self assessment, career exploration, and job search.  Most people, and not just students, think the first step to finding a meaningful career is to write a resume and start sending it out to job sites on the Internet. The problem with this approach is that folks tend to go with the familiar. 
For a lot of students, their knowledge of the world of work is fairly limited. Many have a short list of occupations of which they have a personal understanding, such as being a ­doctor, lawyer or teacher. In reality, taking the time to assess one's interests and passions first, next exploring a wide-variety of options, and then crafting a targeted job search strategy yields a much more satisfying result.  We have a variety of career interest assessment tools, a very specialized collection of print and electronic resources covering a wide array of occupations, and an incredible network of alumni and parent volunteers available to share their knowledge and perspective.
Q:  Where do the students end up going?
A: That's the beauty of a Wesleyan liberal arts education – it can take you anywhere in the world. Our students have been taught to think and to analyze. They have the tools to pull together disparate information into a new understanding of the world. These skills are highly valued by top companies and institutions. I believe a Wesleyan degree is more relevant at the beginning of the 21st century than ever before.
We often get the question about where do Wesleyan graduates go after leaving Middletown. The Career Resource Center Web site has a breakdown of where our alumni work.  We analyzed the alumni database. With information on 12,252 alumni, the top five occupations are business (28 percent), education (20 percent), health professions (9 percent), law (8 percent), and entertainment (6 percent). 
Q: What is your day like?
A: As director of the career center, I have two distinct roles: managing the office and staff and, at the same time, maintain a significant counseling schedule. These are often competing needs.  I work with an incredible group of talented and dedicated professionals. To date this year, the CRC has had 3,688 counseling interactions with 1,188 individuals. We've already organized 69 programs and events, and have had more than 60 organizations participate in our recruiting programs. And February is traditionally our busiest month!  It is a lot to coordinate. I have to say, though – I've got the best job at Wesleyan. Every single day, I get to talk with smart, articulate, motivated young people about their plans for the future and about the world they are about to change for the better. I wouldn't trade it for anything.
Q: How long have you been at Wesleyan?
A: I've been at Wesleyan for nine years. I had been the associate director of Career Services at Brown University prior to coming to Wesleyan. Before that, I worked at California State University, Fresno, the University of Rhode Island and the University of New Hampshire in a variety of student affairs positions ­ residential life, student life, and fraternity and sorority affairs. My bachelor's degree is in gerontology and my master's degree is in human development, counseling and family studies. I knew that I wanted to work with students, and that I wanted to use my counseling skills.
Q:  Is your job rewarding? Do you keep in touch with the students after they leave?
A: Incredibly rewarding. I'm so impressed with Wesleyan students and alumni. Now that I've been at Wesleyan for a significant time, I have the joy of reconnecting with former students at reunion or getting an e-mail message of the blue.  I was in New York recently and was stopped by a member of the Class of 2000. It was thrilling to hear that he was happy and enjoying life and doing amazing things.  I learn something new about the world everyday by talking with our students and alumni.
Q: Do you have any interesting hobbies or tidbits that I should know about you outside of work?
A: I'm a singer and have been a member of the Greater Middletown Chorale since coming to Wesleyan. We once got a call to sing with Kenny Rogers at the Oakdale Theater. This December, we were Governor Rell's guests at the Governor's Mansion in Hartford. Mostly, though, we sing the classical choral repertoire. I'm also on the board of Oddfellows Playhouse in Middletown.
Q: Do you live in Middletown?
A: Yes, on Ridge Road, and our next door neighbors on three sides are Wesleyan faculty and staff. We call it 'The Compound.' Did you know that there used to be a horse-drawn trolley that started in the North End on Main Street, turned up Ridge Road off of South Main and came all the way up to Crystal Lake?  I would have loved to see that.
By Olivia Drake, The Wesleyan Connection editor