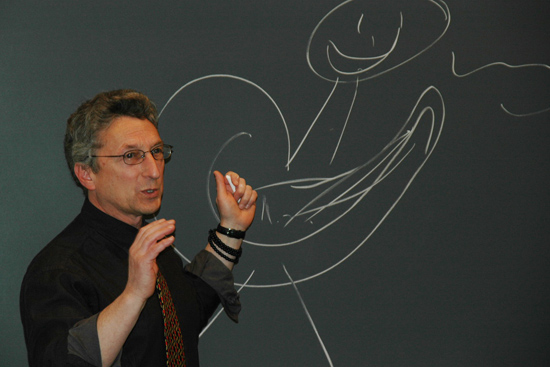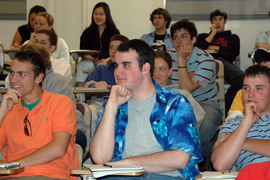 Above, Rob Rosenthal, professor of sociology and director of the Service-Learning Center, draws a troubadour to illustrate how the message of music is perceived differently during a lecture to high school students.

At right, high school students listen to Rosenthal's lecture during the High School Humanities Program.
Posted 05/23/05
This semester, local high school students read "The Odyssey," and watched "O Brother, Where Art Thou," but it wasn't with their high school English teachers.
As part of the High School Humanities Program, more than 80 high school students had the opportunity to participate in six discussions at Wesleyan. Wesleyan faculty members facilitate the lectures. Students were bussed in from Vinal Technical High School and Middletown, Killingworth, Mercy and Xavier high schools.
Rob Rosenthal, professor of sociology and director of the Service-Learning Center, lectured about social music and culture on May 6. He played music samples for the students including songs by Woody Guthrie and Aretha Franklin.
"R-E-S-P-E-C-T. What kind of respect is Aretha asking for here," Rosenthal asks the students. "If you study this stuff, you can't simply listen to the lyrics. Think about the style, the voice, the year it came out."
Rosenthal sketched a troubadour and other people on the chalkboard to illustrate how the music, or the message, is interpreted differently. One person may really favor the lyrics, another may like the beat and rhythm, and still another may not really be paying any attention, he explained.
"It's difficult to pin-point the real connection between music and social movement, he says. "Individuals take this in and react, as well as reflect, differently,"
Other viewings this year included "Glory," "Monsoon Wedding," "Slam," "The Godfather: Part II," and "O Brother, Where Art Thou?"
The High School Humanities Program is supported by Community and University Services for Education, most commonly known as CAUSE.  Established in 1967 by Marjorie Daltry Rosenbaum, CAUSE facilitates the implementation of cooperative programs and projects between Wesleyan, the Middletown community and the public and private schools in the Middletown area.
In addition to the High School Humanities Program, CAUSE also supports the following:
The Art Show, a unique exhibition of more than 1,200 artworks of Middletown students in grades K-12 at Wesleyan's Zilkha Gallery. This annual event in April showcases the art curriculum in Middletown public schools and attracts hundreds of students and their families to the Wesleyan campus each spring.
Silent Sounds, a collection of selected literary works submitted by students in Middletown Public Schools grades 6-12. Categories include poetry, short stories, literary analyses and personal essays.
Mini-grants to local Middletown teachers to develop innovative and creative short-term projects to engage their students in learning.

Rosenthal is one of six professors involved with the High School Humanities Program. Other lecturers this semester have included Andy Szegedy-Maszak, the Jane A. Seney Professor of Greek, professor of classical studies, and the director of the Center for Faculty Career Development; Richard Slotkin, the Olin Professor of English and professor of American Studies; Indira Karamcheti, associate professor of English, associate professor of American studies and associate professor of women's studies; Kate Rushin, adjunct assistant professor and visiting writer of African American studies; and Sean McCann, associate professor of English, associate professor of American studies and chair of the American Studies Program. Peter Frenzel, professor of German Studies Emeritus, served as faculty director of the program and Frank Kuan, director of Community Relations, offered administrative support for the program.
For more information, call 860-685-2245 or 860-638-1401.
By
Olivia Drake
, The Wesleyan Connection editor