Librarian Speaks on Intellectual Freedom in Japan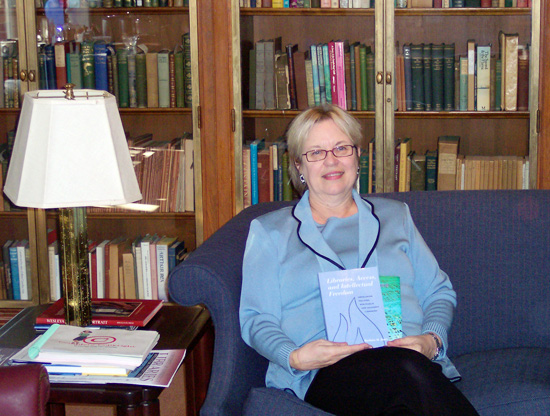 Barbara Jones, the Caleb T. Winchester University Librarian, is the author of two books on intellectual freedom.
Posted 10/05/06
If a Wesleyan professor wanted to know what books students have read in the past, the staff at Olin Library would not be allowed or able to give him an answer.

"By law, we cannot report to anyone what anyone else has been reading, asking or viewing on the Internet," explains Barbara Jones, the Caleb T. Winchester University Librarian. "We have the right to provide people with information, but we do not have the right to share what information they have requested. Plus, we break the electronic link between the patron and the borrowed item as soon as the book is returned."

Jones' knowledge in this area is not just a result of he being a library administrator. She is also an internationally-acknowledged expert on intellectual freedom. It was this background that garnered Jones an invitation to speak on similar topics at three venues in Japan Aug. 28-31. The U.S. Embassy in Toyko, Japan hosted her visit.

She was accompanied by James Neal, vice president of Information Services and university librarian at Columbia University. Together, they spoke on "Intellectual Property and Intellectual Freedom." Jones spoke primarily on the First Amendment and the U.S. Patriot Act; Neal spoke on copyright law issues in the United States.

Both of these issues are hot topics in Japan. Copyright laws in the U.S. are different from other parts of the world, Jones explains. And Japan contemplating its own version of the U.S. Patriot Act. Japanese library professionals are sensitive to these issues.

During World War II, library collections in Japan were heavily censored.

"In today's prosperous and relatively open Japanese society, their librarians are very passionate about including all areas of thought in their collections and in daily discourse," Jones says. "This is why they are so interested in U.S. library policies related to the First Amendment."

Jones and Neal spoke at embassy and consulate information centers in Fukuoka, Sapporo and Toyko, Japan. Their audiences ranged in size from 50 to 150 people. Most in attendance were professionals, academics, legislature members, librarians and the general public. Radio, television and newspaper reporters also attended the meetings. The presentations were made in English and translated to Japanese.

In her talk, Jones brought up the importance of balancing security and privacy with the public's right of access to information, how U.S. constitutional issues affect the international library community and how technology plays a role in controlling access to content. She also talked about how national security legislation can compromise librarians' best practices in providing content and services, the importance of written polices and guidelines for library services, problems with information crossing national boundaries, and accessing electronic information.

Although the talk was sponsored by the U.S. Embassy, Jones was able to speak against such U.S. government policies as Internet filtering requirements tied to federal funding, and the scope of the U.S. Patriot Act. While she is just as concerned about international terrorism as all U.S. citizens, Jones believes that current government policies that compromise library access and patron privacy in order to prevent terrorism are often ill conceived and do not achieve their objective.

Some Japanese audience members knew of her research in advance. Her book, "Libraries, Access and Intellectual Freedom: Developing Policies for Public and Academic Libraries," is published in both English and Japanese. Her new book, "Intellectual Freedom in Academic Libraries," is due to be published in spring 2007.

In these books, Jones takes first amendment theories and ties them to the real world of librarians in libraries with real patrons with actual examples of intellectual freedom problems.

"For example, it is all well and good to have a written policy on following the spirit of Connecticut state law regarding library patron privacy, but what should a student worker do when a distinguished faculty member asks the student to reveal what books a particular student has checked out?" she says. "What does that student do when an FBI agent approaches the desk and asks what books that student has checked out? Fortunately, such events don't happen often at Wesleyan, but it's important to know the legal and ethical obligations in such cases. My books are practical, but based on court decisions, legislation, and American Library Association policy."

This fall, Jones begins her fourth year as Wesleyan's head librarian. In addition to intellectual property, her interests include academic library space planning; legal issues; collection management and budgeting for the 21st century library; fundraising, library development and community outreach; scholarly communication in a digital environment; special collections' role in the 21st century library and international librarianship.

The Chicago, Ill. native has various degrees from the University of Illinois at Urbana-Champaign, Northwestern University, Columbia University, New York University, and she has a Ph.D in U.S. history from the University of Minnesota.

At Wesleyan, Jones has been an active member of the Deans' Council, a coordinator for the Academic Technology Roundtable; chair of the Intellectual Property Committee; chair of the Library Space Planning Advisory Group; convener for the Information Literacy Discussion Group with faculty and librarians and the coordinator of Constitution Day events 2005-07.

Jones says she'd like to return to Japan to speak at other information centers in the country.

"I'm really hoping that once my new book comes out they will want to invite me back," she says, smiling.
 
By Olivia Drake, The Wesleyan Connection editor