Construction Project Coordinator Helping to Plan Major Maintenance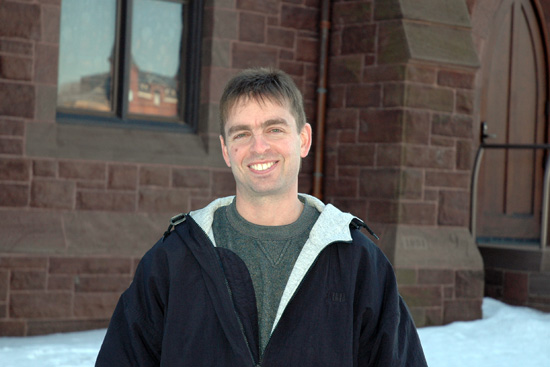 Steve Formica, construction project coordinator for facilities, provides support for multiple projects.
Posted 03/02/07
Q: Steve, when did you come to Wesleyan?

A: I started in April of 2004 and was hired as a project coordinator in Construction Services.

Q: What does it mean to be a construction project coordinator?

A: The primary role of a project coordinator is to assist with the coordination efforts of project managers. Some of my responsibilities include project cost accounting, inspecting field conditions, preparing bid drawings and specifications, contract administration and preparing monthly and annual reports based on project volume, progress and cost.

Q: What are some of the projects you have worked on recently, or are planning to work on?

A: Our big push right now is Major Maintenance 07/08. We are currently planning for projects that will start at the end of May and must be complete by the first week of August. Last summer we completed over 60 projects all over campus. Planning is a key component for any project. Long lead items like custom windows, custom fabricated steel and mechanical equipment, must be identified during the planning process and contracts must be awarded early enough to allow adequate time for review, procurement and installation. The complete list of projects that we will be working on this summer can be viewed on our Web site at:
http://www.wesleyan.edu/pplant/major_maintenance_fy0708.htm

Q: What is the process involved in getting things done, from idea to finished project?

A: For some of the larger projects, the process may take several years from idea to finished project. Basically, the process can be broken down into four steps. Step 1 consists of the conceptual programming phase which identifies the preliminary project scope, conceptual budget and possible funding source(s). Step 2 involves schematic planning and the preliminary budget estimate. In Step 3, the design and final estimate are developed and finally, in Step 4, the actual construction phase begins. Depending upon the size of the project, the construction phase can be as short as a month or as long as one or more years.

Q: Who are the key people you work with in Facilities and where is your office located?

A: I primarily work with Roseann Sillasen and help to support the entire construction services and facilities administration team. Our office is located in the Cady Building at 170 Long Lane.

Q: Is it difficult to work on several projects at once?

A: Since I assist several different project managers and other team members, I try to provide the best support that I can for each without compromising quality.

Q: What is your background?

A: I graduated in 1990 with a BS degree in construction engineering technology. Throughout college, I worked for a land surveyor performing property surveys and laying out subdivisions and houses. After college, I worked for an engineering firm for two years as a resident engineer inspecting state funded construction projects. For the next 12 years, I worked for several large construction management firms as a project engineer and project manager on projects throughout Connecticut. I learned something new on every project and continue to learn here at Wesleyan.

Q: What are some examples of projects you've worked on in the past?

A: They include the Ninth Square Redevelopment Project in New Haven, the Restoration of Ruttenburg Hall at Yale Law School, Foxwoods Grand Pequot Tower and Non-Smoking Casino in Ledyard, Manchester Community College New Learning Center, Mystic Marriott Hotel in Groton, the Pfizer Helipad in New London and the Pfizer Core Technologies Building in Groton.

Q: You are pursuing a master's of art through the Graduate Liberal Studies Program. What is your concentration and when will you be finished?

A: I am concentrating in the arts. I am currently taking my seventh course and have five more to go. I'm pursuing the degree because I enjoy the classes, professors, subject matter and learning environment. I've taken graduate courses at other colleges and they can't compare with what is offered here. I am currently taking The New Solar System with Bill Herbst and during our last class, I actually held a piece of Mars! I also held a meteorite that was 4.557 billion years old, the age of our solar system. Helps to keep things in perspective! I can't say enough good things about the GLSP program and the professors here at Wesleyan. Each class that I have taken has inspired me to appreciate our world and be grateful for what I have.

Q: Do you construct things of your own?

A: In 1994, I bought a lot in Higganum, cleared the land and built a house. My funds were somewhat limited, so I decided to take on a lot of the work myself. I was dating my wife at the time and decided to marry her after I observed her unique abilities to mix mortar, carry sheetrock, carry more sheetrock, stain woodwork and spend all hours of the night with me working with no heat and no indoor plumbing.

Q: Are you from the area?

A: I was actually born in Middletown and grew up about two miles away from campus. I never thought I would be working at Wesleyan. My wife showed me the posting and although I was hopeful for the opportunity, I knew there would be many qualified candidates and a high demand for the position. I got lucky!

Q: Tell me about your family and activities you enjoy doing together?

A: I've been together with my wife for seventeen years and have been married for ten. We actually still get along and talk to each other, imagine that! We have two boys, Nicholas who is 7, and Joseph who is 4. Right now, my hobbies are spending time with my wife and kids – my wife and I coached our oldest son's soccer team this past fall and although we ran out of "it's really ok to lose" speeches, we had a great time. And, believe it or not, I still have some time leftover to finish projects around the house.

Q: Is there anything else you'd like to say about yourself or your role at Wesleyan?

A: I am just a small part of a great team here at Wesleyan. I would like to say that Wesleyan is a great place to work and learn. I've been here for almost three years and look forward to many more.
 
By Olivia Drake, The Wesleyan Connection editor