9 Awarded Fulbright Scholarships for 2007-08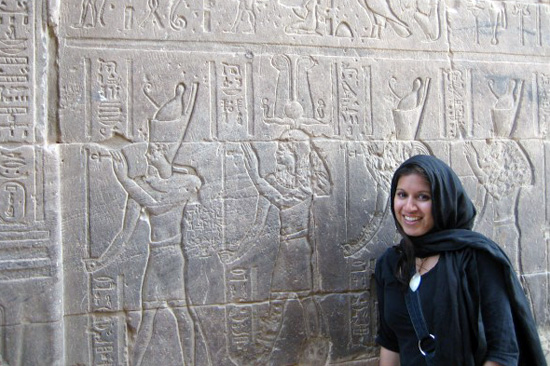 Nishita Roy '07 is one of five Wesleyan students to receive Fulbright Fellowships for the 2007-08 academic year. She will study economics in Cairo, Egypt.
Posted 05/16/07
International politics major Nishita Roy '07 will graduate this May, but before she begins a career in international development, she will have the opportunity to conduct independent economic research in Egypt.

As a Wesleyan Fulbright Scholar, Roy will study at the American University in Cairo during the 2007-08 academic year. She is among nine Wesleyan students and alumni named 2007-08 Fulbright Scholars. This is a record number for Wesleyan.

"I hope that this Fulbright award will open up many doors for me to pursue my career interest, and I believe that my studies at Wesleyan have been invaluable to my research next year," says Roy, who spent her 2006 spring semester studying in Cairo.

The Fulbright Program, sponsored by the U.S. Department of State, is the largest U.S. international exchange program offering opportunities for students, scholars, and professionals to undertake international graduate study, advanced research, university teaching, and teaching in elementary and secondary schools worldwide.

The program was established in 1946 by the U.S. Congress to "enable the government of the United States to increase mutual understanding between the people of the United States and the people of other countries."

Other student Fulbright scholars are Lindsay Ceballos '07, who will go to Russia to study language and literature; Jacqueline Cruz '07, who will teach English in Malaysia; Alexander Dynan '07, who will study textile design in India, Jennifer Timm '07 who received a Fulbright to teach English in Argentina, and graduate student Hae Joo Kim, who will study musicology in Korea.

Recent alumni also received Fulbright awards. They included Gideon Unkeless '06, who will study education in South Africa; Morgan Philbin '04, who will study public health in Mexico; and Katherine Standish '03, who will study public health in China.

About 1,300 students, recent graduates and young professions are awarded Fulbright scholarships each year. They operate in more than 140 countries.

In Egypt, Roy plans to explore the concept of microfinance and its relationship to Islamic banking in Egypt. She will be trying to determine whether microfinance initiatives can be consistent with Islamic law as it pertains to money-lending.

"I think it is important to study this development issue in Egypt. The United Nations Capital Development Fund reports that, although Egypt has 1.5 million microenterprises, still 95 percent of the prospective demand for microfinance is unmet," Roy explains. "The Fund estimates that 'the Egyptian microfinance industry could potentially have between 2 and 3 million clients, whereas only an average of 220,000 have access to financial services.'"

Roy will take courses such as the Economics of Egypt, Small Business Entrepreneurship, and Islamic Institutions to gain a better understanding of economic development issues in Egypt. She also plans to continue learning the Arabic language, which she began studying at Wesleyan.

"I hope that my findings will help Egyptian microfinance institutions carry out their work more effectively, and I would be honored and thrilled if government officials take my work seriously and use my research as a guide to improve and expand microfinance programs in Egypt," she says.

The program is named after Senator J. William Fulbright, who introduced a bill in the United States Congress that called for the use of proceeds from the sale of surplus war property to fund the "promotion of international good will through the exchange of students in the fields of education, culture, and science." In 1946, President Harry S. Truman signed the bill into law, and Congress created the Fulbright Program.

Wesleyan Fulbright alternates include Kathleen Day '07, graduate student Douglass Dineen, Gregory Dubinsky '07 and Jean Park '07. Krishna Winston, the Marcus L. Taft Professor of German Language and Literature and chair of the German Studies Department, is Wesleyan's Fulbright advisor.

More information on the Fulbright Program is online at:http://us.fulbrightonline.org/home.html.
By Olivia Drake, The Wesleyan Connection editor