Eclectic House Celebrates 100 Years of Campus Residence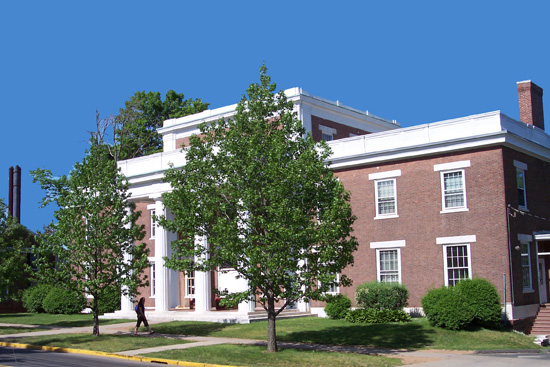 The Eclectic Society house, located at 200 High Street, is 100 years old this year.
Posted 06/04/07
"Our reputation was one of respect from most everyone," recalls Bill Moody '59, P '91." We did not come across as rich or preppy or jock-filled or hyper-social or racist or nerdy. We did not dominate a given group or project or sport."

Moody, author of the recently-published book, A History of the Eclectic Society of Phi Nu Theta, 1837-1970, shared memories with current and past Eclectic members during the 100th anniversary celebration of the completion of the Eclectic Society House May 26. The book is published by Wesleyan University Press.

Faces have come and gone, but the symmetrical brick house with a four-pillar façade at 200 High Street has changed very little.

"This house is truly what links the ever-changing society members," says Eclectic Society member Omar Hunter Craighill '09. "The house has very distinctive architecture and has been a very important part of campus for many generations of students."

Formally named The Eclectic Society at Phi Nu Theta, the fraternity was established in the 1830s, when students began meeting for the purpose of helping each other with college studies, literary work and Saturday-evening social events. In 1837, the association became official, making it the first fraternity established at Wesleyan.

Now 170 years old, Eclectic is one of the oldest non-national fraternities in the United States. Many notable figures in Wesleyan's history were members of Eclectic, including four who became Wesleyan presidents: Joseph Cummings, Class of 1840; Cyrus D. Foss, Class of 1854; John W. Beach Class of 1845; and Edwin D. Etherington '48.

Early Eclectic members gathered in a clubhouse; later they lived in a dormitory-like structure at 246 High Street. In 1900 they began extensive fund-raising for a home of their own, and in 1907, a house was completed. It was designed by Henry Bacon of New York City, who later designed the Lincoln Memorial in Washington, DC. The house had the "largest and finest dance-hall of all the college houses," wrote Billy North Rice, chairman of the organization's Board of Directors in 1921.

"This building was the first step towards bringing a highly distinguished American architect to serve as de facto campus planner and architect for Wesleyan," says Wesleyan Historian David Potts '60, author of Wesleyan University, 1831-1910: Collegiate Enterprise in New England.

Bacon created Wesleyan's first campus plan in 1913 and was the architect of the swimming pool addition to Fayerweather Gymnasium, the Skull and Serpent building, Van Vleck Observatory, Clark Hall, the Memorial Chapel Renovation of 1916, the South College belfry and the initial design for Olin Library. In 1923, Bacon won the highest award in his profession and Wesleyan's campus "has by far the largest assemblage of his works, starting with Eclectic," Potts says.

Nevertheless, the three-story brick building encountered several problems over the years. Just 13 years after it was built, the cost of house operations put the members $1,500 in debt. The house had a leaky roof and shower room, and the dining room ceiling required expensive repairs. In 1925, damages occurred from a lightning strike. In 1928, the house's heating system failed completely. Repairs were made but financial troubles burdened the society for years to come. In the 1970s, the house had fallen into such disrepair that the Wesleyan bought the house from Eclectic alumni for $1 and began maintaining the house and bringing it up to safety standards.

Currently, the 200 High Street house has 18 single and three double rooms, a café, library, kitchen, television room and a large ballroom and dining room. The top floor of the house is used for society meetings.

Eclectic also continues its long tradition of hosting events that enrich the life and experiences of the entire Wesleyan community. Fundraising activities, film screenings, dance workshops, concerts, poetry readings, lectures, theatrical and creative art performances and student-run classes have all been held in open-spaced living room.