New Microscopes Aid Wesleyan Researchers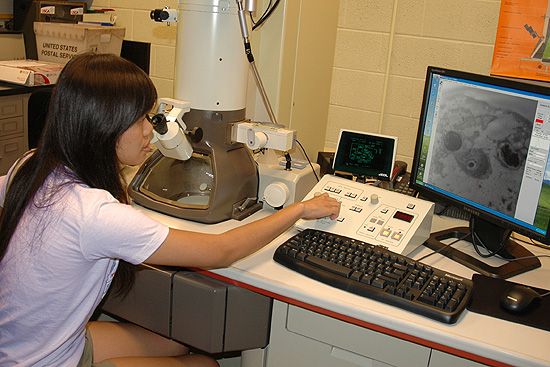 Pin-Fang Chen '09 examines an eukaryote at a magnification of 12,000 times using Wesleyan's new Transmission Electron Microscope. Wesleyan acquired two new high-tech microscopes.
Wesleyan's Advanced Instrumentation Center has scoped out better way to conduct infinitesimal scientific research.

In the past six months, the center has acquired a new, state-of-the art scanning electron microscope (SEM) for 3-D imaging, and a transmission electron microscope for 2-D sample images. These microscopes are used by faculty, graduate and undergraduate students.

"These microscopes are allowing Wesleyan scientists to conduct research at levels never done before," says Joe Bruno, vice president for Academic Affairs and provost. "As more and more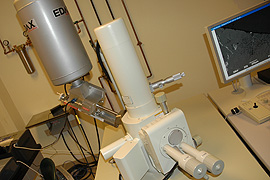 scientists pursue the study of novel materials and their applications, the ability to see surface morphology at high magnification is of considerable importance."
Bruno, also a professor of chemistry, has already used the new scanning electron microscope to study the surfaces of interesting hybrid organic-inorganic solids made by a method known as the sol-gel process.
The new SEM is a JEOL JSM-6390LV model. The instrument is operated by placing a three-dimensional sample into a vacuum-tight chamber. The SEM creates highly-detailed three-dimensional images by bouncing and collecting electrons instead of light waves. The magnified image appears on a nearby computer screen.
""We are very fortunate to have this new SEM. It has replaced an old Amray microscope that was a from the 1970's,"" says Jeff Gilarde, director of Scientific Imaging. ""This machine is well-automated, it has a higher resolution and its images are beautiful.""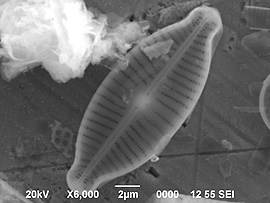 The unit was supported by the Kresege Foundation Challenge for Science Equipment Endowment.
Tim Ku, assistant professor of earth and environmental sciences, has used the SEM to observe phytoplankton samples from a local lake (see image at right, top). Jim Greenwood, research assistant professor of earth and environmental science, has used it to examine mineral and element content in meteorites (see image at right, bottom).
""This thing's amazing. It conducts an elemental analysis on the Martian meteorite and tells us what's it made of,"" Gilarde says, browsing digital images of the sample. ""It shows that it has some traces of calcium and sodium."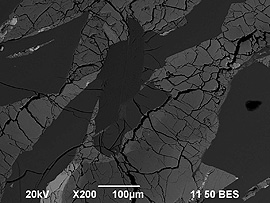 The lab's other new microscope, the Transmission Electron Microscope —or TEM — views samples in two-dimensions, but has the ability to magnify the finest cell structures. The instrument is a JEOL JEM-1011 model.
Prior to viewing, a sample will be sliced by an ultra microtome, which can cut biological specimens into extremely thin slices. Gilarde says the machine could slice through the edge of a single piece of paper six times. The super-thin samples are placed onto a slide inside the TSM.
On July 25, Hughes Fellow Pin-Fang Chen '09 used the TSM to examine the eukaryote tetrahymena. The microscope is used in the dark and researchers use a computer to operate the instrument.
Chen magnified the eukaryote 12,000 times, although the TEM is capable of enlarging an object 300,000 times.
The TEM was a gift from Board of Trustee member Frank Sica '73.
Both microscopes are located in the Advanced Instrumentation Center's Scientific Imaging Laboratory, located under the pathway between Hall-Atwater Laboratory and Shanklin. For more information on the new microscopes, contact Jeff Gilarde at jgilarde@wesleyan.edu.
By

Olivia Drake,

The Wesleyan Connection editor