Emotions Stirred at Multi-Disciplinary Investigation of Human Relations to Chimpanzees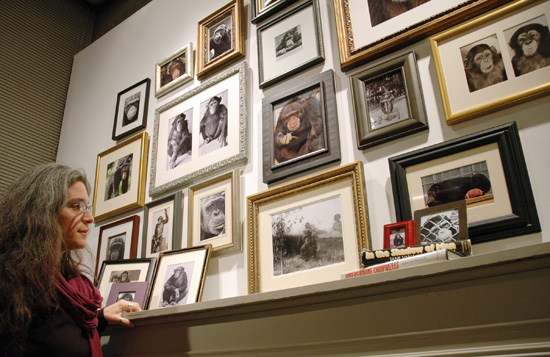 Lori Gruen displays her collection of primate portraits at the Who's Looking exhibit inside Zilkha Gallery. This month, Who's Looking will provide the Wesleyan community with opportunities to explore human's complex relations to chimps through photographs, film, theater and words.
Posted 11/20/07
One cannot help but be stirred with emotions upon viewing Who's Looking?

Who's Looking? A collaborative, multi-disciplinary investigation of human relations to chimpanzees," an exhibit at the Ezra and Cecile Zilkha Gallery that runs until Dec. 2, explores what chimpanzees see when they look at humans and what humans see when they look at chimpanzees.

The exhibit, directed by Lori Gruen, chair and associate professor of the Feminist, Gender and Sexuality Studies Program, associate professor of philosophy, includes a photo installation by Gruen, a collection of primate portraits by Connecticut artist Frank Noelker and a film screening by award-winning filmmaker Allison Argo. Live theater events from the student-organized Guerrilla Chimpanzee Theater Company are also scheduled during the month.

Gruen has been interested in chimpanzees and our relationships with them for years. She was doing research for her upcoming book and her website which focuses on the first 100 captive chimpanzees in America, http://first100chimps.wesleyan.edu, when she had a Eureka moment.

During her research, Gruen befriended a 27-year-old chimpanzee named Darrell and his constructed family of chimps at the Ohio State University Chimpanzee Center.  She recently discovered that Darrell's mother was a chimpanzee named Mary whose lineage can be traced back to Pan and Dwina, two chimpanzees born in the 1920s who were among the first four chimps studied in captivity in the U.S. Along with describing Darrell's families, both actual and constructed, in her book, Gruen wanted to create a visual representation of her discovery for a larger audience.

Nina Felshin, curator of exhibitions for the Center for the Arts, is excited to bring Gruen's and Noekler's work to the Zilkha because the content of the shows she curates often "deal with issues outside of the art world." Felshin says the exhibit encourages people think about ethical issues involving chimpanzees "in a way that an ethics journal or a philosophy journal might not."

Through the exhibition, the participants' work is available to a large audience.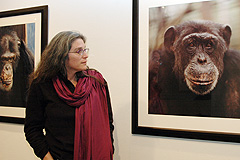 The format of the exhibition also makes it accessible. The gallery provides a small, intimate setting for the photographs.
Frank Noelker's Chimp Portraits 2002-2006, pictured at left, is comprised of large, respectful photos where each chimpanzee seems to look directly into the viewer's eye. Descriptions next of each of the photographs give the pictures context that both removes and shocks the viewer. For example, only by reading the accompanying description is it revealed that a solemn-looking retired research chimpanzee named Pepper would "still rather starve herself than face an unpleasant situation."
Gruen's piece titled A Family Portrait 1920-2007 shows photos arranged in a format that allows viewers to relate to the display. She's displayed Darrell's family members in framed photos of varying sizes, above a constructed fireplace mantel.
"Engaging with these remarkable creatures has really opened up new ways of thinking and seeing for me," Gruen says. "I think about the meaning of family and of relationships and our obligations in different ways. My hope is that the installation will allow others to see differently as well."
Gruen worked with Connecticut artist Will McCarthy to design and construct the mantelpiece and find appropriate frames.
"Even though the exhibit was going into a modern structure we didn't want to make it look modern, we wanted to make it look more like something you might find in a home," McCarthy says. "If you went into someone's house or room, this is what you might see in their house or over their mantle. We wanted to keep it warm and friendly and family-oriented."
Felshin says the arrangement of the chimp family portrait photos in a spontaneous fashion makes viewing the work a more aesthetic, poetic experience than looking at a traditional family tree layout.
"For me, when there's a poetic element, it also allows the viewer to bring their own experience to it," Felshin says.
Members of the Wesleyan community are invited to explore the exhibit and the accompanying events throughout the month in order to make their own impressions and take a moment to ponder who truly is looking at whom.
The closing reception for the exhibit with talks by Lori Gruen and Frank Noekler will be from 4:30 to 6 p.m. Thursday, Nov. 29. That same evening, Allison Argo's film titled Chimpanzees: An Unnatural History will be shown at 8 p.m. in the Center for the Arts Cinema followed by a Q & A session.
A panel discussion called Re/Presenting Primates will be held from 11:30 a.m. to 1:30 p.m.  Nov. 30 in the Usdan University Center, Room 108. Lori Gruen will moderate the discussion, which will explore issues such as the ethics and politics of representation; what does looking at animals tell us about ourselves; how can art change attitudes about animals; and what does it mean to see and represent chimpanzees as individuals. The scheduled panel discussion participants are Kari Weil, critical theorist and Wesleyan College of Letters professor; Cynthia Freeland, author of the upcoming book Portraits: A Philosophical Inquiry; Frank Noelker and Allison Argo.
For more information on the exhibit go to http://chimpanzees.wesleyan.edu/.
 
By Corrina Balash Kerr, associate director of Media Relations. Photos by Olivia Drake.