Faculty, Alumnus Discuss Concept of "Islamophobia" in Co-Authored Book
Posted 11/20/07
Peter Gottschalk, associate professor of religion, and Gabriel Greenberg '04 have written a new book Islamophobia: Making Muslims the Enemy, published by Rowman & Littlefield, 2007.

In the 1990s, Gottschalk heard a lecture as a graduate student at the University of Chicago by Professor John Woods about negative images of Muslims and Islam in political cartoons. He used some cartoons when he first began to teach. Following the 9/11 tragedies, Gottschalk started following certain cartoonists daily because of his concern regarding the rising anti-Muslim and anti-Islamic sentiment in the country.

Greenberg, a student in one of Gottschalk's classes, got the idea of writing an honors thesis on the topic, investigating the history of cartoon portrayals over the past half-century. He was also motivated by the negative stereotypes he perceived of Muslims and Islam. At the successful completion of the thesis, Greenberg accepted Gottschalk's proposal to co-author a book together.

Greenberg brought his training in history and use of primary texts while Gottschalk brought his background in Islamic and cultural studies. The following Q&A with Gottschalk and Greenberg explains how the book was created: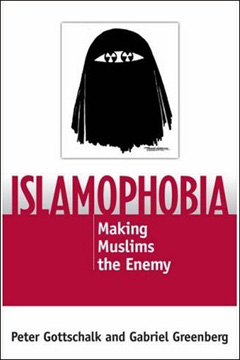 Q: What is your definition of "Islamophobia"?
A: Islamophobia is the social anxiety toward Islam and Muslim cultures that is largely unexamined by, yet deeply ingrained in, Americans.
Q: Why did you choose the title: Islamophobia: Making Muslims the Enemy?
A: The original title of the book was Islamophobia: Muslims and Islam in American Cartoons. The publisher didn't find this terribly engaging. During coffee and conversation with Vijay Pinch, professor of history, and Phil Wagoner, chair and professor, art history; professor, archaeology program, the subtitle came up and was perfect for what we were saying.
Q: What was the most satisfying part about writing the book?
A: The most satisfying part of writing the book is the feeling that we have something new to say as this important national discussion unfolds, and bringing the cartoon aspect to the table feels like a fresh approach.
Q: Does it concern you that a certain group of people or a certain industry (i.e. the news media, Hollywood) is ignorant about Muslims and stereotype them?
A: The problem with stereotyping of Muslims and propounding misinformation about Islam in the media is twofold. First, it misleads Americans who don't have more contact with Muslims and little understanding of Islam. Second, to many Muslims domestically and abroad it proves the allegations they've heard that Americans are anti-Muslim and antagonistic to Islam.
Q: What can people in a position of power do to steer others away from Islamophobia?
A: The key to addressing Islamophobia is to recognize that it is as absurd to make universal claims about 1.2 billion Muslims as it has been to stereotype African-Americans, Jews, or women. Most Americans have developed a sensitivity to unfair portrayals of these groups and some might recognize that the stereotyping of all Muslims isn't much different.
Q: I know there are many examples from your book, but can you highlight some of the ways in which Muslims are stereotyped in today's culture?
A: Some of the stereotypes which come up again and again include that of the ever-present connection between Muslim women and oppression/repression; Muslim men with an irrational violence; the notion that jihad is the foremost tenet in the average Muslim's life. So, for example, Muslim women wearing any kind of head covering is often taken as a sign of their oppression despite the fact that many voluntarily wear them, sometimes over the protests of men in their families. In another example, if Muslim men were as violent as the stereotype suggests, or jihad has pervasive an idea, then there would be an inestimatably greater amount of violence in the world in general and in the US, home to about 6 million Muslims.
Another pervasive trend is the conflation of Muslim with Arab, despite the fact that ethnic Arabs make up a minority of the world's Muslims and that Arabs aren't universally Muslim.
Q: Does your book speak at all about how religion interacts with politics?
A: The book's first chapter gives a broad historical outline of the origins of Islam and the interactions of Westerners with Muslims. In that chapter we explain how Islam originated in a context in which politics was addressed directly. The last chapter, in which we demonstrate the portrayal of Islam and Muslims at specific moments of conflict with the U.S., points out how those depictions, at times, have served American political interests.
Q: Peter, do you discuss the ideas expressed in your book in any Wesleyan course you teach?
A: Yes, I include material from the book in a lecture I give in a few courses including Islam and Muslim Cultures, Religion and Film, and Constructing Hinduism and Islam. In each instance I use the lecture in an attempt to prompt students to recognize some of their preconceptions in regard to Islam and Muslims.
Q: What has been the early response to your book?
A: We have been very pleased with the list of scholars who have already endorsed the volume. Each is an outstanding specialist whose work we admire. Although all their comments are salutary, the two blurbs that made the greatest impression on us were those of Yvonne Haddad of Georgetown University and Jane Smith of Hartford Theological Seminary. These two scholars have authored many important works on Islam in America and so their endorsement means a great deal.
But really, we're honored by all the endorsements. We're also pleased by the immediate response from some radio stations that have demonstrated interest in discussing the issues we've raised.
Q: With all of the Islam-focused books that have come out since Sept. 11, 2001, do you think non-Muslims have learned anything about the religion and its adherents?
A: It was very encouraging after the 9/11 attacks that demand for information on Islam was so great, many Islamic organizations ran out of copies of their material on the topic. There is a greater interest in learning about Islam and a higher level of awareness. However, the demand has also led to a cottage industry of scholars and sudden specialists writing about Islam with a particular focus on violence. Even the most balanced approach, if primarily concerned with the relation of Islam to violence, only reinforces the impression that conflict is one of the prominent features of Islam. So, yes, a longer and deeper understanding of the history of the myriad Muslim cultures helps offset this approach.
Q: Does it surprise you that people are still misinformed about Islam with close to 6 million Muslims living in the U.S. and a total of 1.2 billion Muslims living around the globe?
A: It is amazing in a way. But when you realize that public school systems tend to avoid teaching about religion for fear of running into legal issues and add to that the enduring hostile stereotypes of Muslims and Islam that have pervaded America since before the Revolution, it's less surprising.
A book release party and book signing for Islamophobia: Making Muslims the Enemy will be held at Broad Street Books on at 4:30 p.m. Dec. 6.
 
By Corrina Balash Kerr, associate director of Media Relations