Memorable, Inspiring Speeches and 737 New Graduates at 2008 Commencement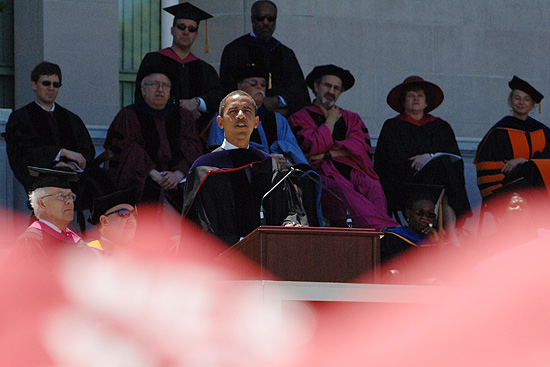 Senator Barack Obama delivered the 176th commencement speech May 25.
Posted 06/03/08
When a pinch hitter comes into a game, it's usually a crucial moment — hope balanced against uncertainty. At Wesleyan's 176th Commencement May 25, the hope shone through, and by all accounts, the pinch hitter sent a grand slam far over the fences.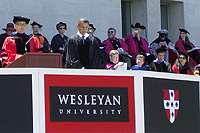 "I have the distinct honor today of pinch-hitting for one of my personal heroes and a hero to this country, Senator Edward Kennedy," said U.S. Senator Barack Obama (D-Ill.). "He called me up a few days ago and I said that I'd be happy to be his stand-in, even if there was no way that I could fill his shoes."
Senator Obama then went on to give a speech talking about service inspiration that drew on his own experiences as well as the examples of Senator Kennedy and his brother, the late President John F. Kennedy.
As an estimated crowd of nearly 20,000 people listened, Senator Obama spoke about challenges graduating students faced from the daily "busyness" of their own lives to the needs for clean renewable power, more teachers for disadvantaged children, to rebuilding New Orleans.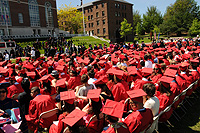 "We need you," Senator Obama said.
"At a time of war, we need you to work for peace. At a time of inequality, we need you to work for opportunity. At a time of so much cynicism and so much doubt, we need you to make us believe again. That's your task, class of 2008."
Wesleyan President Michael S. Roth seemed to presage Senator Obama's sentiments with his own remarks made moments before.
"Being in the company of students as gifted and energetic as Wesleyan's class of 2008, gives me faith that we may well be able to reject the status quo, to build a politics and a culture of hope and community rather than of fear and divisiveness," Roth said to the gathered graduates, who included 737 undergraduates awarded bachelor's degrees, 29 students receiving master of arts degrees in individual fields, 64 master of arts in liberal studies degrees and 12 Ph.D. recipients.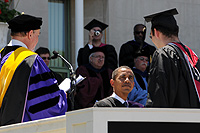 Wesleyan also presented an Honorary Doctor of Laws to Senator Obama, an Honorary Doctor of Humane Letters to author Jamaica Kincaid, an Honorary Doctor of Laws to Morton Owen Schapiro, Williams College president, and an Honorary Doctor of Fine Arts to photographer Philip Trager '56.
Rashida Richardson, senior class president and student speaker, acknowledged the accomplishments that she and her peers made during their time at Wesleyan.
"Some [classmates] participated in the World Universities Debating Championship in Bangkok. Two were recipients of the Projects for Peace award, which are going to help build a bio-gas digester in Kenya. The student-run Long Lane farm was awarded Connecticut's Higher Education Community Service Award. Two students have received prestigious Watson fellowships."
Richardson also mentioned students who took trips to Mexico and Peru with Wesleyan Without Borders, and championed the student-run endowment initiative.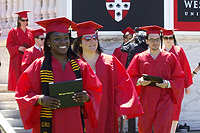 Senator Obama stayed through the entire ceremony, sitting by the stairs that the students ascended to receive their degrees, and shaking the hands of each recipient.
Senator Obama also left the crowd with a message from Senator Kennedy:
"To all those praying for my return to good health, I offer my heartfelt thanks. And to any who'd rather have a different result, I say, don't get your hopes up just yet!" Click here to see video of Senator Obama's complete speech.
Click here to see video of President Michael Roth's complete speech.
By Media Relations staff. Photo by Nick Lacy.