13 Students, Alumni to Receive Scholarships Under Fulbright Program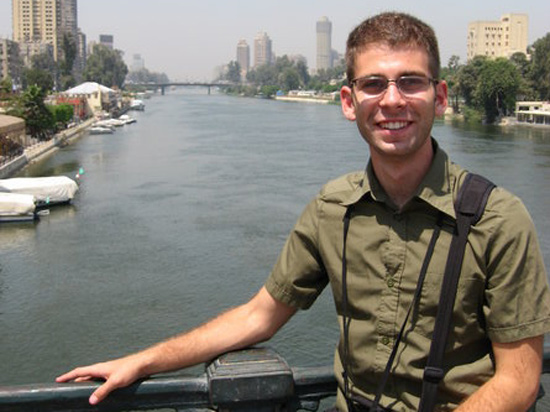 Ian Renner '08 will observe, assist and run theater activities for child laborers in Egypt as a 2008-09 Fulbright scholar.
Posted 06/03/08
In Egypt, about 300,000 children spend their days laboring six days a week to help support their families and shoulder significant responsibilities at home.
As a recent Fulbright scholar, Ian Renner '08 will spend the 2008-09 academic year helping some of these children regain their childhood through theater. He is one of 13 Wesleyan students and recent graduates to receive scholarships under the auspices of the Fulbright U.S. Student Program.
Administered by the Institute for International Education, the Fulbright U.S. Student Program awards full research grants to graduating seniors and young alumni after an extensive application process. Recipients receive a stipend to cover travel, housing and living expenses.
"The children I'll be working with are denied an opportunity to attend school or socialize with other children, and this impairs their ability to develop into competent adults and further perpetuates poverty," Renner says. "Childhood is a time during which children develop self-esteem, a voice, and a sense of a community that many will keep for the rest of their lives. Supporting children is supporting a society's future."
Renner accepted an internship with the Cairo, Egypt-based Townshouse Gallery, working with Mahmoud El Lozy, associate professor of drama at the American University in Cairo. Renner will observe, assist and run theater activities for area children, and study the performance work being done with child laborers at the Townhouse. Eventually, Renner hopes to become involved in leading theater activities with the working children.
"Since working children are often isolated, theater is a space where bonding and self-organization occurs through group work, leading to a sense of collective ownership over creative potential," Renner explains. "Creating character in drama can potentially help children understand themselves better and visualize changing their position in society. And at a minimum, theater can provide a small but real window of time for laboring children to experience a childhood that they are otherwise denied."
Renner has already worked with low-income children at Oddfellows Playhouse in Middletown. He hopes the Oddfellows experience, along with his Fulbright, will help guide his future professional development. Renner foresees working for an organization that addresses the concerns of at-risk children on a global level.
Cedric Bien '08 also received a Fulbright grant to study and research in China, but declined his Fulbright in favor of a Watson fellowship. Ameera Hamid '08 was made a Fulbright alternate for study and research in Bangladesh, and may yet receive a grant.
Four students received French Government Teaching Assistantships, under the auspices of Fulbright. Emily Hauck '08, Kai Johnson '08, Emma Rosenberg '08, and Sara Rowe '08 will teach English in high schools in France during the 2008-09 academic year. The program is funded by the French government.
"Our students will be working with a master teacher and will represent American culture, leading conversation and activities with the French students," says Wesleyan Fulbright organizer Krishna Winston. "They will help the French students realize that English is a spoken language, not just words in a textbook."
Three other students were awarded, or selected as alternates, for English-teaching opportunities in foreign countries. Maya Bery '08, will teach in Taiwan; Emily Malkin '08 is an alternate to teach in Malaysia; and Hyun Hannah Nam '08 is an alternate to teach in South Korea.
"My main goal is to begin learning Chinese, but on a more personal level, I hope to learn and grow from the challenges of moving to a country I've never visited before, where I don't speak the language, and to hopefully learn to be an effective teacher as well," Bery says. She has been assigned to an elementary and middle school in Kaohsiung, Taiwan.
Three alumnae also received Fulbrights. Marion Holaday '06 will study the rights of immigrants in South Africa; Rachel Lindsay '05 will study sustainable agriculture in Nicaragua, and Laura LeCorgne MA '05 will complete a photographic-ethnographic study of musicians and musical- instrument makers in Egypt.
This year Winston worked with 27 students applying for Fulbrights and related grants, and of those 15 were recommended for grants. Only two of the 15 were rejected outright.
"This year, we had an extraordinary yield," Winston says. "It's the best year we've ever had."
By Olivia Drake, The Wesleyan Connection editor