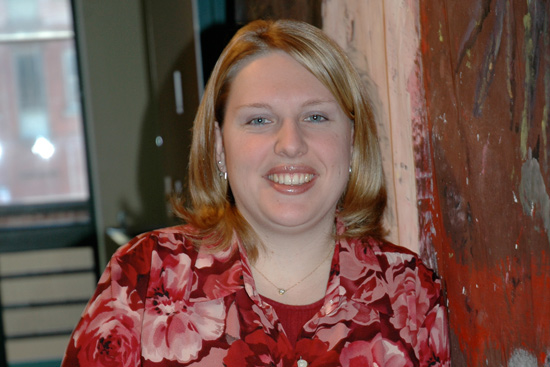 Jessica Carso, associate director and director of development for the Green Street Arts Center, says funds raised each year provide programming and scholarships for the center's students.
Posted 08/06/08
Q: Jessica, when did you begin your career at the Green Street Arts Center?

A: I have been at Green Street for two years. I started in August of 2006 as the first director of development and marketing for the center.

Q: You were recently promoted to the associate director and director of development. Please explain how your job has changed.

A: As director of development and marketing, I acted as the primary fundraiser for the organization. I also worked on Green Street's marketing campaign and day to day marketing tasks. In my new role, I remain the primary fundraiser for Green Street. As associate director, I oversee the marketing department, as well as the front operations. I serve as supervisor for our administrative assistant, Rachel Roccoberton; our three fabulous front desk receptionists, Cookie Quinones, Rose Foundation and Sylvia Riveria; and our incredible technical coordinator and security guard Eggie Quinones. The role of associate director allows me to work more closely on strategic planning and organizational management for Green Street as well.

Q: Do you have any personal goals for your new role?

A: One of my most personal goals is to do what I can to ensure that any child or young adult who wants to participate in our programs can do so. I was lucky enough to grow up in a middle class family and my parents got me involved in whatever activities I was interested in. But, I never had an outlet like Green Street, a place to create, explore, learn and feel safe. Growing up, I found solace in the arts and I know how they can change a life and open up the world to someone who might otherwise feel lost. In my small way, as a fundraiser, I am driven by my own experiences in the arts to raise the money Green Street needs to be able to provide those kinds of experiences for children today.

Q: Who benefits from the programs?

A: Green Street's evening and weekend program offerings are an incredible resource for adults, children and families. People can come to Green Street to take a salsa or sound recording class, they can enjoy a jazz or theatrical performance during our Limelight Series or engage in thoughtful discussion with Wesleyan faculty during a Sunday Salon Series event. It's all right here. It still amazes me how much Green Street has to offer. I'm hoping to give salsa a try myself this fall.

Q: Why is fundraising so crucial for Green Street? How is the center primarily supported?

A: Like all non-profits, Green Street relies on the funds raised each year in order to keep running, to provide programming for our students and scholarship support for our neediest students. The contributions we receive from individuals, foundations, corporations, the city and state, and from our benefit events directly impacts our students. Much of the money raised goes directly to support the children in our After School Program. Ninety-Seven percent of the students who attend Green Street require financial support in order to participate in the program. Additional funds raised also allows Green Street to develop and grow the programming offered to the students in the After School Program. Green Street students are able to explore such classes as digital photography, sound recording, movement, break dancing, hip-hop, salsa and many, many more because generous donors help to make our programming possible.

Q: Are there any new programs this summer at GSAC that the public should be aware of?

A: Our summer season has come to a close, but we're gearing up for our fall programming and its looks to be one of the most exciting to date. Green Street's fall programming will be online (http://www.greenstreetartscenter.org) by August 1. We hope that members of the Wesleyan community will join us for our new monthly photography meet-up, Flash Forward, and an open mic designed for prose works-in-progress, Writers Out Loud.

Q: Will the Salon Series continue?

A: Yes. Several faculty members have generously volunteered their time for our monthly Salon Series, hosted by David Beveridge, the University Professor of the Sciences and Mathematics, professor of chemistry. At 2 p.m. Sept. 14, the Salon's topic will be "Election 2008: Race, Gender, Age and Media." The discussion will include Melanye Price, assistant professor of government; Martha Gilmore, associate professor of earth and environmental sciences; and Ed Moran, associate professor of astronomy.

Q: Where did you attend college and what did you major in?

A: In college I wanted to study theater and started by going to the University of Connecticut. After a year, I wanted to get more involved in directing. And I desperately wanted to move to New York City. I transferred to Marymount Manhattan College and graduated with a bachelors of arts in theater with a concentration in directing. MMC was the best choice for me, it offered the liberal arts education I was looking for, but also allowed me to focus on my interests in theatre. While I was at MMC, they began offering arts administration courses, which I became involved in. I liked the classes I took and realized arts administration would be a way for me to work in the arts, knowing that my directing career probably wouldn't pay the bills. My time at MMC laid the groundwork for most of my work now—from fundraising, non-profit management to leadership development.

Q: Is there anything else you'd like to say about your role at the GSAC?

A: I encourage everyone to come down to Green Street to check it out. There really is something for everyone. And I could use a salsa partner for the fall.
 
By Olivia Drake, The Wesleyan Connection editor. Photo by Adam Kubota.