10 Artists Featured in Documentary Photography Exhibit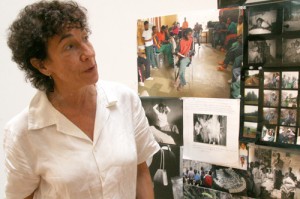 By Intisar Abioto '09
The current Ezra and Cecile Zilkha Gallery exhibition Framing and Being Framed: The Uses of Documentary Photography, challenges the traditional space between the artist, the subject and the viewer.
The exhibition of two-dimensional photographs, photo installations, video and web-based works features art by Ann Messner, Perry Bard, Matthew Buckingham, Wendy Ewald, Susan Meiselas, An-My Lê, Emily Jacir, Alfredo Jaar, Eric Gottesman and Kota Ezawa.
Curator Nina Felshin planned this exhibition after meeting with Jennifer Tucker, chair and associate professor of feminist, gender and sexuality studies, associate professor of history, associate professor of science in society, several years ago. Tucker organized a university-wide, photography project, Eye of History: The Camera as Witness, a semester long series of exhibitions, films and talks exploring how photographs shape the ways in which people remember historical events.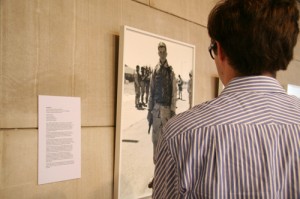 In conceiving the exhibition, Felshin focused her attention on artists whose work challenges traditional assumptions about documentary photography by "questioning notions such as interpretation, frames of reference, context and subjectivity." She is particularly interested in the often hierarchical relationship between the photographer and the subject.
"What I'm drawn to," Felshin says, "is the voice of the subject or self-representation, the telling of one's own story, who's looking and the personal baggage the viewer brings to the encounter —in effect, how one's point of view influences interpretation."
These questions of subjectivity, context, and agency are evinced in various ways. Several of the artists engage in collaborative or participatory practices in which the subjects tell their own stories in words, photographs and videotapes. Several artists have interactive websites. Ann Messner's two-channel video projection attempts to create a context for four anonymous and captionless documentary images of detainees by juxtaposing them with existing commentary by journalists and others
Artists Eric Gottesman and Wendy Ewald, both place cameras in the hands of young people. Eight years ago Eric Gottesman helped found and continues to work with Sudden Flowers, a children's art collective in Addis Ababa, Ethiopia. And Ewald's "Towards a Promised Land" is the result of working with 22 children — all displaced from their homelands — in the English town of Margate.
"She taught them how to use cameras to tell their own stories as a means of empowerment.," Felshin says. "By giving them agency, they neither can be stigmatized as victims nor can their stories and images be manipulated by others ."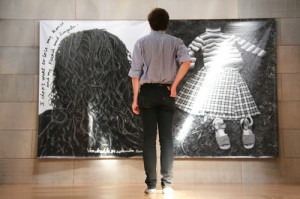 Other works involve the viewer. In Matthew Buckingham's "Will Someone Please Explain it to Me, I've Just Become a Radical", he photographs the now empty spaces, the stairwells, hallways, and bathrooms, of what began as a peaceful anti-war demonstration in 1967 at the University of Wisconsin.  Then, the police came in, broke it up, and it got violent. These now empty spaces require that viewers use their imagination to project the events of that day in 1967, Felshin explains. 
"There's not necessarily one way of interpreting visual images unless they are supplemented with text. Alfredo Jaar's work is even called 'The Power of Words.' I think there's a tendency to bring our prior experience to bear in our encounters with contemporary art in general," Felshin says.
The exhibition will be showing through Dec. 7. A major panel discussion, Eye of History: The Camera as Witness, will take place Nov. 7. Artists Wendy Ewald, Eric Gottesman and Susan Meiselas are the panelists. Writer and critic David Levi Strauss is the moderator, and Wesleyan President Michael Roth will introduce the panel.
More about the Eye of History events can be found at http://eyeofhistory.wesleyan.edu.
Zilkha Gallery is open noon to 4 p.m. Tuesday through Sunday, and is open until 8 p.m. on Friday. The exhibit is free and open to the public.