Smith Honored by College Health Association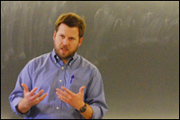 Dr. Davis Smith, medical director at Health Services, received the 2008 President's Award from the New England College Health Association. The award recognizes the contributions to college health by an individual working in the field from the states of Connecticut, Maine, Massachusetts, New Hampshire, Rhode Island or Vermont.
According to the award requirements, Smith was selected because he has made significant contributions to the students he serves, as well as his institution, community and the field of college health. Smith was also recognized as being a creative, innovative, dedicated leader and mentor known for his sharing and caring.