Under-the-Desk Waste Baskets Replaced with Recycle Containers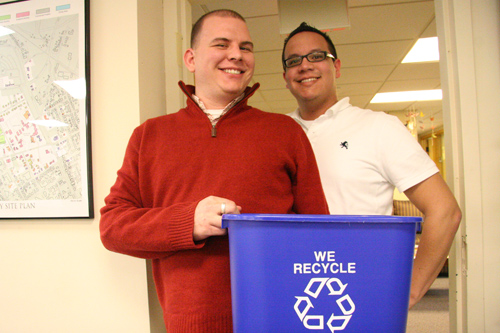 Trash bins may find themselves down in the dumps, at least around Wesleyan's campus.
The university is replacing them – one by one – with recyclable containers in attempt to make Wesleyan a "greener" campus community.
"Most everything we throw away at our desks – paper, plastic water bottles and soda cans and cardboard packaging material – is recyclable," says Jeff Miller, associate director for facilities management. "So why keep a trash can under your desk?"
Miller and other members of Wesleyan's Recycling and Waste Committee, a subcommittee of Wesleyan's Sustainable Advisory Group for Environmental Stewardship (SAGES), are spearheading efforts to remove the trash bins from all individual administrative and academic offices. Trash receptacles are being placed in a central location within each department.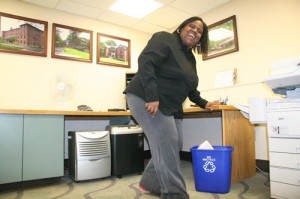 Several administrative offices have already made the switch. Physical Plant started a year ago, and the Office of Admission and Office of Residential Life started the new program in September. Information Technology Services recently started, and the Center for the Arts is the next to come on line.
"In Res Life, all of the trash cans have been replaced with recycle bins under our desks, says Maureen Isleib, associate director of residential life. "Now, there are two general trash cans in the office for everyone to use."
During the holiday break, Physical Plant is removing most garbage and recyclable containers from academic buildings and individual classrooms and putting the receptacles in the hallways.
"We want students to get in the habit of carrying out their waste, and they can look to the left or right and see a blue recycle bin in the hallway and put their items in the correct container," Miller says. "If you are holding a plastic bottle, chances are, if you're given a choice to put the bottle in a trash can or a recycle container, you're going to put it in the recycle container."
Students are also getting involved in "greening" campus.
Emilie Knight '10 coordinated an event to raise awareness regarding issues of over-consumption and disposability in our society. Titled "There's No Such Thing as 'Away,'" student participants for this trial version collected all waste items in a 24-hour period on Dec. 3. Rather than discarding or recycling the items, the students taped and clipped the food wrappers, milk containers, paper wads and other pieces of trash to their own bodies. Knight plans to coordinate another "Away" event next year.
"When we thrown stuff in the trash, we think we're throwing it 'away,' but what does that really mean?" Knight says. "Right now we can tuck our waste in unlucky corners of the state and country, stuffing the Earth with our junk and burdening someone else and some other place with our problem. But what happens when these landfills fill up? Where will all of our trash go then? Waste ultimately becomes someone's burden—why not yours or mine?"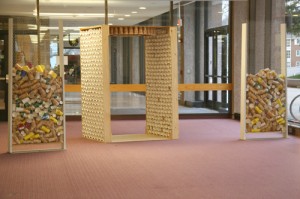 On a similar theme, Aurora Margarita-Goldkamp '10 and Gregory Soros '10 created a recycled cup sculpture that brings a larger than life perspective to the idea that when "you throw something 'away,' where does it go, and what are the consequences?" In a single week, Pi Café and Weshop use about 4,420 disposable cups. The exhibit is on display in the Science Library.
In conjunction with the exhibit, students, staff and faculty who bring re-useable containers to Pi Café will receive a 50-cent discount on 16 oz. cups of coffee. Next spring, the Cardinal Store and Wesleyan Dining are going into partnership where they will have a campus-wide coffee discount with the purchase and use of a designated travel mug from the Cardinal store. On Jan. 30, Usdan will have a coffee station at the Cardinal Store to promote the coffee mug.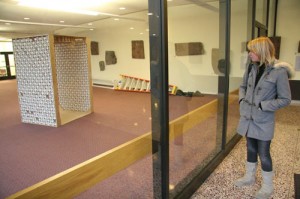 SAGES intern Alex Provo '10 suggested the Wesleyan community carry food in reusable plastic containers, and get in the habit of not using plastic trays in dining halls.
"If students don't use the trays, they're not going to take as much food, which may be wasted," Provo explains. "If students need more food, they can just go back and get more."
These initiatives are co-sponsored by Feet to the Fire, the Sustainability Advisory Group and Bon Appetit.
Provo and fellow members of the Environmental Organizers Network are organizing an item collection and tag sale event at the end of the year called "Waste Not!" to encourage the reuse of student furniture, clothing, textbooks and other items.
Starting Jan. 18, Wesleyan will once again join more than 140 colleges and universities from across the country participating in the 2009 RecycleMania competition. This is Wesleyan's fourth year participating.
"We'll be looking at how much waste goes out of this campus," says Jeff Miller, associate director for facilities management. More information on RecycleMania will be in the mid-January edition of the Wesleyan Connection.