Wesleyan Enters 'RecycleMania' Again
Between Jan. 18 and March 28, Wesleyan will once again join the more than 470 colleges and universities from across the country participating in RecycleMania, a national recycling and waste minimization competition. This is Wesleyan's fourth year participating.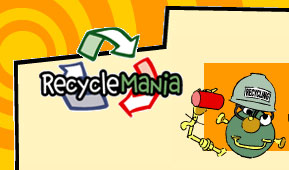 "Our goal is to make people aware of how much trash and recyclables they are generating, and to hopefully minimize waste and increase awareness about recycling," says Jeff Miller, associate director for facilities management and chair of the Recycling and Waste Committee, a subcommittee of Wesleyan's Sustainable Advisory Group for Environmental Stewardship. "We're interested in measuring how much waste goes out of this campus."
During the 10-week contest, Wesleyan will record the volume of paper, cardboard and glass/metals/plastics collected from most academic, administrative, on-campus student dormitory facilities and the Usdan University Center. Wesleyan also will record the amount of garbage.
Weekly measurements will be taken by contracted Dainty Rubbish Service of Middletown, which collects and accurately weighs the recyclable and waste items.
Wesleyan is competing in the Benchmark Division, which does not have its results included in the competition's official rankings. Benchmark schools report their recycling and trash data, but are in every other respect unregulated in how they choose to participate. More than 150 schools have registered for the Benchmark Division.
"Some universities have full waste and recycling programs in-house, but the City of Middletown picks up garbage and recyclables from our wood-framed housing and High Rise (student housing complex)," Miller explains. "Because we cannot account for what the city picks up, we must participate in the Benchmark Division."
RecycleMania is supported by the U.S. Environmental Protection Agency's WasteWise program and the National Recycling Coalition.
The American College and University President's Climate Commitment, signed by Wesleyan President Michael Roth, requires that Wesleyan participates in Recyclemania. In 2008, Wesleyan placed 11th out of 56 in the per capita classic for combined amount of paper, cardboard and bottles per person; 17th for glass/metal/plastic, 15th out of 57 for mixed paper; and 8th out of 50 for cardboard.
Environmental Organizers Network members and Sustainibuility Committee interns Grace Petersen '09, Nora Christiani '11 and Alexandra San Roman '11 are using the RecycleMania competition to promote other waste and recycling issues on campus.
In addition to recycling, they're pushing for composting on campus; creating crafts with recycables; establishing residential hall freecycle boxes and a clothing swap; moving trash containers to a less prominent location; working with on Waste Awareness Wednesdays in partnership with Bon Appetite, and organizing a an item collection and tag sale event called Waste Not! to encourage the reuse of student furniture, clothing, textbooks and other items. They're also planning to have Valentines Day card for sale printed on 100 percent recycled paper.
We have made some witty posters with some popular social figures, such as Barack Obama and Britney Spears (you never thought they would be in the same sentence, did you?) that have a picture of them recycling and say "Britney Spears Recycles, do you?"  We are also going to have a week where students will get caught 'green handed,' meaning caught recycling, and they will get either a free coffee or a ticket that will gain them free admittance to a 'Get Caught Green Handed' party at the end of the week," San Roman says.
In addition to increasing education about how to recycle properly, EON also want to inform the campus of what happens between when a newspaper gets put in the mixed paper bin and when one purchases a packet of 30 percent post-consumer recycled paper.  Kim O'Rourke, City of Middletown recycling coordinator, may lead a field trip to the recycling facilities so students can get a first-hand experience.
"Ultimately, I believe college is the perfect time and place to welcome recycling into one's routine because we are all slowly learning how to fend for ourselves, whether it be by learning how to do laundry for the first time (with super concentrated detergent to cut down on plastic!) or by cooking meals for ourselves and friends (instead of ordering out and accumulating lots of Styrofoam take out containers!)," San Roman says. "Why not also learn how to recycle?  All it takes is the knowledge of what to put where and a few seconds to think before tossing, and you've got an accomplished recycler. RecycleMania helps us learn that recycling is a very good habit to develop, and college is a perfect environment to nurture this new habit."
During the 2008 competition, 58.6 million pounds of recycled materials were recorded by RecycleMania participants. Awards, trophies and participant certificates are given following the competition.
EON is focusing on how the campus can increase its frequency of recycled materials and decrease the volume of solid waste.  One of the most important ways to create this shift is to increase consumer education regarding which items can go in each bins.
"There are may people who think that just because an item they are using is plastic, it can be put in the glass/metal/plastic bin, but indeed it needs to be checked to see if it is a #1 or #2 plastic, as these are the only types accepted in this bin.  This being said, we have created information sheets for students, faculty, and staff that clearly specify what can and cannot go in each recycling bin, as well as where to recycle more obscure items, such as C.D.s and old computers," San Roman says.
Here is a list of materials people can recycle at Wesleyan:
Glass/Metal/Plastic:
Do recycle:
• Plastic containers #1 and #2
• Glass jars/bottles
• Metal food/beverage cans
• Milk/juice boxes
• Drink boxes
• Aluminum food containers
• Aluminum foil (clean)
Do not recycle:
• Plastics #3-7 (Naked Juice bottles say they can be recycled as a number
2, so they're acceptable)
• Yogurt containers (usually #5)
• Styrofoam containers (usually #6)
Mixed Paper:
Do recycle:
• White/colored paper
• Envelopes
• Manila folders
• Carbonless office forms
• Post-it notes
• Newspaper
• Magazines
• Hardback/paperback books
• Junk mail
• Cereal boxes (liner removed)
• Non-corrugated cardboard
• NOTE: corrugated cardboard can be recycled, but don't place it IN the bin!
Flatten and place next to your mixed paper bin.
Do not recycle:
• Plastic/Tyvek envelopes
• Fed Ex/UPS-type envelopes
• Carbon paper
• Paper towels/tissues
• Copy-paper outer wrap
• Hanging file folders
• Paper with crayon/poster paint
• Pizza boxes
• Glossy photos
Wesleyan also has drop-off points for harder to recycle items:
Science Center Lobby:
• Aerosol Cans
• Nickel-Cadmium batteries
• Alkaline batteries
• CDs, DVDs, floppies, cellphones
• Printer cartridges (inkjet, bubble jet, laser)
• Rubber-soled shoes
Science Center Loading Dock:
• Styrofoam blocks
• Styrofoam peanuts (put in plastic bags)
• Corrugated Cardboard (also recyclable at the Butterfield C loading dock, Butterfield A parking lot, 156 High St parking lot, and the Olin Library/Clark Hall parking lot)
Cardinal Technology Center
• CFL bulbs
Textile drop-off bins:
• Butterfield A parking lot ("L" lot) — Lawn and High Streets (container next to the cardboard dumpster)
• Parking lot for High Rise and Low Rise residence halls, off Church Street
• At the end of McConaughy Drive, behind the Foss Hill residence halls (benefits Big Brothers Big Sisters, Nutmeg Chapter).
Some items are picked up on a case-by-case basis. Email recycling@wesleyan.edu if you have the following:
• Lead acid batteries
• Computers and other electronic equipment
For questions, e-mail work_order@wesleyan.edu or call 860-685-3400.