Farrell '87 Named to National Economic Council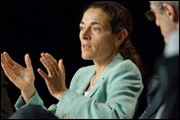 President Barack Obama has appointed Diana Farrell '87 as deputy director of the National Economic Council. She most recently served as director of the McKinsey Global Institute (MGI), McKinsey & Company's economics research arm.
In announcing the appointment, President Obama said Farrell "will work day and night with me to advance an American Recovery and Reinvestment plan that not only aims to jumpstart economic growth, but also promotes the long-term investments in our economy necessary to save and create jobs, rebuild our infrastructure, and assure energy independence."
Farrell's work has appeared in academic journals, books, and on the op–ed pages of leading international publications, and she is a frequent speaker at major US and global conferences. She is the editor of an anthology series based on MGI research, published by Harvard Business School Press, 2007.
Together with Lowell Bryan, she is the co-author of Market Unbound, published by Wiley & Sons, 1996.
She holds an M.B.A. from Harvard Business School. She is a member of Council on Foreign Relations, the Bretton Woods Committee, and the Pacific Council on International Policy.